"Would you like an exclusive invite to visit the Fox global headquarters whilst you're out in Southern California?"
I'd never heard such a rhetorical question in all my life! Fox racing, the most iconic apparel logo in all of mountain biking, were willing to open their doors and take me behind the scenes for a tour of their mind boggling headquarters. Talk about a once in a lifetime opportunity, where do I sign up?
A few weeks later I found myself behind the wheel of a Ford Mustang pulling into their carpark and looking up at one of the most impressive looking buildings my eyeballs had seen. From the outside, Fox HQ looks like a big (really, really big) smooth shell of a building, it's completely painted in a dark grey colour, which gives it a stealthy, dramatic appearance. But it is the buildings entrance that steals the show. What looks like the entrance to a Star Wars space ship, the vibrant red portal entry, was in fact based on the chin guard shape of the Fox V4 Motocross Helmet. This incredibly striking entrance makes the first definitive statement about the Fox Head brand, and walking through the big glass entrance doors, you feel transported into the Fox world.
A large reception area meets you, behind which sits a giant showroom which showcases all of the latest product designs with a nod to the company's history in the form of memorabilia and gear worn by some of the company's most famous team riders. Across from this entry, a set of double glass doors require security entry to get past. This is where the real show begins.
I was greeted by my host for the morning, none other than Dave Ahumada, the Senior Global Product Manager for bike and footwear. Dave is as gentle as they come, and an absolute wealth of knowledge. He really didn't hold back and over the course of the following few hours, I gained an amazing amount of insight from him about the Fox brand's DNA, the companies no limits 'Dream On' mantra, and also their vision for the future as they click it into 6th gear and roll the throttle wide open…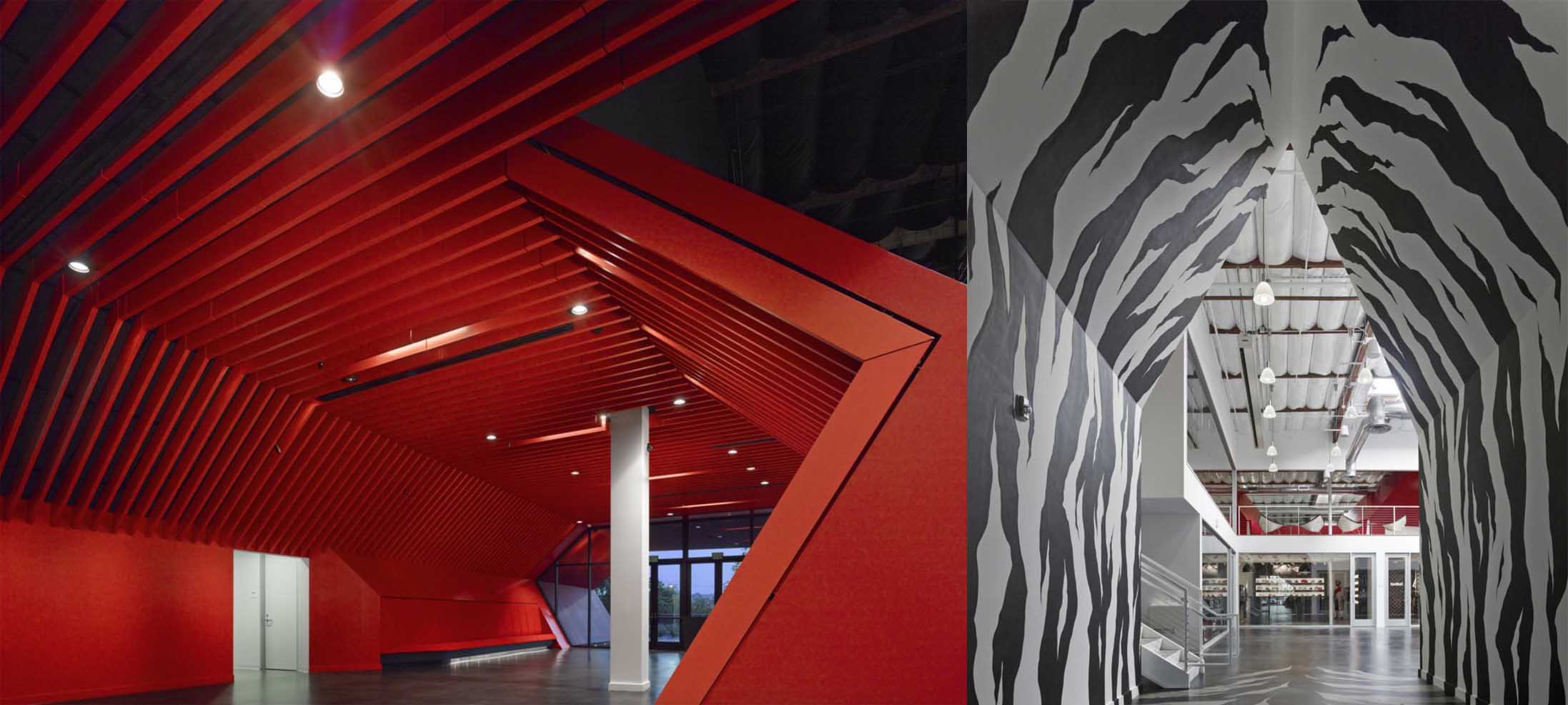 To get the tour underway, Dave reached into his pocket, pulled out his access card, and the big glass doorways opened in front of us. Once inside, you're greeted by the Zebra Hall. Floor to ceiling zebra print, which represents the significant turning point in the Fox Head design history when the brand broke away from conventional (boring basic) designs that all motocross apparel brands stuck to, Fox went out on a limb and created a zebra stripe patterned set of riding kit. Everyone in the scene back then told them that they were crazy and that it'd never work. It fell on deaf ears though and Fox had their team riders wear the kit at the next big race. Yep, the kit became an instant hit sensation! By breaking the mould, so to speak, Fox had begun its own revolution within the MX industry, which really put the brand on the map as a clear leader. In turn, this began to pave the way and set the wheels in motion for the success, and dominance, that the brand would go on to build within the MX and MTB industries. Fox surf and Fox Lifestyle were both born from the same DNA, all be it a few more years from the trail from those early years in the brands history.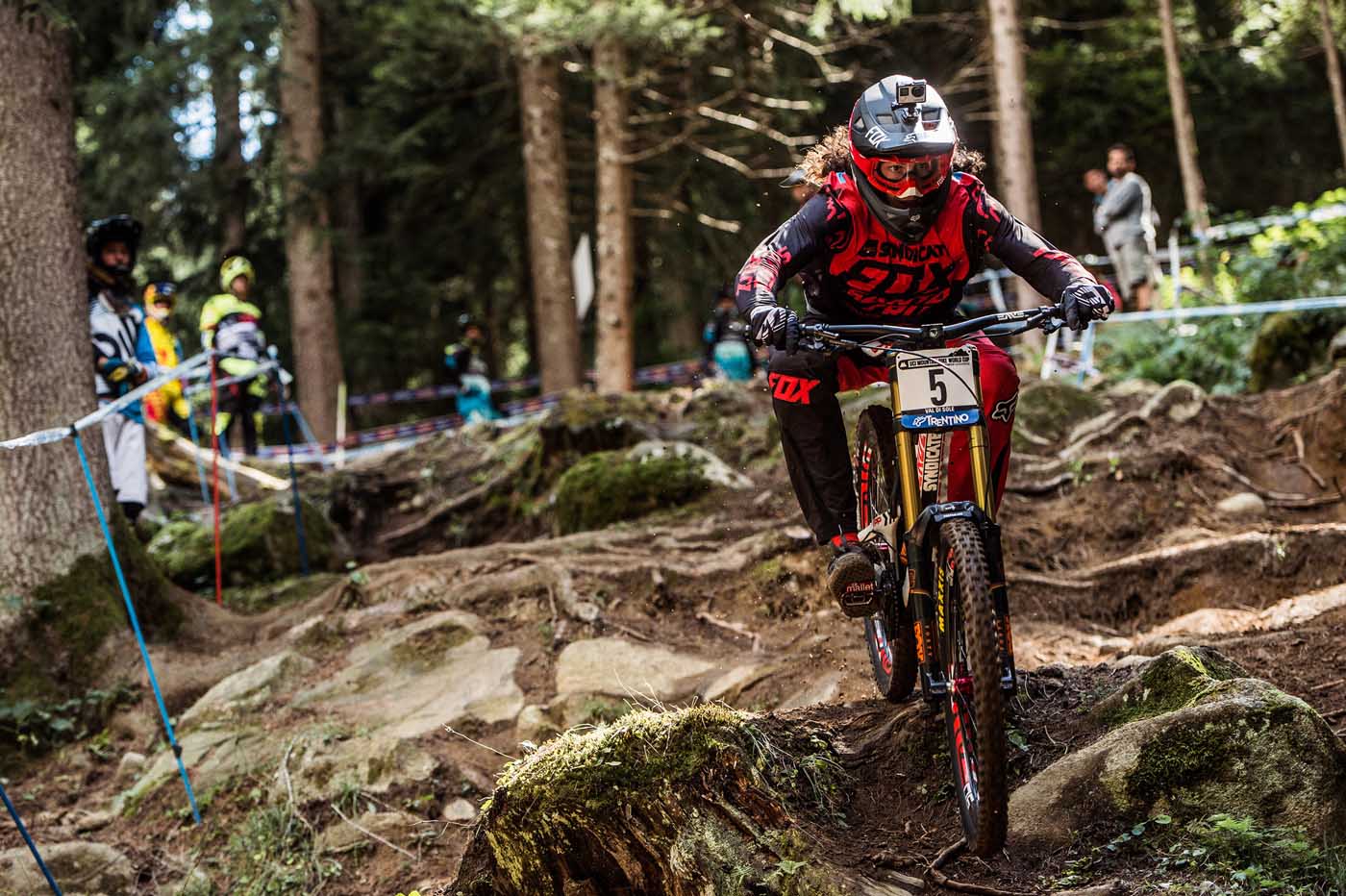 As the tour continued, Dave and I spoke at length. Below are a few small, yet insightful, parts of our conversation.
You guys speak a lot about maintaining a strong connection to your roots, that being making the best MX product in the world. Tell us about that drive and how it is echoed throughout your MTB ranges also?
Well yeah, as you said, Fox MX makes the best moto gear in the world. We have been the leader in that market for over four decades and that DNA affects everything we do in an incredibly positive way. We are a step ahead of every other brand from a product creation perspective. So many of the materials, processes and design functions that we use for the bike category have already been proven on the Moto side, winning podiums and championships year after year around the globe. We aren't comfortable with just being a "Moto brand that makes MTB gear as well" however. Our future is as the leader in the MTB category when it comes to helmets, apparel and accessories. We have made huge strides over the last few years in solidifying ourselves as a dirt focused bike brand and have come out with key new products that are influencing our moto category as well as the MTB market as a whole. Additionally we are focusing our efforts squarely on the All Mountain/Trail categories. We have been a leader in the Downhill and Freeride categories for decades, we are going to maintain that leadership position while also continuing to grow on the trail side which is already our largest segment of business. We recently won a design and innovation award for our new Flex Air kit and were voted best brand by a key trail focused media outlet in Europe. We will always maintain the strong connection we have to our roots, but our future is in looking forward and driving innovation and building iconic market leading products for every type of trail.

Whilst the appeal of a particular item is subjective to each individual, there can be no denying that when it comes to material and construction technology, Fox is the clear leader in the MTB and MX worlds. What is it that keeps you ahead of the field, season after season?
Good question, really it's the demands we place on ourselves as a brand and an organisation to continue to innovate relentlessly and build the absolute best products we can. It's been bred into the brand since 1974 and it hasn't changed. Again, as a MTB brand, we have the distinct advantage of getting to learn from our experiences on the Moto side, but we have the same drive and determination that they do to build category defining pieces that make every ride better for our consumers.
I've noticed several times today that you guys have a saying, 'driven to create genre defining gear for every level of rider' what does that statement mean to the brand?
No matter the category we want to make the absolute best product we can, period. It starts with an understanding of the end user and works its way back from that. We want to solve the problems that arise when you are out on the trail before the rider is even aware of them. We build our products from the inside out with a focus on fit and performance and then add our iconic look and feel to truly set it apart from the competition.
I'm curious, being the mega machine that you guys are, how involved do your athletes get with prototype testing and product feedback?
Our athletes are heavily involved in the testing of the products and we are lucky to have a team that is engaged and articulate and who give exceptional feedback on our products. We intend to continue to involve them and to use them on an even deeper level as we move forward. Additionally, we have a small group of key ambassadors and partners both inside and outside of the industry who give us real world feedback throughout the testing process.
Hey I've got to ask, I spotted a very sweet looking open face helmet sitting on a few desks as we walked around today. It's unlike any Fox lid I've seen before. Don't suppose you can leak out any details about it can you?
Ha, yeah, I know exactly what you're talking about. It's called 'Metah' and it's about to hit production actually. The Metah is our first Enduro or All Mountain specific helmet, and our first new helmet in over 5 years. The landscape of the trail riding market has changed and today's all mountain and Enduro focused riders expect a higher level of performance from their helmets. With the new technologies built into the Metah, we have taken a huge step in performance to suit these needs while also incorporating the iconic Fox MX influenced aesthetic. The Metah brings multiple new performance features to the category such as a deeper shell shape for increased coverage, a new Varizorb™ multi density EPS liner and superior airflow from our Big Bore venting system. The Metah has been tested and proven by our athletes on trails around the world, the feedback they provided was analysed and incorporated into the final design. The result is the most performance oriented trail helmet we have ever launched.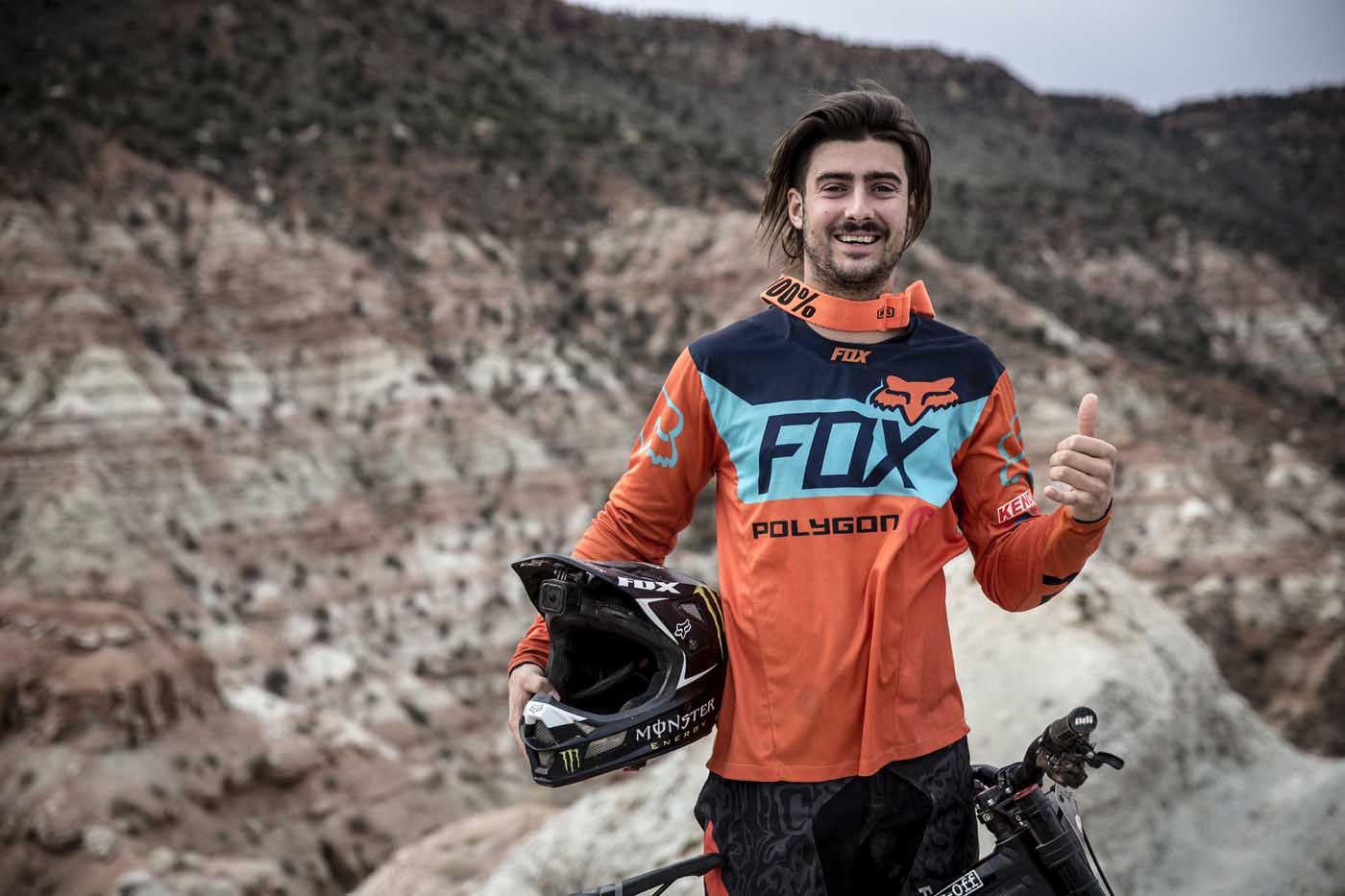 Midway through the tour, we came across a large open plan kitchen style cafeteria where we were met by Fox's Senior Bike Designer, Brice Oakden. Brice works full time on the MTB side, designing all the gear that you and I rip around the trails on. Over a cup of freshly ground Guatemala's finest, Brice chatted about his day-to-day operations and about some of the highlights within their new '16 range.
From what you've shown me already, the new range is absolutely stacked with standouts. It must have been a blast to work on. I've got to ask, is there one from the line-up that you're stoked on most?
Brice: Yeah, I'm really excited with how the Attack Pro Short turned out. It has the best balance of durability, mobility and weight that I've ridden in a trail short.
How do you keep your ideas fresh and constantly evolve your design cues, without just shadowing off whatever the MX side of the brand is doing?
Although we're sharing seasonal themes and ideas with our MX and lifestyle counterparts, we have to keep in mind both the bike specific functionality and different ways our customer buys bike products.  This is the balance we try to achieve and where we spend the most time conceptually.  We try to travel as much as possible and see how other markets are wearing bike, athletic and lifestyle products and incorporate that into our hereditary design philosophy.
So at this point, once you've finished designing a range and it goes to market, you're already working on the following season and even the season beyond that. Explain to us a little about how you're able to kind of guess what's going to be cool in 2-3 years' time?
It's always a challenge to guess what's going to be "cool".  Trend research isn't an exact science, but we try to take our inspiration and process it in a way that we think is most relevant to our customer and their constant evolution.
One of the most recognisable industry figures over the years, Mike Redding is Fox's Global Brand Director for MTB. He's the big cat that signs Rat Boy, Stevie and Connor's cheques. When you see a Fox logo at World Cup or a big race of some kind, it's because Mike wanted it put there.  Yeah, he's a pretty big deal you could say. During our visit, he also took the time to sit down and chat with us about the game.
You're athlete roster line-up is absolutely stacked with badass talent. Riders with the sickest styple, and of course speed. What is the selection process like when you pick a rider to represent the brand?
That's a good question, you know. Maybe from my experience as a kid, racing Dirt Track and going to punk rock shows, I think all that type of stuff early on has helped give me the perspective to pick the right athletes for the team. I have been very lucky to get to work with the athletes we have on our team. We have the best group of athletes out there.
As a brand you guys don't try and hide the fact that you have a strong commitment to the future of the sport, which is something that shows year in year out with the loyalty that you have with your athletes. Tell us a bit about that relationship that you guys harness with your athletes?
I can't really speak for the other categories, but I know that with my athletes if you treat them with respect and listen to their ideas and what they want to do, it seems to work out. We've got a good crew for sure.
Is there a certain point where the motivation and drive within the workforce here at the office, comes from the energy of your team riders – their talents, abilities to do amazing things on a bike, their speed, winning races, etc, does that kind of light a fire and fuel you guys to keep stepping it up to make better products?
Well yeah, for sure. I know for sure that in our bike department all of the team that works on the program get super stoked when our riders win championships and our athletes do amazing things on their bikes. It pushes us to support them better and make the brand the best it can be.

ENDTRO
One thing I really learnt from my time touring Fox's global headquarters and meeting so many members of their staff, was how into riding bikes they all are. Mountain biking is a real driving force at the brand and that passion that their staff have for riding themselves, I think, really transcends into every piece of riding apparel and every piece of MTB protection they make. To experience that first hand and see the final product (I was given a sneak peek at their then yet to be released '16 range) was really inspiring.