Well hello, my name is Baxter and welcome to the first edition of my brand-new regular column right here in [R]evo. Each issue I will be aiming to tell stories that give insight into the world of trail building as I see it.
Words // Baxter Maiwald   Photos // Ryan Finlay, Darren Mallard
I'll cover projects of the past and present and aim to give out a few tips along the way. Strap in and grab a drink for the road, because right here in my first article my brain is about to unleash the story of how it all started for me. This one will cover the recently completed Maydena Dirt Jump park, as that's all relevant to the why and how I got into trail building to begin with.
It might even give insight into the frequently asked questions of "how do I get a job as a trail builder"
I grew up in a quiet little town in Victoria called Emerald, with no local skatepark, or anything much else to ride in town and a couple of acres of bush on our property. My dad rode moto, so as any kid does, I followed in his footsteps. I was on 2 wheels from 3 years old and had "jumps" littered around the backyard for as long as I can remember. Dad and I gradually built them bigger as I begged for progression. Our backyard became somewhat of a sandpit, allowing me and my cousins and friends to spend hours pushing wheelbarrows, stacking logs and experimenting with different ways to build jumps. Often finding out the hard way that things don't work.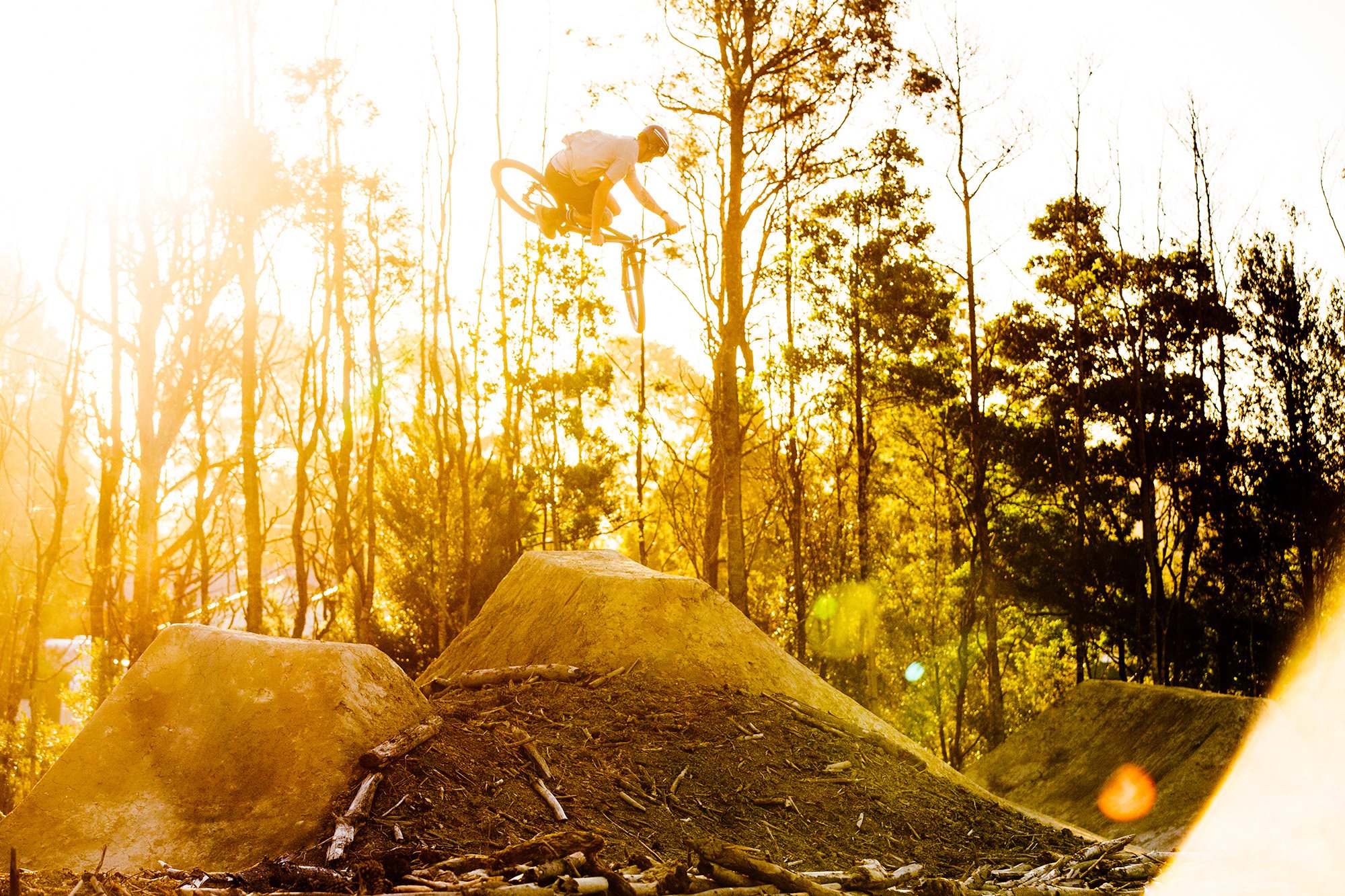 During high school my BMX became my main mode of transport as well as my 'go to' after school activity. Without much to ride in town and access to the internet allowing me to see the world of BMX trails in America and the UK, my interest in the art of trail building was sparked. For the next year or so my friends and I jumped spot to spot, trying to rebuild old jumps into what we saw on YouTube at places like Leatherhead, Catty woods or Gorge road. After ditching our last spot for a few different reasons, we eventually stumbled across what later become known as 'Greenfield Trails'. This secluded little slice of paradise had everything we'd been yearning for – flowing water, good dirt, easy digging, a slight downhill and a distance from anything else that meant we wouldn't have trouble from local rat bags like we did previously. I spent most of my free time here for the next 4 years, developing my skills constructing dirt jumps and figuring out how to design a spot that not only looks good, but rode good too. Little did I know that Greenfield would become a catalyst for the direction my life was soon to head.
Simultaneously I developed a passion for Downhill racing, by 16 years old I had spent 3 months travelling solo in Europe in preparation for racing as a Junior on the World Cup Circuit. I had fallen away from digging at Greenfield to focus on racing, but still kept in touch with the shovel by building little corner tracks to train on near home. I still didn't know that trail building was a 'real' job. However, contacts I had made through racing (Jai Motherwell) provided me with the opportunity to do a couple of weeks of work experience with Dirt Art. Jai asked if I could come back for another week after to help finish off the project, which I did, and from there I was hooked on the idea of trail building as a career. I got offered the opportunity to move to Thredbo and work with Dirt art.
After convincing mum that this was a smart move, I finished off Year 10, got in Jai's van and off I went. My dream job, in a place I could train for my current passion, racing.
For the next few years, I worked with Dirt Art for most of the year, while taking a good chunk of winter off to go overseas and race World Cups. Working for a boss who has raced and travelled and wants to see young talent succeed is rad! Without an understanding work environment, there's no way I would have had the opportunities that I did. After Junior racing, I took a step back and was involved in the initial build of Maydena Bike Park. Building this in time for opening was a massive achievement that I'm very proud to have been part of. But also one that seemingly took away the love for building. I decided to move back home and chase some of my other interests that I hadn't been able to give time to for a while. Digging trails with more artistic expression was one I only felt I had time for if it was on my own time. In a commercial environment we usually have to meet timelines and this means sacrificing some aesthetics that generally speaking, would go un-noticed to the passing eye anyway.
Since I had been away, Greenfield Trails had been bulldozed, which was heavy for me and everyone involved. This motivated me to build the jumps I had always envisaged on my parent's property. I spent a year focussed on building at home, while I took on a 'normal' job driving excavators for a civil company. It only took 3 months to realise that I hated it and that I really did love trail building, both professional and in my own time. I returned to trail building with Trail Scapes as they had work close to my home at the time. This let me go to work, build trail and then drive home, set my lights up and go stack jumps in the yard all night. While travelling with Trail Scapes I got super stoked on riding BMX again. We spent most of our free time in Adelaide riding City Dirt and Paramount trails. I also got to ride a couple of other dream spots, one being Will Kerr's 'Valley View' Trails. These spots taught me a lot about how jumps should work. For example, Valley View trails were some of the biggest jumps I had ridden, but somehow still the easiest.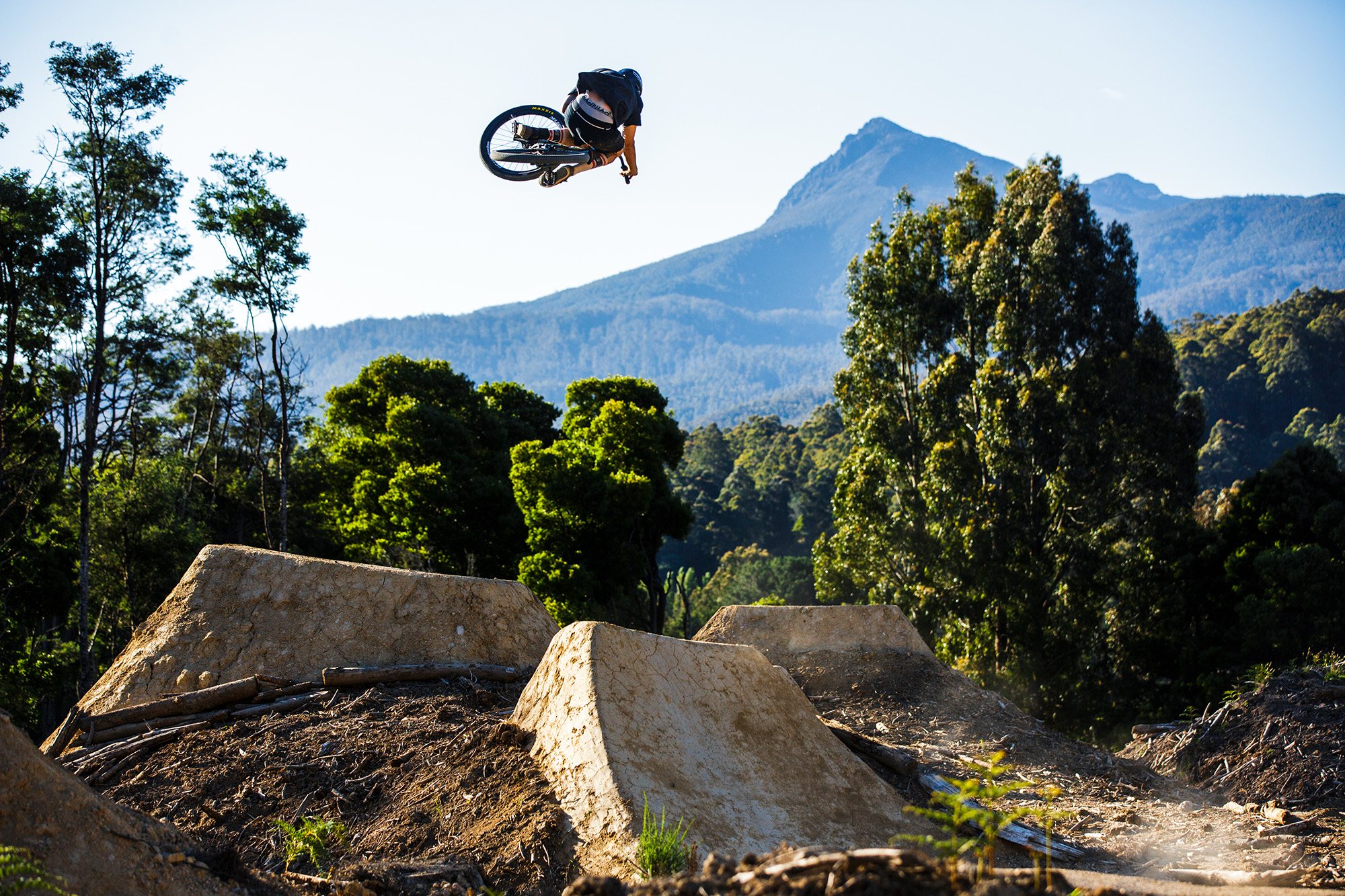 A couple of days after arriving for our 2nd Adelaide trip, I broke my ankle. This meant I returned home and spent most of the summer watching my mates ride in the backyard of my parent's place, which at this point I'd spent an entire winter digging by myself and still hadn't ridden any of it. Once returning from my ankle injury I did manage to get a couple of months of laps in before Covid and winter hit. From watching my mates ride, and then feeling the imperfections that I was seeing when I started riding, I learnt even more about how jumps should work and then got stuck into digging in our backyard again. I rebuilt the entire line and posted most of my progress on Instagram. With seemingly unlimited time to dig due to Covid lock downs, I was able to build things exactly as I wanted aesthetically. And I was also able to experiment with ideas just like I had done all those years ago at Greenfield trails. Which for me is as much fun as riding the end product. The content I posted sparked a lot of attention around me as a trail builder and I think helped me stamp my name in the cycling industry as not only a rider, but a builder too.
Toward the end of winter, I was offered my dream project. Simon French from Dirt Art called and asked if I wanted to come back to work for him and build a Dirt Jump park at Maydena. The brief was simple, "gorge road / city dirt style jumps, something for everyone and a 3-month timeline" my brain was off and running. It was the first time someone had offered me a leadership role for a project with almost unlimited creative licence.
I was so excited to try and showcase exactly what I could do and prove to myself that my visions are achievable in a commercial environment.
When designing and building a set of trails, there are 3 things to keep in mind, building something that will last, something that fits the terrain and something that flows well. Flow to me roughly translates to effortless. This means, no brakes, no pedals, and no excessive pumping or pulling back unless you want to. The speed for each jump should be right, based off the speed you have when you land the previous jump. The site in Maydena was a blank canvas with a slight downhill, so I started by stacking up a big roll-in with a few rollers to get you moving, in the hopes that once you clear that first and second setup up jumps you're good to go for the next eight jumps without having to think too much. Next to creating an aesthetically pleasing spot, getting the jumps to flow was the biggest goal and given the slope of the land that meant putting in some hips and berms to ensure speed was managed. I roughed in the line with a 20 tonne machine, followed by adding more shape with a 5 tonne and then cutting the (almost) perfect shapes and cleaning up with the smaller 1.7 tonne machine. This process was something I'd never had the opportunity to do, so I had to do a lot of learning as I went, moving jumps when I got a bit ambitions in the big digger, or figuring out how much I could actually do aesthetically with the smaller machine.
Ten out of twelve jumps in the pro line worked first go, I couldn't believe it. They weren't perfect, but they worked. when trying to figure out the issue with the last 2, I stumbled upon a pattern that I couldn't believe I hadn't noticed before, seemingly the missing key to an otherwise fool proof guide to building jumps that work. I noticed that each take-off, was roughly 3/4 as tall as the landing before it. Seems simple… but you'd be surprised at how many times this isn't the case, I was also surprised to think back to the best jumps I'd ridden and notice the same pattern throughout. While you've got your notepads out, I should mention the rest of my "formula". Every landing needs to be sufficiently taller than its paired take-off so you can see the knuckle of the landing from the bottom of its takeoff. Each flat bottom between landing and the next take-off, must slope downhill with the direction of travel. And to work out the distance of the gap, you combine the above factors, and relate them to steepness/angle of your take-off. Simply – steep take-off, shorter gap, mellow take-off, longer gap. Now these are a general guide, there are exceptions to the rule, but for general experimentation, something along these lines should work. We determined that the 2nd last jump simply had too tall of a take-off for the lander before it, so I built the landing up a fraction, cut the take-off down a bit, gave it a jump and boom, success! Now I'm sure in some world of maths and physics there's a way to determine why all this nonsense works, and maybe one day I'll learn it. But for now, I'll keep it in my brain as it is. I spent the remaining time tweaking some of the other jumps to work better, and then the last week or so on the shovel making everything look as I nice as I could. The entire time spent digging was very surreal, I couldn't believe that I'd got the opportunity to do this as a job. I also must thank Simon Reid for working on the beginner jump zone that I had roughed in so that I could focus my time on the intermediate and advanced zone. That was a massive help and he nailed the vision.
Opening day was quite stressful for me, the thought of something I had worked so hard on being opened up for the general public to judge was very anxiety inducing. There was no one else to blame if something wasn't right, and no matter how confident I was in the end product, I was still nervous as to how it would be taken. Luckily the amount of positive feedback we received quickly put most of these fears to rest. Once everyone started getting laps, the smiles started flowing and the heckling began. It was an afternoon of pure magic. That feeling is one I'll never forget. And one I will continue chasing for ever. There's something special about working your butt and creating something you're proud of, and then seeing it bring so much joy to other people. We as trail builders, are always striving for that feeling. Recently, after helping complete a new green descent at Maydena, Dan Booker and I sat and listened to a group of four guys riding down the trail. We heard them coming from ages away, whooping and screaming, and they rode past us with the biggest, most infectious grins. From the moment we heard them, neither of us could stop smiling. I felt the same, yet more intensely, on opening day of the jump park. And that's what makes all the blood, sweat and sleepless nights worth it.
For without an outlet to create, my brain would explode. And that's no good for anyone.
I guess I best bring this thing to a close. If you've made it this far through all that mumble jumble, then I thank you!! I'd love to hear your feedback, I want to make these pages as interesting as possible, so if you have any questions or topics, you'd like me to cover next time, hit me up via Instagram @baxter_maiwald. I also want to thank a few key people for bringing me into the world of trail building and keeping me here. So, thank you to Jai, Simon, and Rhys, Garry, Elliot, Ben, Jack, and my parents for letting me leave school to chase a dream. There's been tough times digging, but the good ones far outweigh them. I can't wait to see what's next! I guess the saying really is true: 'get a job that you love, and you'll never work a day in your life' Grab a shovel, stay stoked! [R]