Now, hands up please, who can tell me the biggest difference between this bike and every generation of 'Epic' to come before it?
"What's that little Johnny?
Yes, the FSR rear linkage is GONE!"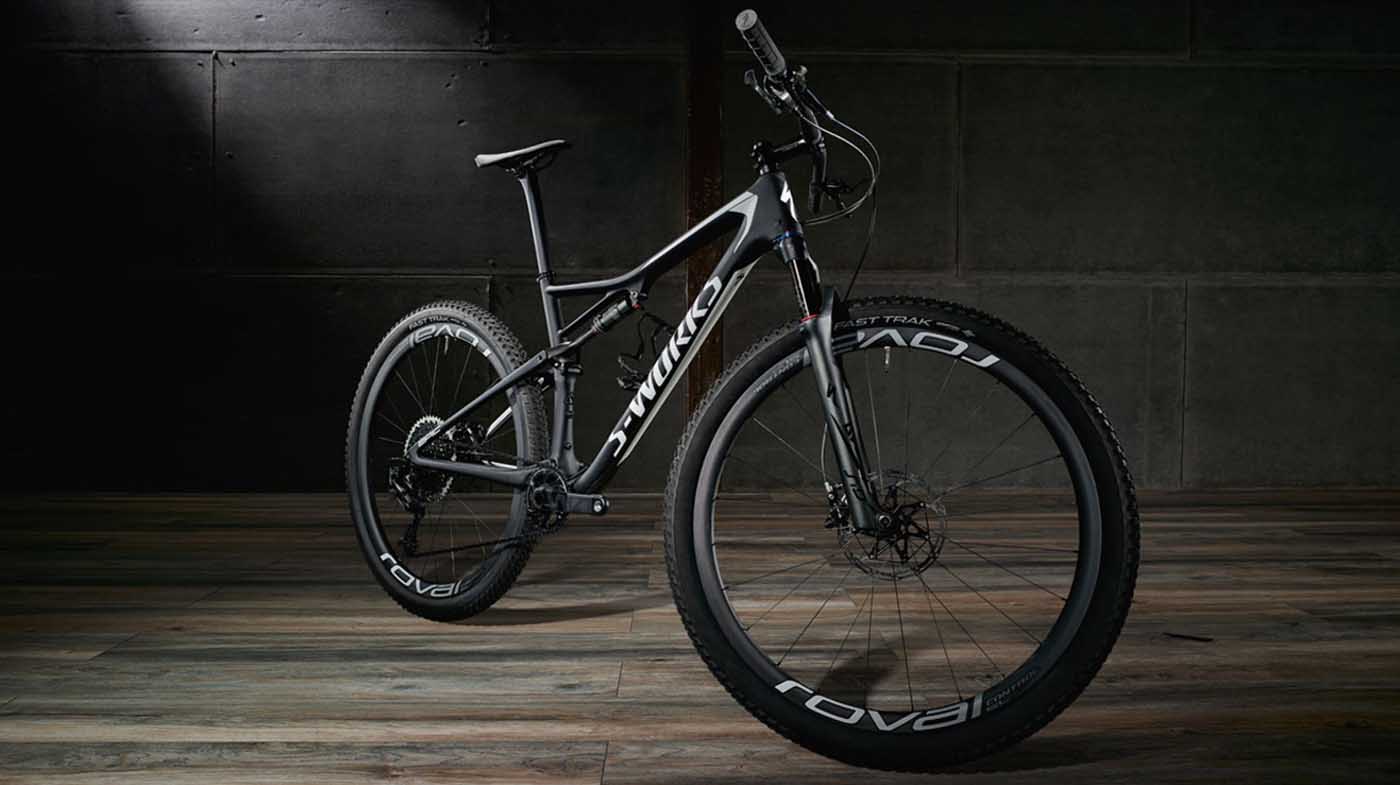 We scored an early introduction to this bike last week and as soon as we eyeballed it in the flesh that paint job just absolutely takes your breath away. "Wooohaaa" it looks like misted glass, stunning! Then when I went to pick the bike up I damn near almost smashed the bottom of my chin with the bikes top tube! This bike isn't just light, its f*king ridiculous. Turns out when Specialized did away with the FSR linkage, plus a bunch of other nifty weight saving features, they somehow managed to make this new frame over half a kilo lighter than the previous Epic. Say what!? Yep that's a saving of 525grams just in the frame alone.
With more World Championship titles, Olympic medals, and Cape Epic wins than you can count, you may be wondering, "Can the Epic really get any better?" Well, I'm glad you asked, because with a completely new geometry, redesigned Brain, and a new frame layup, the all-new S-Works Epic goes from jet fighter to rocket ship.
The new Epic was designed by a new way of thinking. Specialized call it, 'Rider-First Engineered' which is a concept they developed whilst designing their new 'Tarmac' road bike (which was also launched today and if you tune into the Tour De France you'll probably catch a glimpse of it).  Specialized's engineers set specific ride quality targets per size, so whether you're a size Small or an X-Large, you'll have the same intended ride experience without it being too stiff or riding like a wet noodle. With it brings unique layups and tube shapes for every frame size. That's all fine and dandy, but here's the impressive part. The engineering team was able to make a bike that holds a stiffness-to-weight number that can go toe-to-toe with any of the competition, while also cutting out 240 grams from the rear end (a 39% weight savings) and *up to 525 grams out of the frame alone. Yes, you read that correct—525 grams out of the frame alone. That's the equivalent of taking out an entire Brain shock, shock extension, a few headset spacers, and pivot hardware.
"In a focused effort to make the new Epic the fastest XC bike, one of the main goals was to drastically reduce weight. In doing so, we did remove pivots from the rear end of this new platform." 
The 2018 Epic features a stunning 'FACT 12m' carbon fibre frame which boasts the best combination of stiffness, strength, and light overall weight, resulting in the utmost efficiency and speed. Meanwhile, the new geometry, RockShox Brain shock, and 100mm of travel, combine to deliver the new Epic amazing handling out on the trails and World Cup race tracks.
At the heart of the new Epic is the latest generation of their unique 'Brain' rear shock. Specialized have been perfecting the Brain for over a decade now. It was, and is, the only shock that can differentiate rider and trail inputs. It rides firm on smooth terrain and opens when encountering trail/bump force impact. The need for lockout levers, extra cables, and remotes is gone, so no more riding descents and forgetting to open your shock. It does the thinking for you. Brain 2.0 takes everything that was great from earlier iterations and builds upon them. Moving the Brain closer to the axle (moment of inertia) makes for a more responsive system than before. Oil porting and flow paths have been reengineered to reduce oil turbulence and provide more consistent damping. And the suspension team also addressed hose fitting, so there are no frame rub issues, making this the most visually sleek Brain package yet. Now, hoses that route oil flow directly through the shock extension, taking out unnecessary curves and fittings.
With the new Epic Specialized have increased the bikes 'reach' to make for a longer, more stable front end. To keep the rider position consistent with what we have today, we shortened the stem length, which also makes for quick handling. The head angle was slackened by 1.5 degrees to create an aggressive 69.5-degree angle. Those two changes combine to create a bike that's much more confident at speed and descending through steep and rough terrain.
Along with the geometry revamp, weight savings, and all-new Brain, there are even more new features packed into the 2018 Epic platform. All of the carbon Epic models in the 2018 range will feature carbon rear ends, which is a first for Specialized and for the Epic. To accompany the aggressive geo, they've also made sure that the bikes are compatible with dropper posts. Not just the Command post XCP we've used in the past, though, but full length droppers. Of course, this makes the Epic more capable than ever.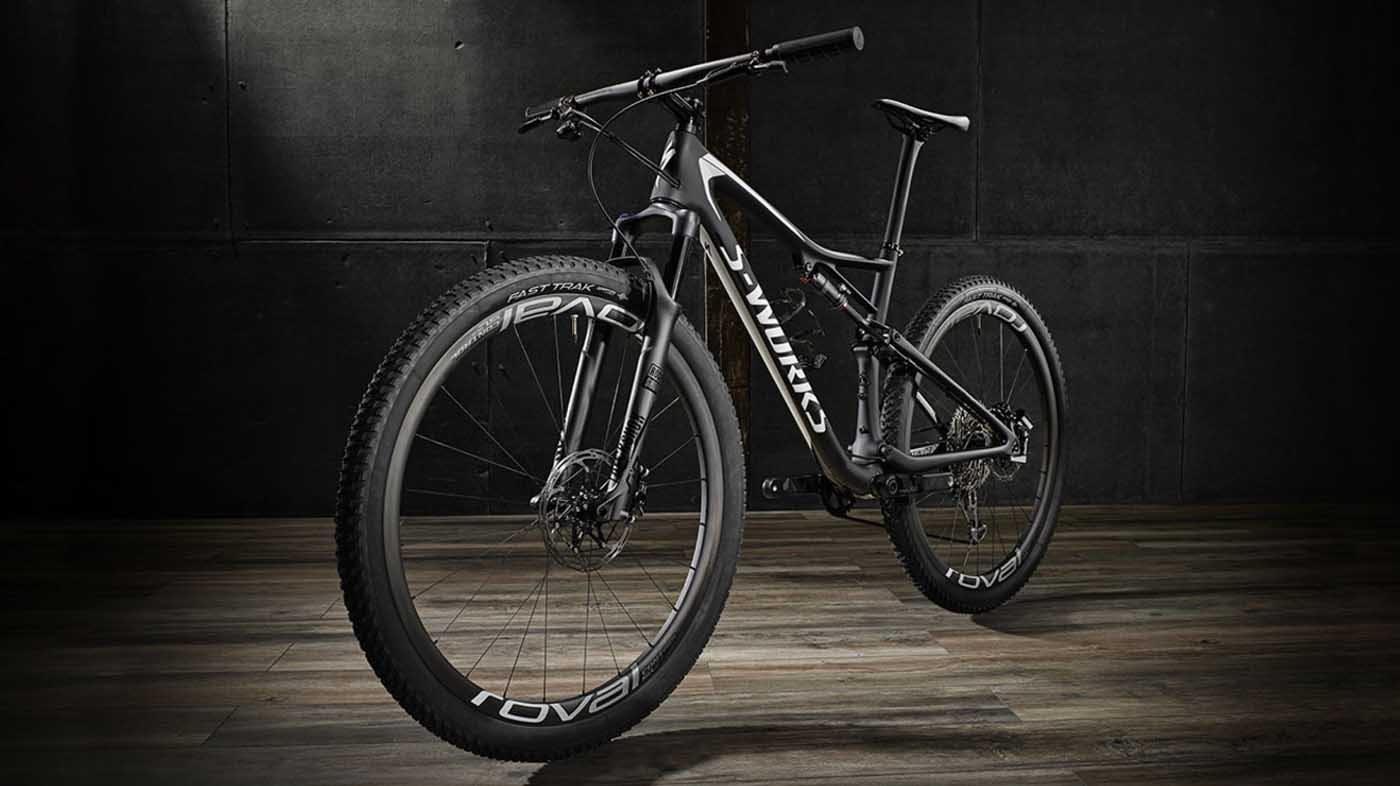 You saved a lot of weight out of the rear end, and I see there isn't FSR on this platform?
In a focused effort to make the new Epic the fastest XC bike, one of the main goals was to drastically reduce weight. In doing so, we did remove pivots from the rear end of this new platform. That decision saved us 240g (39% lighter) in the rear end alone! This, in combination with the new Brain, allowed us to make large improvements in overall performance, while also saving up to 525g in some frames. We very much believe in the FSR system as an effective an efficient suspension design, and you'll continue to see it throughout the rest of our MTB lineup.
Does this mean it performs the same?
Yes, it performs even better. In addition to the weight savings, the new Epic is a single-pivot bike. We've designed engineered flex zones in the chain and seatstays, however, to emulate the performance of the FSR system. Being designed around a 1x drivetrain, the engineers could tune the platform to perform better under pedaling forces. And combined with the sensitivity of the new Brain, this bike builds on the efficiency of its predecessor. Removing pivots also makes for a stiffer rear end. Stiffness = pedaling and power transfer efficiency.
What is the fork offset?
The fork offset on the Epic is 42mm. This is a number that is often associated with smaller wheeled, longer travel bikes. This gave the bike the stability of a slacker head angle, but kept the liveliness and handling in climbing and cornering in tight switchbacks. It also makes the front wheel feel planted and predictable. Just ride it—you'll see. Numbers and charts don't define everything.
What is the difference between the men's and woman's models?
After analyzing our fit database, we found that a shared platform (frame) was the best way to accomplish a proper fit across genders we do however offer XS sizing in this platform (alloy models only). That being said, there are quite a few variations in spec: Touchpoints: Smaller diameter grips, narrower bars, shorter cranks and women's specific saddles are standard on every Epic Women's Suspension Tune: The suspension team doesn't just Rx Tune the men's bikes. The women's bikes receive the same amount of attention. The fork and shock get a custom spring curve that compliments women's riding styles, that is accompanied by compression and rebound tunes that are complimentary (lighter).