Welcome to first edition of a new regular feature in the mag where we will be traveling around the country to showcase some of Australia's best trail spots with local inside knowledge from pro riders and industry icons.
In this episode Giant Factory Off-Road Team member Josh Carlson is showing us around one of his favourite trail hubs, the Helensburgh MTB Park, which is located just a short distance from his hometown on NSW South Coast.
The Helensburgh MTB Park is located (as you might have guessed) in the town of Helensburgh which is pretty much exactly half way between Sydney and Wollongong. Conveniently position right next to the Princess H'way you'll have no problem finding the park and there's plenty of parking right at the trail head. The bike park is open to the public and free to ride 365 days each year. The park is also home to the Helensburgh Off Road Cycle Club which encompasses nearly 200 members.
Whilst there had always been trails scattered around the area things became official back in 2017 thanks to government funding when the bike park was constructed by the expert team from Synergy Trails.
Alright Josh, thanks for inviting us along today to check out your 'Hidden Gem' spot. Let's start with an overview of the MTB park?
The Helensburgh mountain bike park is fun and packed with great riding for all ages and abilities across the board.
Are there different trails to cater for riders of all abilities?
Yes and plenty of development lines. It's an easy space to hone in on your skillset, push yourself to a new level or have some fun with your buddies.
What is your personal favourite section of trail at the park?
I'm a big fan of the undulating Sam's trail. On an e-Bike, you can really get moving in there it makes for a wild and fast ride.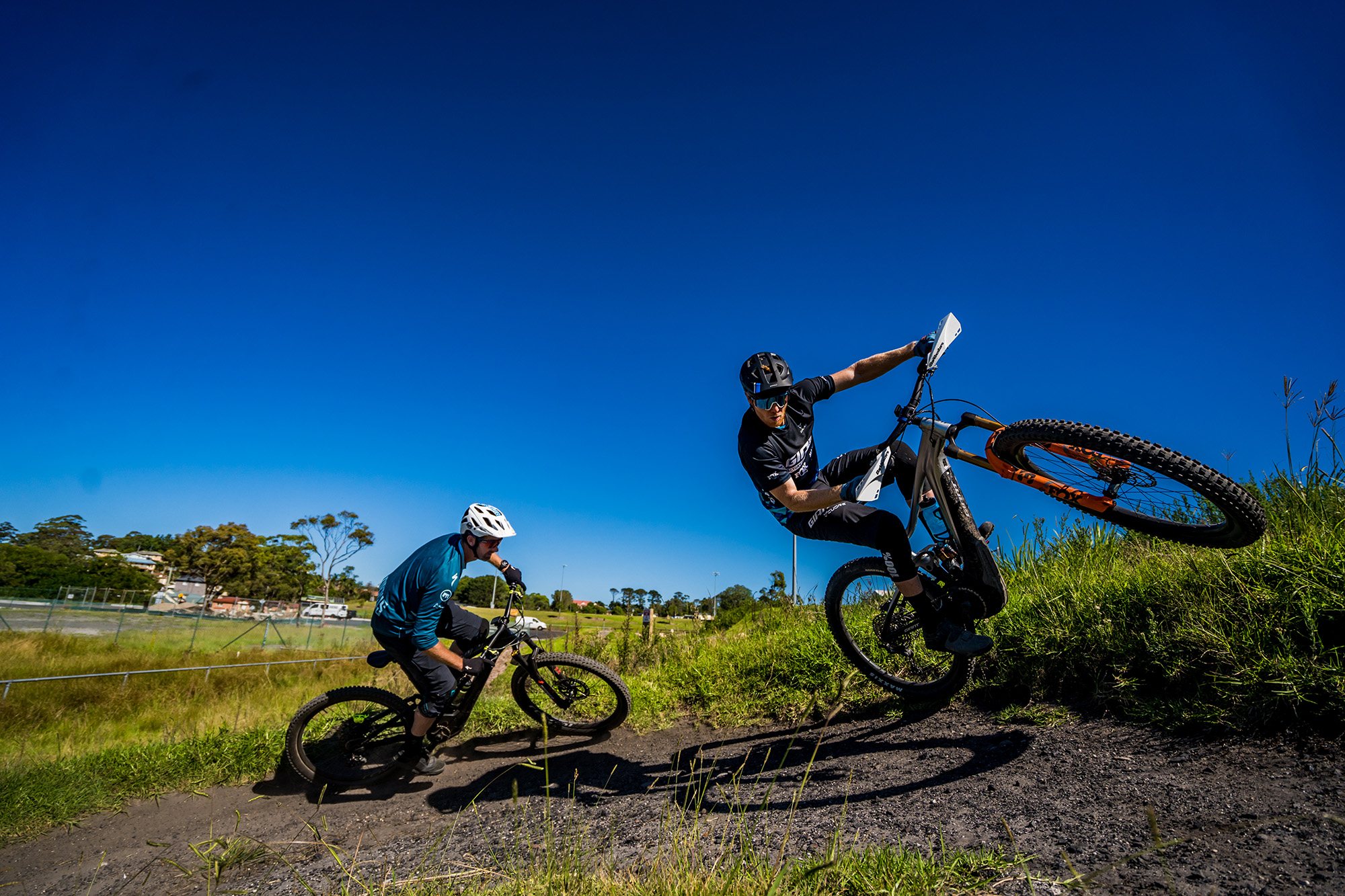 If you wanted to try and cover most of the main trails at the park how many hours of riding are we talking?
If you were clever and creative, you could spend anywhere from 2-4 hours riding around some of the trails in that area.
You obviously rode your e-Bike that day, is the Park just as enjoyable to ride on a regular MTB?
Of course! The jump lines and XC style trails in the trees are just as fun on a regular bike and I regularly ride my Reign 29 up there. As much as I enjoy the technical challenges on the E bike, it also feels cool to take them on with a regular bike to see if they are actually as hard as them seem when I'm on my E bike.
Could you take the kids there for a trail ride?
For sure! I regularly take my kids up there who are 5 and 4 at the moment. They love cruising around the trails and I'm excited for the day when we can do a full lap of all the trails in the MTB park.
Is there decent phone coverage out there?
There sure is! Great phone coverage out there for scouting trails on Trail Forks or navigating how to get back to the coffee shop or pub.
What's new by in terms of food, accom and a local bike shop?
The closest bike shop is Giant Wollongong which is a short 20 minute drive away. Air BnB has some great options for get away's in the area and the town is buzzing with coffee shops, bakeries and dinner locations.
Can you pedal to the beach for a swim after you finish riding for the day?
You could ride down to the beach but you wouldn't want to ride home. If you draw straws with your buddies to find out who is going to drive the car down to the beach while everyone else rides, you could ride the road down to Stanwell Park beach and get yourself some hot chippies right on the sand down by the water. Helensburgh is located on top of the escarpment and is actually located right next to the public pools which could definitely accommodate you for a cheeky dip to cool off after a sweaty loop through the trees.
Josh's current 'go to bike'
Giant Trance-X E+
Frame size: Large
Motor: Yamaha PW-X2
Battery: 625wh
Fork: FOX 38 44mm Offset
Travel: 160mm
Rear shock: FOX Factory X2
Travel: 140mm ( 185 x 52.5)
Brakes: SHIMANO XTR F/R
Crankset and ring size: Praxis Carbon 165mm cranks. 36t front ring.
Rear Derailleur: SHIMANO XTR Mid cage.
Pedals: HT T1
Rims: GIANT TRX 0 Wheels
Hubs: GIANT Hubs
Tyres: Maxxis Assegai DD 2.6. Maxx Gripp/Maxx Terra
Pressures:  28psi front, 32 psi Rear
Tyre inserts: Cushcore XC inserts
Saddle: PRO Turnix
Dropper: Giant 170mm Dropper post
Stem and length: 65mm GIANT Alloy Stem
Bars and width: GIANT Alloy bars. 765mm width.
Funky hand guards: Barkbusters MTB Handguard.