If I am totally honest, when I first opened the box and unpacked the Carbine 'Pro', it was hard to believe that Intense could even offer a higher spec'd build kit than this! Besides the premium part selection, its spec has also been very well thought out. The Carbine Pro comes with all kinds of little unique component upgrades and touches that you tend to see on peoples' bikes after they have made some personal changes. For instance, you have a short little 50mm Thomson stem holding a set of Renthal bars with a set of ODI grips slipped on to finish it off. It may not sound like a big deal, but the bars, stem and grips tend to be what make a lot of people's bikes their own. With the great level of what is considered standard spec available on trail bikes these days, the need to change parts has almost become a thing of the past. It's really only the odd personal preference a rider may have made on the bike over a period of time – such as above – that makes a particular model stand out from the rest.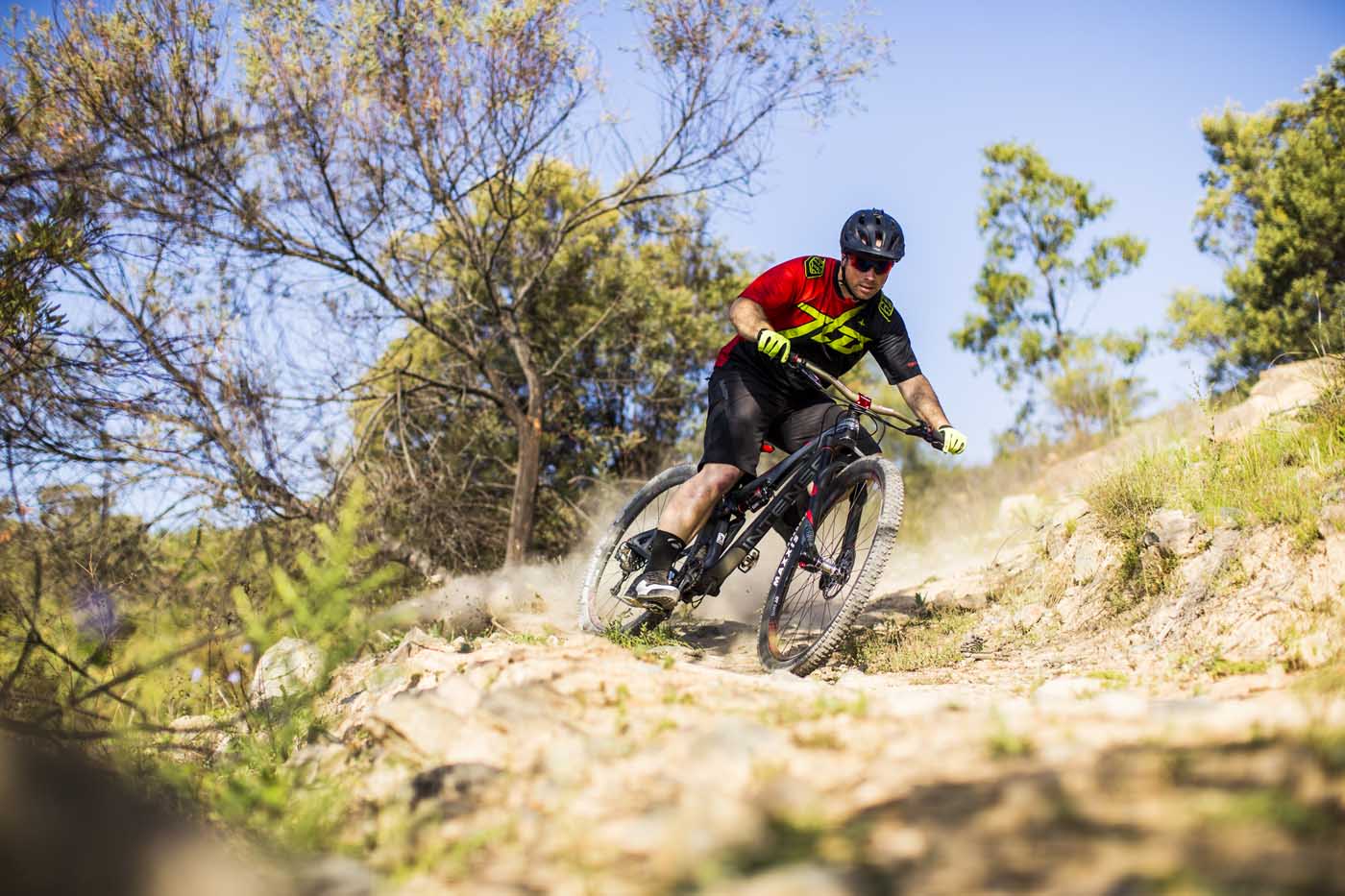 Headlining the Intense's spec are a set of top-of-the line Rock Shox Pikes RCT3 fork and set of DT Swiss 340 wheels. Whilst these wheels are not carbon, they are light and stiff and perhaps a better option for the Carbine C with what you're going to be throwing at them.
You also get some other great parts from SRAM in the form of Guide RS brakes and a XO1/X1 drivetrain. Perhaps one downside to the bike overall spec, if you could call it that, is the Rock Shox Monarch Plus R and SRAM X1 Crank, as, at this price point we would like to see some more adjustment on the rear shock and a set of carbon cranks. While the Monarch Plus R is a great shock and performed flawlessly, the addition of the 3-position compression (descend, trail and lock-out settings), found on the Monarch Plus RC3, would have topped off an amazing bike. As for the X1 crank, this is a $10k bike and for that amount of cash we feel a carbon crank is what's lacking against its competitors – especially when you're torn on what bike to get.


Now this is cool; the Carbine can be set up with either 125mm or 140mm of travel in the rear, and up front has 160mm Rock Shox Pike, which is no longer considered disproportionate.
For sure, the Carbine Pro looked like it would be very capable through rough rocky sections because of the slack head angle, big wheels, and relatively long fork.  It pedaled particularly well because of the firm, shorter travel rear end. They say never judge a book by its cover, but in this case, the cover was a great sign of what the Carbine Pro was capable of.
When jumping on the Carbine I was surprised by how long it was in a size – we rode Medium – and were very happy with the 50mm stem that we had thought was going to be way to short. Having said this, the Carbine Pro wasn't too long, but definitely felt a bit more stretched out than when we have been on other Medium frames.  Note, this is becoming a bit of a trend with the rise of professional Enduro racing.
The Carbine Pro's big wheels hold speed really well, and its slack geometry gave us confidence to attack rough sections aggressively, yet the steering still felt quick. Its frame and DT wheels both felt laterally stiff, giving us confidence on the trails. The Carbine Pro was well balanced, and we could change direction easily across the trails, maneuvering through trail features with ease, something you may not be able to do on a less lively 160mm 27.5 bike. In a smaller frame size, the Carbine may have felt more playful, but more than anything, the Medium just wanted to go really, really, fast, whilst letting you know that you're on an Intense and you're doing what Intense bikes do best – go fast, get loose & let you be friggen awesome doing it!

The suspension action felt progressive and we never encountered a hard bottom-out, even on the hardest hits of our test loop. This could be due to the custom tune of the Rock Shox Monarch Plus R or the 29" wheels. Sometimes it's very hard to distinguish the suspensions' performance from the benefits of the 29" wheels when combined as part of a good frame package.
In the 140mm travel setting, the Carbine Pro still pedaled better than a lot of other great long travel 29'ers, such as the Specialized Enduro 29 (if you did not use the lock out).  Again, upgrading the Monarch to the Plus RC3 would help blow a few bigger brands out of the water.
Out on the trails during our first ride, surprisingly the Carbine didn't instantly win us over. It felt just a little sluggish, even despite the above standard spec that it boasts. Perhaps it was the way we'd set the bike up? Sure enough, after playing around with the settings and adjusting the air spring pressure accordingly, along with adding a bottomless band in the Monarch, the Carbine C came into its own and began producing that plush, bottomless feeling on mid-sized bumps that VPP linkages are known for. Why didn't we spend a few extra minutes setting up the bike's suspension properly before we headed out on that first ride? Rookie mistake. Guess we were just too excited to ride the thing!
After a solid few rides, we could still sense that on the smaller, high frequency bumps out on the trails, the Intense rode a tad rougher when compared to other suspension platforms. Much of this roughness is due to the factory shock tune, rather than the linkage. The compression tune on the stock Rock Shox Monarch Plus R is perhaps a little firm on some parts of the trail when you don't have the adjustment of the Monarch Plus RC3 (this is great if you are a heavy rider but even an aggressive rider will like a bit more suppleness for grip). In rock gardens, the firm tune provided good support and aided in pumping the bike through rollers and berms, yet full travel was still available and quite plush through the middle and end of the shock stroke. It proved to be a good pairing for my 160mm travel Rock Shox Pike RCT3 (46mm offset) set with about six clicks of low-speed compression.
Although the Carbine Pro was built up with a 160mm travel Pike, a mismatch for the 140mm travel rear end, Intense designed the bike to be setup this way and it never felt unbalanced. Instead the additional travel up front acted as a bailout when bad line choices forced the fork through its last 20mm of travel.

The big wheels, long travel, and slack head angle made slamming through rock gardens far easier than it should have been. We found that the key to unlocking the descending performance, for us anyway, on the VPP linkage is to run the rebound slightly slower to tame the somewhat quick top-out produced by the unique shock curve. Just one or two extra clicks of rebound produced sweet smooth suspension action across high-speed, small to mid-hits that would cause many other suspension designs to pack up and become harsh.
The Rock Shox Pike RCT3 handled whatever we could find to throw at it, with some travel to spare, thanks to its bottomless tokens; all while the Rock Shox Monarch Plus R took the edge off any hits to the rear wheel. We never used the 125mm setting of the Carbine. We had every intention of trying the shorter travel setting, but we were very happy and comfortable with the setup in the 140mm setting that we did not ever feel the need to change it.
In my opinion, the Intense Carbine 29'er is going to be a great option for anyone looking for a 29er that can be ridden really hard, but that also climbs well. In fact, the bike balances pedaling efficiency with Intense's style of downhill performance better than most 29ers we have ridden of late – including some very popular 160mm bikes. The Carbine Pro 29'er might not be my first choice for really rough and tight trails, but if you wanted a bike to chase XC racers on climbs and then destroy them on the descents by taking much harder lines, you would be very happy with the Carbine Pro.  Oh, and it comes in 2 colours so when your mates have a go and fall in love with it, you won't be that cute 'matchy matchy' couple on the trails.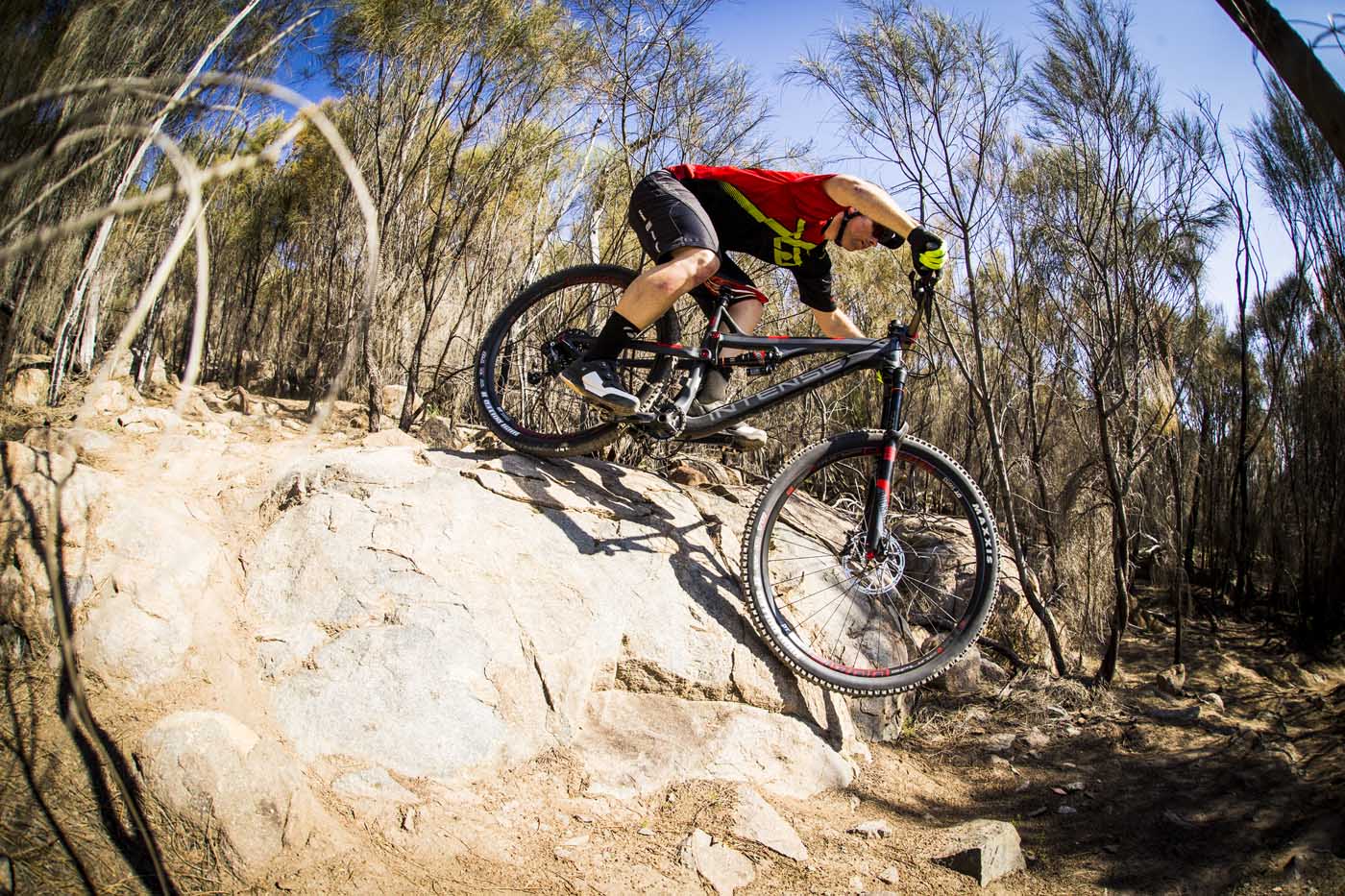 Frame spec: Full carbon fibre monocoque front and rear end, adjustable travel (140-160mm), forged linkages, internal cable routing.
Parts spec: Fox 36 Float fork (160mm travel), Fox Float X rear shock, DT Swiss XMC 1200 Spline wheels, Complete SRAM XX1 drivetrain, Shimano XTR brakes, RockShox Reverb Stealth dropper post, Renthal bar and stem, Maxxis High Roller II rubber.
Price: $9,999.00
Browse: www.intensecycles.com