Since right back when e-MTB's first began to appear over a decade ago Shimano have been a dominant force in pioneering their motor systems. As more and more frame manufacturers started to make e-Bikes the vast majority of them opted to fit Shimano motors due to their proven performance and reliability.
Today, Shimano has unveiled their latest generation e-Bike motor system called EP8 which comes with an astounding list of improvements over its predecessor (which was already regarded as one of the best e-Motors in the business). It's a lot more powerful, it pedals smoother/less mechanical drag, it's quieter, and to cap it all off its much lighter than the old version. To discover more on the eve of its official launch [E]volution Magazine sat down with Shimano Australia's e-Bike product manager, Brian Seng, for a chat about the brand's all new flagship motor and e-Bike system.
[E]: Okay so the day has finally come that we can let the cat out of the bag and talk about your brand new, massively anticipated, EP8 motor system. First up, how long was EP8 in development for and how did the process evolve?    
Brian: Shimano STEPS EP8 has been in development over the past couple of years, we have been fortunate ourselves to be able to conduct some pre-production testing at some local trails on the Morning Peninsula back in October last year. We invited some bicycle product managers of various brands to come test ride and provide us with some helpful feedback about the system. It was all very positive
Shimano's previous generation 'top of the line' motor called E8000 came to be known as one of the more popular and mechanically reliable e-Bike systems ever made. Tell us about some of the features of EP8 that allow the new system to outperform its predecessor?
Shimano STEPS EP8 definitely has some extra unique features that provide a much more intuitive riding experience for the rider. With the latest version of the E-Tube Project app for mobile devices, the rider would be able select and adjust the level of assisted support required for each mode and also the initial engagement of the assist power. Within the mobile app, they can also setup two riding profiles and apply that on the firmware of the EP8 drive unit. For example, you could have an easy going Profile, which will ease the assist power delivery conserving that battery capacity for longer distance ride, and the other Profile set at a higher power delivery for more sharper and quicker assisted support.    
Okay mate so hit us with EP8's facts and figures; how much more powerful is it, how much range does it have, etc?
The STEPS EP8 drive unit is a 250W powered motor, which has max output of 85 Nm of torque. It also has the Walk assist function like the previous system. The battery range can vary, depending on the level of terrain, and incline ridden on that ride. However we also produced larger capacity Lithium-ion battery pack at 630Wh for riders seeking more range for bigger epic rides. One thing to mention is that when the system is put in the ECO* mode at its factory default setting, the Drive Unit has the ability of a further 20% cruising range when compared with E8000  
The physical size and overall weight of the motor unit has also gone on a diet to, eh?
The STEPS EP8 drive unit is decreased in size by 10% in overall volume compare to the E8000 Drive unit and the motor casing is now constructed from magnesium which saves 300 grams of weight. The new drive unit on its own weighs around 2,600 grams.
The new motor claims to pedal significantly smoother and be quieter than the previous gen version, how does it achieve that?
That's right, an improved clutch mechanism results in a more responsive ride, allowing for a smoother cut-off when pedaling above 25km/h (Australian Standard, AS:15194).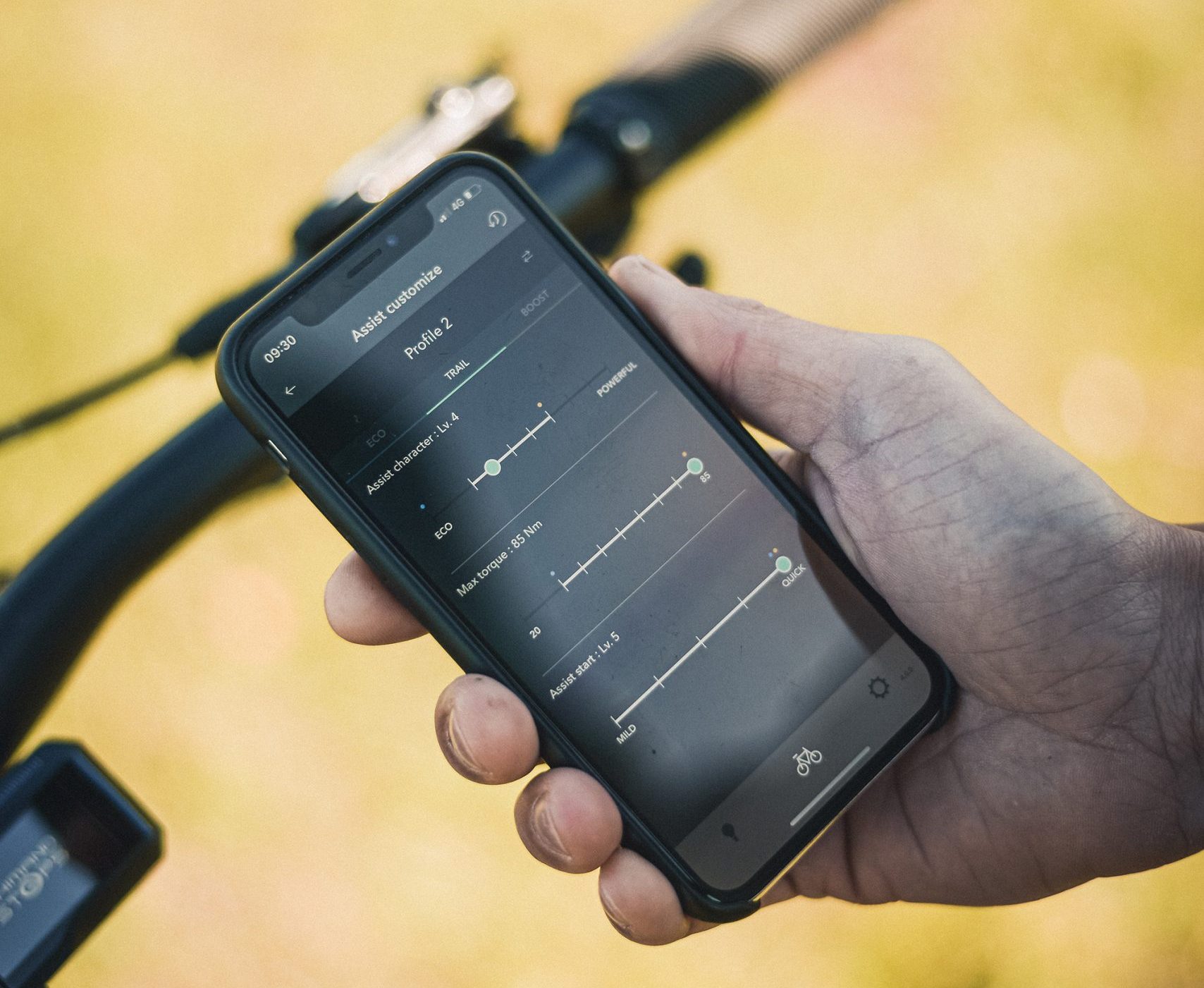 In addition to the hardware components within the EP8 range you guys have also released some new software today in the form of 2 new Apps which allow riders to customise how the system works as well as record their data whilst out riding. Can you explain to us some of the key features of the 2 new Apps?
Actually both apps have been available for riders to download for some time now to use with existing STEPS e-bikes. First app: E-Tube Project, this app allows you to connect with you bike over a Bluetooth frequency. You would be able to carry out firmware updates, customise your switch setup on your STEPS E-bike, manage and setup your riding profiles, and setup gear changing patterns if your bike has a Di2 rear derailleur.  Second app: E-Tube Ride, this app is specifically made for later models of the STEPS series (E5000, E6100 and E7000) This is more of a cycle computer type app, which displays your current riding data (travelling speed, range, ODO, assist level) on the screen of your smart phone if you have it mounted on your handle bar. The app will also store the data log of your riding history from your STEPS E-bike.
And finally, as someone who has had the opportunity to actually ride and experience the EP8 system first hand, can you tell us a bit about how it performs and handles out there on the trails?  
I can tell you that the smooth delivery of assist provided by the STEPS EP8 drive unit feels really well balanced and predictable. This is really essential especially for an E-MTB ridden on trails where terrain changes all the time. Assist response from the first pedal stroke is almost instant, and really controlled which gives you the confidence when riding over technical sections on the trail. The ability to be able to setup the level required assist support makes it really suitable for all level of mountain bikers and is very intuitive to operate.
EP8 SPEC HIGHLIGHTS
21% more powerful than compared to previous generation

85nM max torque

500W maximum power output

36% reduction in drag compared to previous generation

10% lighter than previous generation

New magnesium drive unit case
Motor body weighs 2.6 kg

New software

2 new Apps for rider customisation and data recording

Max battery 630Wh

20% increase in range (more trail per ride!)