Even though Canyon don't yet offer the Spectral:ON here in Australia (for the simple reason that the brand can barely keep up with production demand for Europe alone right now) when we spotted footage online of Fabien out blasting trails aboard the bike it set our hearts racing and we instantly wanted to find out more info about his set-up.
Chatting about bikes with Fabien is always fun and very insightful. He is incredibly in-tune and precise with how each component on the bike works and he is able to articulate even the most complex of performance analysis in a somehow very understandable way. So, are you keen to hear from Fabien about his newest favourite MTB? Lets get going then…
From the photos and various web videos that we've seen online in recent months it certainly looks as if you've been enjoying riding Canyon's new Spectral:ON e-Bike?
I'll be honest that I do. The area here around my hometown of Nice, France, is quite steep and the potential of e-Biking is huge. We can ride some of our super technical DH uphill and enjoy long distance rides that are quite epic here!
Can you remember your reaction that very first time you rode an e-Bike on a trail, what that 'new' experience felt like?
Right away I was very impressed about the level and type of technicality we could do uphill when riding the e-Bike. In developing the Canyon e-Bike I was motivated to try and create a bike that felt like a 'regular trail bike' as much as possible at least when riding down the trails. I wanted to make sure it was playful and poppy, you know, just so fun to ride. I think the bike we came up with does that very well.
Describe to us the type of ride you would typically do when you're planning a day on the e-Bike? I'm guessing you don't just ride the same regular loop that you would when you're heading out on your regular trail bike for instance?
One of the best qualities that an e-Bike offered is for the rider to go do technical, challenging (fun) trails straight away as soon as you leave the garage without needing to warm up or build up. On an e-Bike if you go ride 2 hours it is 2 hours of pure fun… No boring uphill grinding or slow transitions!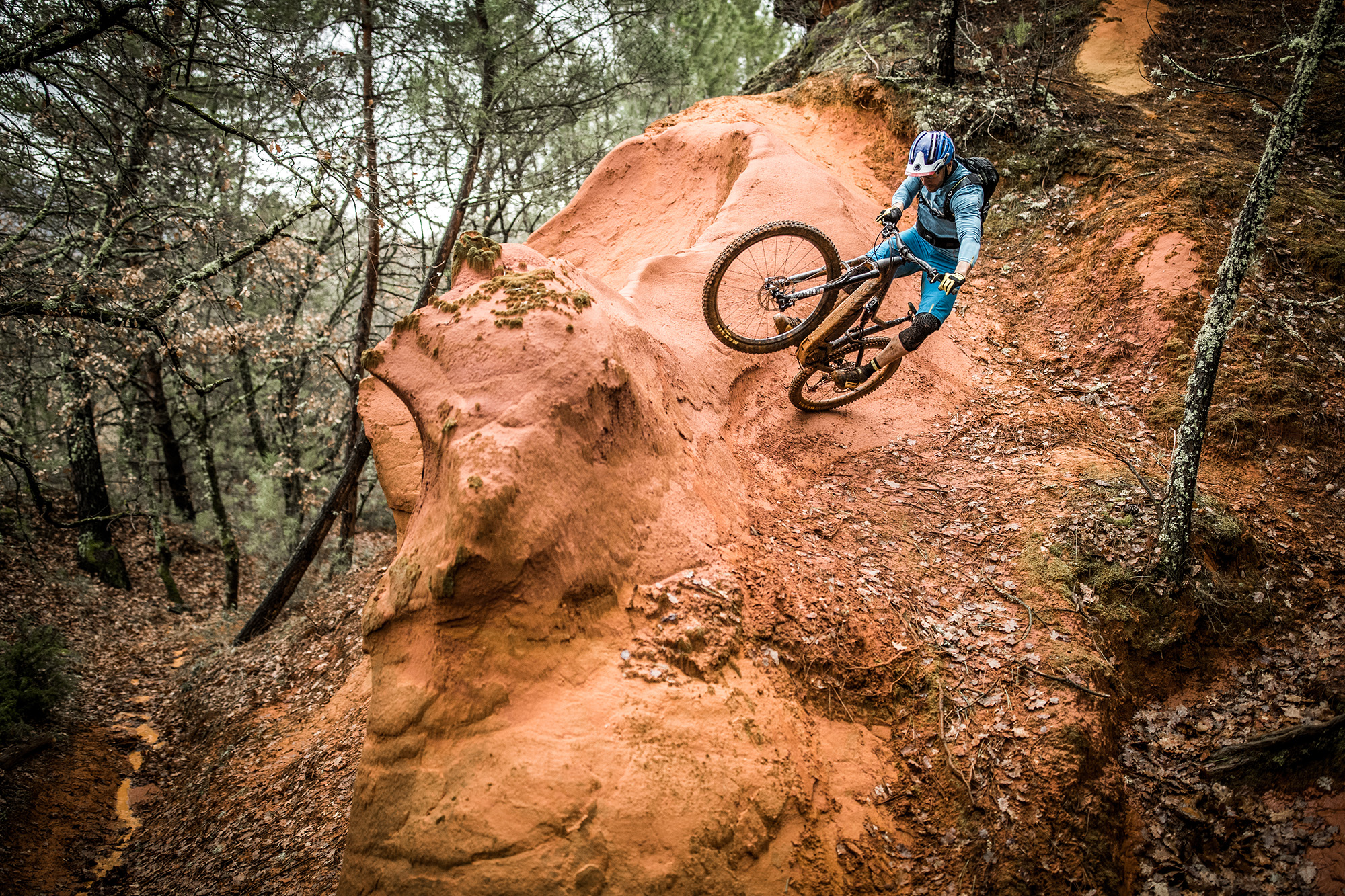 The Spectral:ON features Shimano's much famed Steps 8000 motor unit. When you head out for a ride do you switch between the 3 power modes or now that you've ridden the bike quite a lot have you found that you tend to just stay in one mode most of the time?
You'll use Trail mode most of the time but Boost will be helpful when super steep and Eco when you want to optimise battery. What I like the most about this engine, is the natural feel of it. The pedalling does not feel motorised.
I know you're incredibly calculated with how you set your bikes up, and at the same time you're always one to experiment with set-ups that other riders probably never even think of trying. Tell us a bit about how you've played around with the settings on your e-Bike since you first jumped on it?
We tried plenty of different geometries, motors but also rider position on the bike, wheel sizes and all I can say, is that e-Bike is completely different than normal due to much greater weight mass due to the motor, battery, etc, and where all those pieces are positioned within the bike. However, that extra mass does provide the potential for huge increases in grip and stability if the bike is designed right. This is why when designing our bike we aimed for a great dynamic set up. The concept of the 2 different sized wheels leads itself perfectly to the e-Bike. A 27.5" on the rear with a wide/fat tyre and short chainstays, couple with a 29" on the front. It makes so much sense, especially when you actually ride that combination, it really works. On my personal bike I even use a slightly longer travel fork with a 170mm Lyrik, and it also features reduced/short offset as well. I love it!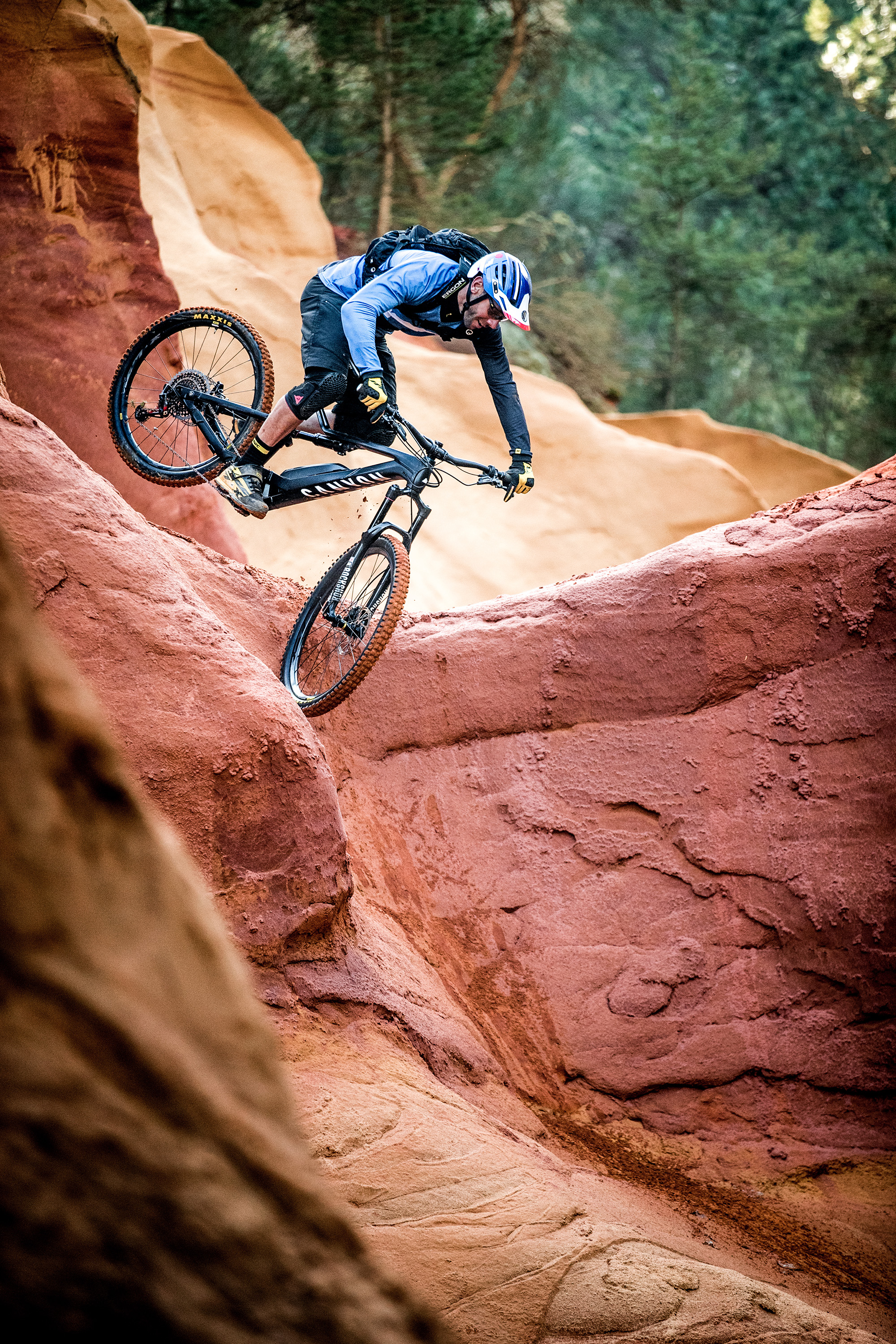 Now that we're talking about suspension, given all the additional factors that e-Bikes bring to the party; extra weight, the positioning of the motor and battery which massively effect the bike's centre of gravity, and so on, did you find it challenging to set the bike's front and rear suspension?
Well actually you will find it is easier to set-up and fine tune an e-Bike's suspension 'vs a normal bike. The reason being, as the suspended masses Vs overall weight is lower, the bike naturally works better. As long as the suspension fork and shock you're using allows the correct range of adjustment, in terms of dampening and the air spring support, you will have no problems trailing different settings yourself at home and finding a really nice balance. We are seeing now though that more and more brands are making e-Bike specific models with custom factory set tunes to suit the extra mass of the e-Bike.
In terms of the stock tyres, do you still use the same width rubber that the bike came with or have you been experimenting with wheel/tyre combinations?
On my own bike I a currently using soft rubber front and rear on e-Bike and I like 2.5" width at both ends. This lowers the bottom bracket, slackens the head angle, increases raking efficiency and makes the bike handle more of a race bike. The choice of 2.8" tyres on the stock bike on the rear does make sense to optimise grip on the climbs and still allow it to drift progressively coming into the corners (important for heavy bike) however I am running just a little narrower at the moment as I experiment with different set-ups.
"The concept of the 2 different sized wheels leads itself perfectly to the e-Bike. A 27.5" on the rear with a wide/fat tyre and short chainstays, couple with a 29" on the front. It makes so much sense, especially when you actually ride that combination, it really works."
As you're probably aware there has been a lot of talk about e-Bike racing, everyone from the UCI to the EWS has been actively focusing on developing race formats that would suit pedal assist bikes. What is your personal opinion about e-Bike racing and do you think in say 10 years time e-Bike racing will be a large part of the MTB landscape?
Yes, there is room for e-Bike racing like there was for Enduro racing. I feel the discipline of e-Bike racing will be embraced by a very large volume of competitors, and I feel it will be more suiting to that large formate of riders racing, rather than just a small elite field were everyone else has to watch from the sidelines like a World Cup for instance. As the industry is pushing we'll have some elite racing but it will never be DH or XCO. I think e-Bike racing could very well become as big and poplar as the EWS is today. However I hope that the UCI won't make the mistake to push it in the wrong direction. We will see.