We think this is the best value mountain bike on the market today. Read on to find out why…
The 2017 Trance 1 is flagged as the quintessential "do-everything" Trail bike. It is a dedicated 27.5" (650B) machine and comes spec'd with all the goodies advanced mountain bikers crave; carbon wheels, a complete Shimano Deore XT 1×11 drivetrain, XT brakes and quality Fox suspension units front and rear. Without a doubt this is the only '17 Trail bike with a price tag of less than five grand that can lay claim to those elements, and along with some other well considered factors, I think the Trance 1 is arguably the best value Trail bike on the market this year. That's a big statement, however in terms of "bang-for-buck" and pure "Trail" abilities, I believe it to be true, and below are my reasons why…
We unpacked the Trance and I smiled at the subtle grey paint and neon orange highlights across the frame, fork and rims. Quiet and loud all at once… yeah, that's a good-looking bike. I grinned at the XT 1×11 Drivetrain and matching brakes with 180mm rotors. I appraised the SL Contact Bars, the Giant TRX-1 carbon wheelset; I rolled my eyes across the 150mm Fox 34 Performance Elite Fit4 fork, and Fox Float Performance Elite EVOL LV shock in 140mm. There's also an elegant Trunnion mounted carbon rocker. For a pure Trail bike, this Giant Trance 1 rocks a very tidy parts list.
Before we move on, I gotta acknowledge that what constitutes "Trail" and what constitutes "All Mountain" has evolved dramatically since the first Trance with Maestro suspension appeared in 2004. We now have Trail bikes with All Mountain capability, and All-Mountain and Enduro bikes morphing into lighter DH / Freeride rigs. Therefore, this Trance 1 is spec'd with bulletproof parts that allows owners to easily tailor the bike to their personal requirements, whether it's marathon XC days or heavy Trail tomfoolery; and as an opening proposition, I suggest that versatility is key to this bike's success.
The Trance 1 frame is made from Giant's well proven ALUXX SL aluminium; it's light, stiff, reactive and durable, which is exactly what every mountain biker wants. A smartly-designed aluminium frame always reminds me that although Carbon is lighter and more fashionable, it's not always better. Giant have used simple rubber cable ports for the internal routing; they never leaked, or popped out, and the cabling never rattled. There's a discreet front derailleur mount and ISCG tabs. And there are also several well placed, simple and secure cable saddles for the rear brake and derailleur cables. I also liked the aluminium indents that house the lower shock mount in the down tube; the shock mount is now so low, it's as close to being parallel with the BB as engineering will allow.
Another interesting aspect is the frame's geometry. Our size "Large" test bike has an 1183mm wheelbase and 448mm reach; which initially sounds a little compact. However, when compared to the 2016 Trance, this 2017 model approximately uses 5mm shorter chain stays, sits 5mm lower, and the front centre has been stretched by 10mm (which effectively extends the wheelbase). Although only slight, the shift in frame dimensions indicates a very smart design intent; … just remember that the more extreme your geo, the more you compromise in other areas. The Trance isn't designed as a compromise. It's designed as a smart Trail Bike, a true all-rounder, focusing on Trail agility, playfulness, and climbing prowess. This is a jack-of-all-trades Trail shredder for the everyday rider. With that in mind, a potential buyer should consider their riding style and the amount of "on-bike rider area" you like to occupy.
In my view, the large size Trance 1 will perfectly suit riders between approximately 5'9″ and 6'0" tall, (and you could run a shorter stem if you wished); however, being 6'1", I found the bike's reach slightly limiting, So I adjusted the saddle with a 12mm setback, then Voila! Ghetto style 460mm reach! However, I need to explain that the benefit of a slightly shorter reach is the standing riding dynamics.
"That spot-on Trail geo allows you to throw the Trance into corners and pump it like a BMX, viciously exploiting the stiff carbon wheels and the springing stiffness of the aluminium frame; and that's where the quiet magic of this bike became apparent."
First up, … you have that wheelset. There's no other sub $5k Trail bike in 2017 that offers carbon wheels as standard. The tubeless ready, carbon clinchers have an external width of 33mm and internal width of 27mm; and both front and rear wheels have been laced with Sapim direct pull spokes into Boost hubs. The wheels weigh 1685 grams per pair, which is superb considering they are factory spec'd 27.5 wheels on wide Boost hubs designed for all-round use. Don't forget, you can spend between $1700 and $4500 on a fully built carbon wheelset, yet these wheels are standard spec on this sub $5k bike? Awesome!
The next aspect is the revised Maestro suspension platform: Maestro is based on the common four bar design, creating a single virtual pivot, supported by four pivot points, driven by the two rocker linkages. However, the beauty of Maestro when used on the Trance models is the almost constant leverage profile, the almost vertical rear axle path, and the significant negation of pedal kick back (bobbing), and suspension compression (squatting). Interestingly, every generation of Trance has retained a similar linear suspension feel (the kinematics). Previous incarnations of the Trance were notably adept when ripping tighter single-track and technical climbs. That sprightly "upright" suspension kinematics were partly caused by longer rear stays, longer top and bottom rockers, and rear shocks with a longer gauge, lower capacity and higher air pressure. However, the big evolutionary step in this current Trance is the new lower and shorter top rocker, constructed of a single beautiful piece of carbon. Giant also removed the rocker's DU bushes allowing a direct mount pivot to the rear stays and shock (called a Trunnion mount). That stiff and smooth Trunnion rocker permits use of the immensely adjustable 140mm travel Fox Float Performance Elite EVOL LV shock (yes, that's a mouthful). In basic terms, EVOL simply means "Extra Volume" from the revised fat air can; which in effect provides increased volume for the shocks' negative air spring. That increased volume allows lower pressures, and provides increased sensitivity and a distinct suppleness. Giant have then re-engineered a shorter, deeply mounted, lower rocker connecting to the shorter stiffer chain stays. Although all changes are incremental, every millimetre provides dramatic results.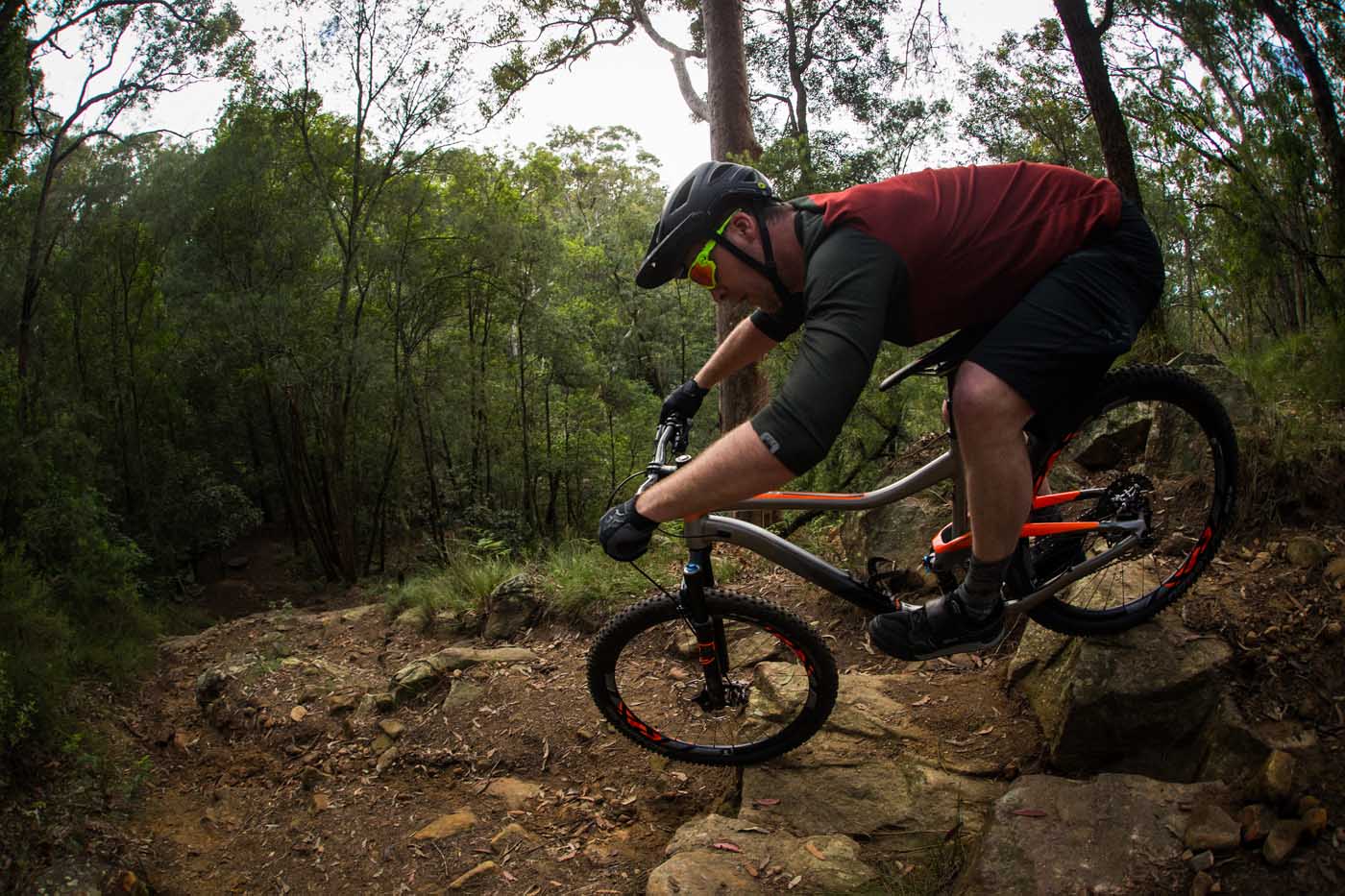 Using a Qarq ShockWhiz we set the Fox shock to run exactly 36% sag for my 90kg weight, and the combined effect was dramatic. Giant have significantly improved the progressive feel of the bike. This Trance 1 feels extremely supple, alert, and dynamic, and my previous experiences of an "upright feel" have been eradicated. That larger volume, lower pressure shock, and tighter, stiffer rear end allows a significantly plusher, buttery ride. To me, this is what a proper Trail bike should feel like. The rear is playful and stable, never skittish, there's no noticeable flex through the stays or linkages. Together with the stiff carbon wheels, the bike has a truly confident rear end. I must admit, I really liked it.
That rear end is the bike's best feature, and that's a true accolade. The Trance will suck up reasonable steps and drops, then track cleanly and smoothly through rock gardens; once through the scrabble, the Trance 1 can be leant on hard, and driven deep into the apex of a turn. The bike carries a distinctly perky feel, it has no intention of being a long travel plow, however that alert nature is what ensures a hugely fun Trail bike. Giant have nudged the bike's performance towards the AM realm, yet retained all the playful Trail dynamics. Good times!
Another feature I loved was Shimano's XT Brakes and matching drivetrain (with its immense 11T to 46T rear cassette). I'm not an XC whippet, I'm a bigger guy, and I love the confidence of powerful brakes and large ratio drivetrains. Over my time with the bike, the brakes never faltered, in fact, they only became stronger as they wore in. These are freaking hugely potent stoppies! I'd put them on par with the Saint Brakes of only a few seasons ago. They are that good! I also loved the massive XT cassette and clutched derailleur. The entire drivetrain was routinely caked in mud and sandstone grit, dumped in creeks, and treated with all the mechanical empathy of a drunk gorilla driving a monster truck. The shifting was always dead on, and although the engagement felt notchy and mechanical when new, the drivetrain became smoother as the chain linkages and narrow wide chainring bedded in and perfectly matched to one another. Fundamentally, broad ratio cassettes allow normal riders to take their adventures further; climb steeper and longer, and quite simply "get further out there" …. And that's exactly what Mountain bikes are all about.
After almost 2 months of thrashing a variety of trails around Sydney, the NSW Central Coast and the Blue Mountains, I found the Trance 1 was most happy railing natural or built trails; and in that context, it excels. When charging hard on larger step downs, or serious rocky chunder on some of our heavier Blue Mountains AM runs, the Trance became nervous and the limitations of the Schwalbe Nobby Nic tyres were apparent. However, that's not a direct negative; it was simply a matter of requiring more aggressive tyres for the steep, rocky, damp terrain. I could easily counter those limitations by picking smarter lines, dumping the dropper post, pushing my ass off the back, and punching the bike through.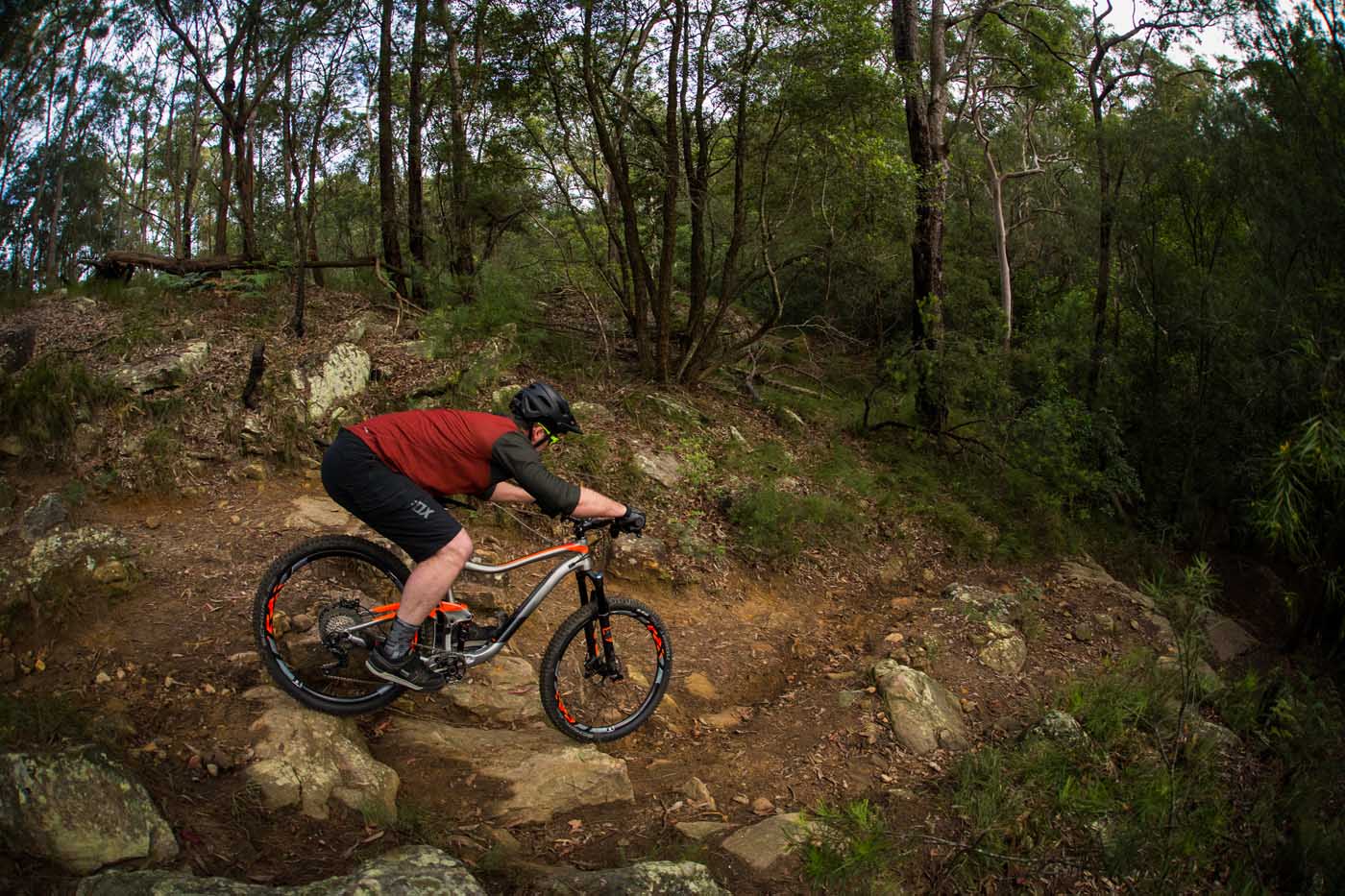 "When riding the bike hard on its limits, you'll be surprised at the bike's confidence and how far it can be pushed."
Aside from suggestions on set-up, my only true niggle was the dropper post. Giant have used their own 125mm Contact SL dropper, and the dropper itself is quite good. I never had issues with the seat posts functionality, the actual response was always sharp and reliable. My annoyance was the top mount handlebar lever. It just wasn't easy to activate, it didn't feel natural. I played around with adjusting its position and angle on the bars but that only marginally improved the situation. I acknowledge levers can be easily replaced with aftermarket products, however it did seem odd that a huge global brand would use a cheap top mount lever on what is otherwise a very reasonable dropper post, and a bloody good bike.
Regardless, if that's my only true criticism, it gives big props to the rest of the bike. Don't forget, this bike retails below $5k, and includes a parts list comparable to some bikes retailing for approximately $2k more. All up, it's an extremely capable, great value package. For buyers on a fixed budget, it's smart to consider this Trance 1 in its true price-point and all-round "Trail" context, and you'll understand why the Trance has continued as a market segment leader for almost 14 years.
Bike Review // Giant Trance 1
Frame
//
ALUXX SL-grade aluminum front and rear triangle, 140mm travel via Maestro suspension design including a 1 piece carbon fiber upper rocker.
Sizes // XS, S, M, L, XL
Price // $4999.00
Spec
//
Fox 34 Performance Elite fork (150mm travel),
Fox Float Performance Elite rear shock, Giant TRX 1 Composite DBL Wheel System (including wide carbon rims), full Shimano XT drivetrain and brakeset, Schwalbe tyres & Giant dropper post.
Browse // www.giant-bicycles.com/au/trance-1
Photos // TBS
Review // Tim Westacott