Congratulations, you're currently looking at what we think is the most underrated bike in all of mountain biking right now!
Having ridden the new 'Troy' for the past few months and being really impressed with its handling package, we find ourselves scratching our heads wondering why the Devinci trail bike isn't as popular as Netflix or as common as grabbing a kebab after a night out on the beers? Without any question or doubt we'd pick the Troy over 95% of the more 'popular' trail bikes out there. So, let's now take a closer look at the recently revamped Devinci Troy.
With 160mm up front and 140mm travel in the rear the Troy is aimed at the people wanting an aggressive trail bike that hasn't gone 'full enduro' but will get them out of a tricky situation. With striking angular lines, big linkages, and a big fat downtube this bike is stiff to say the least. This machine is offered in a few different spec levels. The model we've tested here is the 'Australian LTD' version. She comes equipped with plenty of nice spec, including a set of RockShox Lyrik RC2 forks up front, SRAM's always impressive GX Eagle drivetrain has more than enough range to flatten even the longest of trail sessions and a set of SRAM Code R brakes easily handle the job of stopping those 29'er wheels on a dime. The wheel package is rather nice too – a set of RaceFace ARC rims laced to DT 350's will be sure to keep you out of trouble. You're also getting a Rock Shox Reverb which is one of the most popular dropper posts on the market for a good reason. And finally, the Race Face cockpit proved to be a real favourite of mine, 800mm wide bars with a 35 mm clamp diameter provide a direct and controlled feeling to the steering. My only gripe with the entire spec choice, ironically, happens to be the grips… The Race Face loc-on's are far from comfortable and just don't have a very nice shape/design. Of course, that's only my opinion, grips are grips, people like different shapes and sizes and the good news is that they're a really cheap and easy part to swap out. So hey, let's get on with the rest of the review already, eh!
Echoing the similar wisdom as the great philosopher by the name of Sir Mix-a-lot whom once rather famously quoted, "I like big buts and I can not lie", the rear end of Devinci certainly packs a wide rear end thanks to its 157 Super Boost spacing. I was a bit worried when I saw this as I have always had issues with heel rub. Thankfully to the luscious hourglass curves in the stays this wasn't as bad as I thought it may be. The whole idea behind the wider rear end is to bring the rear wheel in closer along with creating a stiffer rear end and clearance for a bigger chainring (38t). Devinci took short chainstays to the next level with 432 mm in low setting, 430mm in the high position, it is safe to say that this bike loves to pop the front end and manual. I found it super easy to push and pull the bike through corners thanks to the short 'stays.
On the the topic of geometry the Troy's numbers are aggressive but not to the point you need to be going 120% to truly enjoy the bike. Devinci have aimed the Troy squarely at the All-Mountain category. You know, the jack of all trades, yet a master of none, type of machines. Geometry wise its frame numbers are right around the middle of the graph. In its 'low' setting you have a head angle of 66 whole degrees, a reach of 465 on a large, and a seat angle of 75.4 degrees. It does have a flip chip to put it in a high setting for a better climbing, more agile bike. On paper it doesn't seem like much of a difference it is enough to move your weight forward or rearward and change the ride characteristic but, more on that later.
The rear suspension platform uses Dave Weagle's Split Pivot design which is activated using a Rockshox Deluxe shock. And yep, it sure does provide traction in bucket loads. I ride a lot of loose rubble over hard pack, deep blown out powder dust, and off camber, this bike excelled more than any bike I have ridden in these situations. While it doesn't have the same amount of progression I would like in this type of bike it still provides a great amount of mid stroke support and small bumps seem to disappear. In a seated position the bike pedals well but, when standing and sprinting it starts to bog down a bit more than I like. Running an extra token in the rear would really accentuate the liveliness of the frame, where it loves to pump and jump through the terrain.While most people set their bikes up with around 30% sag as a base level, I actually set the Troy up at around 25%. I found this helped to stop the bike from bogging down and allowed it to skip over the rough stuff instead of through it.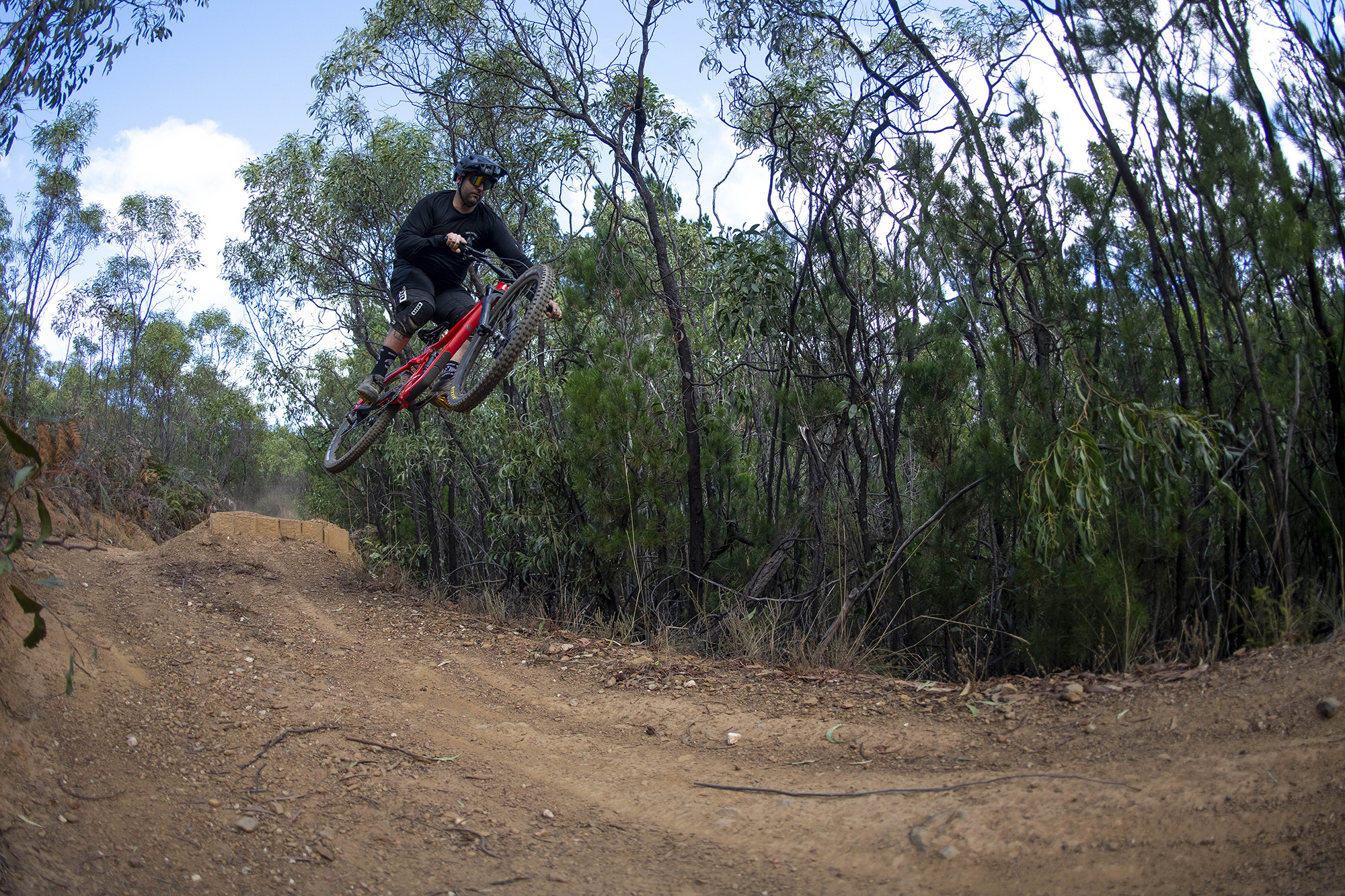 So how did the bike ride? Well, as it's intended the Troy is definitely more of a nimble yet active, fast handling trail bike, rather than a mountain destroying enduro mega machine. The flip chip definitely makes a  difference in the way the bike rides. The high position transfers your weight forward enough to make the climbing nicer and the bike more agile, leading to a more efficient ride up. In low it does the opposite, sends your weight back and lowering your centre of gravity for greater stability. Is it a big enough difference for me to boast about it to my mates? Eh, probably not. The efficiency lead to a significant lack of control on the downs yet it wasn't a big enough difference up to warrant the change. I performed a small test by riding the same test loop twice in succession, once in high, once in low. The loop consists of fire road climbs, slight uphill techy rocks, fast flowy downs, and steep rocky chutes, with everything else in between.
"While my times up were 10 seconds give or take faster up, the downs were almost exactly the same time. However, to achieve the same time down I had to be more active on the bike and was on the limit the entire way."
As mentioned above the bike is super stiff, honestly one of the stiffest bikes I have ridden. The stiffness along with its lighter weight leads to a bike that rewards accuracy and promotes sniper lines. The bike loves to be in the air and thrives on finding gaps you would often think impossible.When you tell the bike to do something it reacts instantly, pushing the rear wheel into corners and  pumping through rollers will put a smile on your face for days. The flipside to this is, the lack of high speed stability through the rough stuff. In repeated square edges at speed I found the bike wants to skip around more than I like and more body language was required to keep it on the straight and narrow. Lowering the suspension pressure and increasing sag to 30% helped but I would often blow through travel or bog down quicker because the shock would get overwhelmed.
So who is this bike for? We actually think it's going to be well suited to the average 'all-round' rider out there that tend to ride a variety of different terrain. The type of rider who is looking to do everything from backcountry adventures to the odd enduro race or two. While the flip chip isn't as easy to change on the fly as some, it definitely provides the versatility of 2 bikes in one. A 170mm for on the front could increase stability and create a bike worthy of EWS Racing (as Devinci team rider Keegan Wright did in Bright) however I don't believe this is necessary for the everyday rider. If you are looking at riding shuttles and rougher terrain more often then the Spartan is probably a better suited bike. That said, for everything else though the Troy won't let you down.
Words // Darren Mallard  Photos // Dave Rubers
Frame // Lust carbon fibre front and rear featuring Split Pivot suspension design.
Wheel size // 29" (a 27.5" of the bike is also available)
Travel // 160mm front, 140mm rear.
Spec // RockShox Lyrik RC2 fork, Rockshox Deluxe shock, GX Eagle drivetrain, Reverb dropper post, SRAM Code R brakes, RaceFace cockpit.
Price // $7890 complete – $4590 frame.
Browse // www.rowneysports.com