We follow the first Atherton Bikes Downhill prototypes from a blank sheet of paper, through design, 3D titanium printing with lasers and frame assembly to testing with the race team.
There had been much speculation about where you'd be in 2019. Why this, why now?
GEE: This move has been a long time coming, Athy built his first bike when he was 10! But walking away from the kind of security that sponsorship offers… that's a big thing.
DAN: It was definitely a childhood dream for us to race bikes that we'd designed and built ourselves. Over the years we've been involved with developing quite a few DH bikes, we've been learning the process for a long time
GEE: Dan and Ed (Haythornthwaite, formerly Dan's World Cup mechanic now Atherton Bikes Chief Product Officer) had been talking bike design for a long time, but we suddenly realised that we were at a stage of our careers that would allow us to actually do this. I knew that Piers (Linney) was a keen mountain-biker and an expert with start-ups, so I got in touch and he came on board to guide us on the business side. The prospect of being able to push bike development as hard as we push our riding was all the motivation we needed.
Take us through the first prototype – how did it come about and what are the stages of development?
RACH: The downhill bike we'll race in 2019 is a 29er with 200 mm travel. The additive manufacturing process we use allows us not to be constrained by machining moulds so it's very adaptative. The very first step is a review of what we want from the bike. It sounds simple but it's a vital step.
GEE: We reviewed loads of racing footage and we had numerous skype calls with Dave Weagle (Suspension Designer) I already had quite developed ideas of the geometry that I wanted but having DW on board helped a lot. A few weeks later he came back with the kinematics for the new bike based on his DW6 linkage. Meanwhile Ben Farmer (Atherton Bikes CEO) was busy spec'ing the carbon fibre tubing that is custom made for us.
The next stage is that we talk to Rob (Gow, Head of Design) who engineers the frame. We input our preferred angles and individual measurements so the frames can be customised – that's the most exciting thing about additive manufacturing, frame development can be turned around really quickly and customised to the exact requirements of the rider, whether that's for me or later this year for an individual retail customer.
"The frames are constructed from titanium lugs, optimised in weight and strength and joined to custom carbon tubing, it's a deceptively simple construction method for something  so cutting edge. Rob does his magic on the CAD files and the spec for the lugs comes out of that process. I've always been keen to try new things but conventionally it would cost too much to build as experimentally as this."

Gee Atherton
Ben Farmer: All of that information is output as a finished design file to our partners at Renishaw who build the titanium lugs for us on their new multi-laser, high productivity RenAM 500Q AM machine. The process is entirely digital and requires very little tooling so lugs tailored in CAD to a particular rider can be built to order.
It takes the AM machine about a day to make a lug set for one bike. The lugs are heat treated, removed from the plate then bearing seats are machined and threads cut. They are inspected by a coordinate measuring machine (CMM and finally shot-blasted for a good surface finish.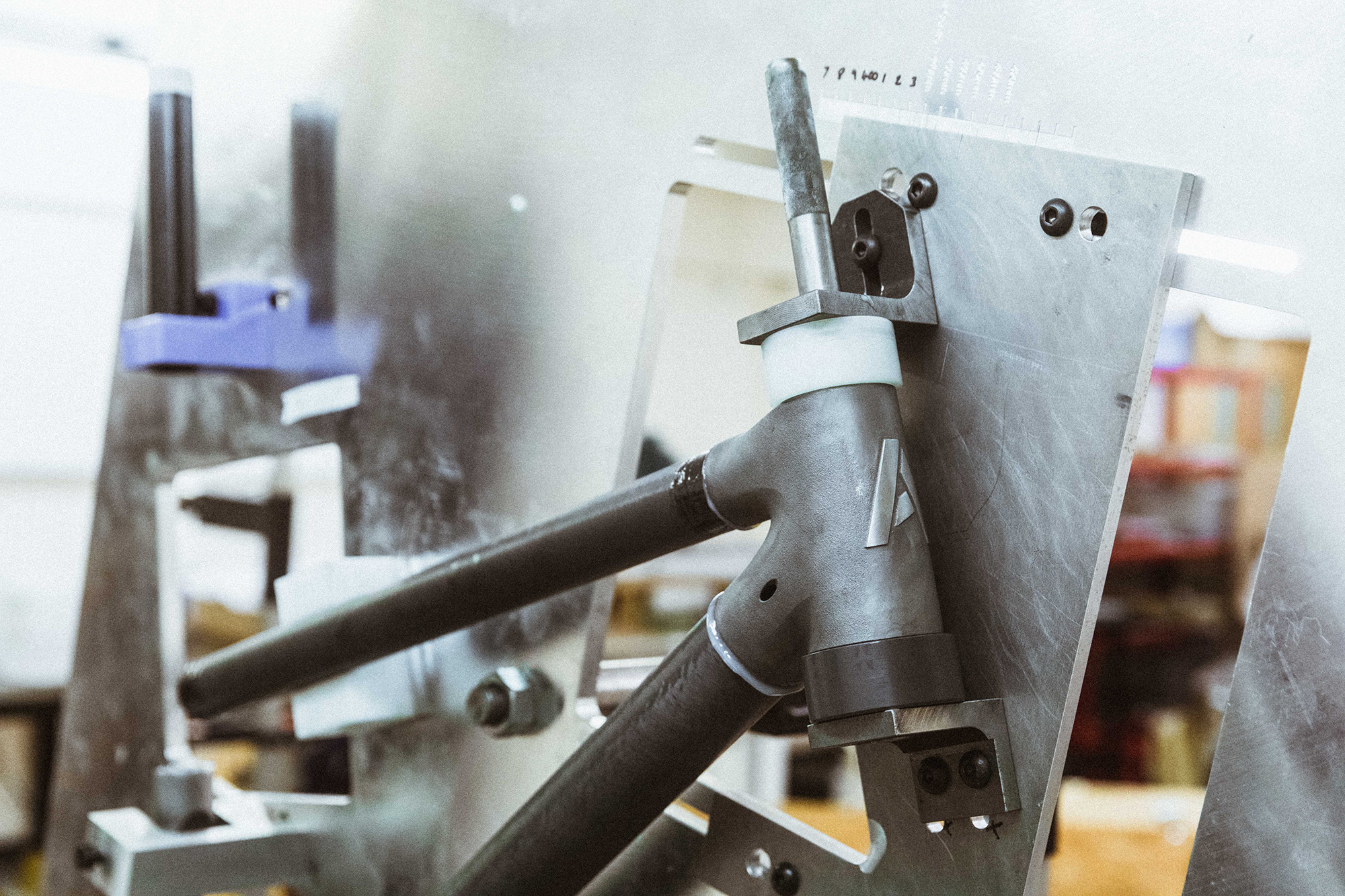 ED H: I hand finish all the lugs then cut the carbon tubes that will make up the frame. The tubes arrive in 3m lengths, and were designed by Ben for specific loads, strength and stiffness characteristics in different parts of the frame. To assemble the frame we use double lap joints which are insanely strong.  – the whole frame is built not to fatigue and can take a 12G landing. A fighter pilot blacks out at 9G…
I apply adhesive to overfill the joints, push the tubes in, then clean the excesses with 99% alcohol! The adhesive is left to cure, then the frame is handed over to Pete Michaliszyn (Gee's World Cup mechanic) who finishes the build and oversees the testing process to ensure that the bike is optimally set-up to race.
PETE: We had quite a short window to test our first prototype (P1) and settle on sizing for Malaga so P1 was built with adjustable reach. The focus was on getting Gee and Rachel comfortable and ironing out any major hiccups.  The early prototypes we're used to working with are usually mules, clunky, aluminium welded bikes, this is pretty slick. Gee and Rach both settled on the bike pretty quickly and were happy to stay with the geometry we'd worked on in the off-season. Prototypes 2 and 3 were finalised and built within a matter of weeks allowing both to be tested in Malaga in early Feb.
RACH: Yeah, Malaga allows us a predictable set of circumstances, the weather is fairly constant and the track isn't going to change between each run.
DAN: With this bike we were literally starting from scratch, six weeks back it was numbers on a computer screen.  There was no baseline for kinematics, spring rates, progression, angles. Those predictable tracks were important for us to get a feel of where changes needed to happen.
Gee: Whenever you get on a bike in January/February even if it feels good, you're probably not up to pace, by the first World Cup you'll probably want something very different in terms of set-up.
DAN: Yeah, so even though the progression rate felt good on the rear end we were already up quite high on the spring rate – and it was February with plenty of speed still to be found. We'll be trying out a few different things as we get closer to racing.
[R]: Tell us a bit more about the rest of your set-up?
RACH: We're back with Continental and with Stans Notubes. Then we've got Trickstuff brakes which are mint! FSA bring seatposts and drivetrain, cockpit, pedals and mudguards remain with Renthal, Crankbrothers and Rockguardz  and we're working on a custom saddle with WTB.
What felt different about testing this year compared with previous years?
GEE: It's exciting that we were doing this for ourselves but in the end, when you're testing it's about the time on the clock. Some fast runs went down! It's so much fun pushing the bike harder and harder and seeing what it can do.
DAN: It feels like there's a whole other level to strive for. At early season training camps the usual focus is becoming a better athlete. For us to be out there with the mindset of winning races but at the same time improving our own bike, our own brand, it means we take every detail seriously.
As you've just discovered, the formidable racing trio-family have certainly thrown caution into the wind with this highly ambitious new in chapter of their careers. Will it be a recipe for success? Time will be the judge of that. One thing is for certain though, we're looking forward to following their racing progress this coming season and beyond as they set off to grow Atherton Bikes into its own empire.
Words // Gill Harris
Photos // Moonhead Media and Renishaw PLC