DMR are no stranger to dirt jump hardtails, their history comes with some serious dirt jumpin DNA. Come 2021, have they managed to continue this legacy? Blake Nielsen might have a few insights after a good few months thrashing the Sect!
Reviewer // Blake Nielsen. Photos // Matt Staggs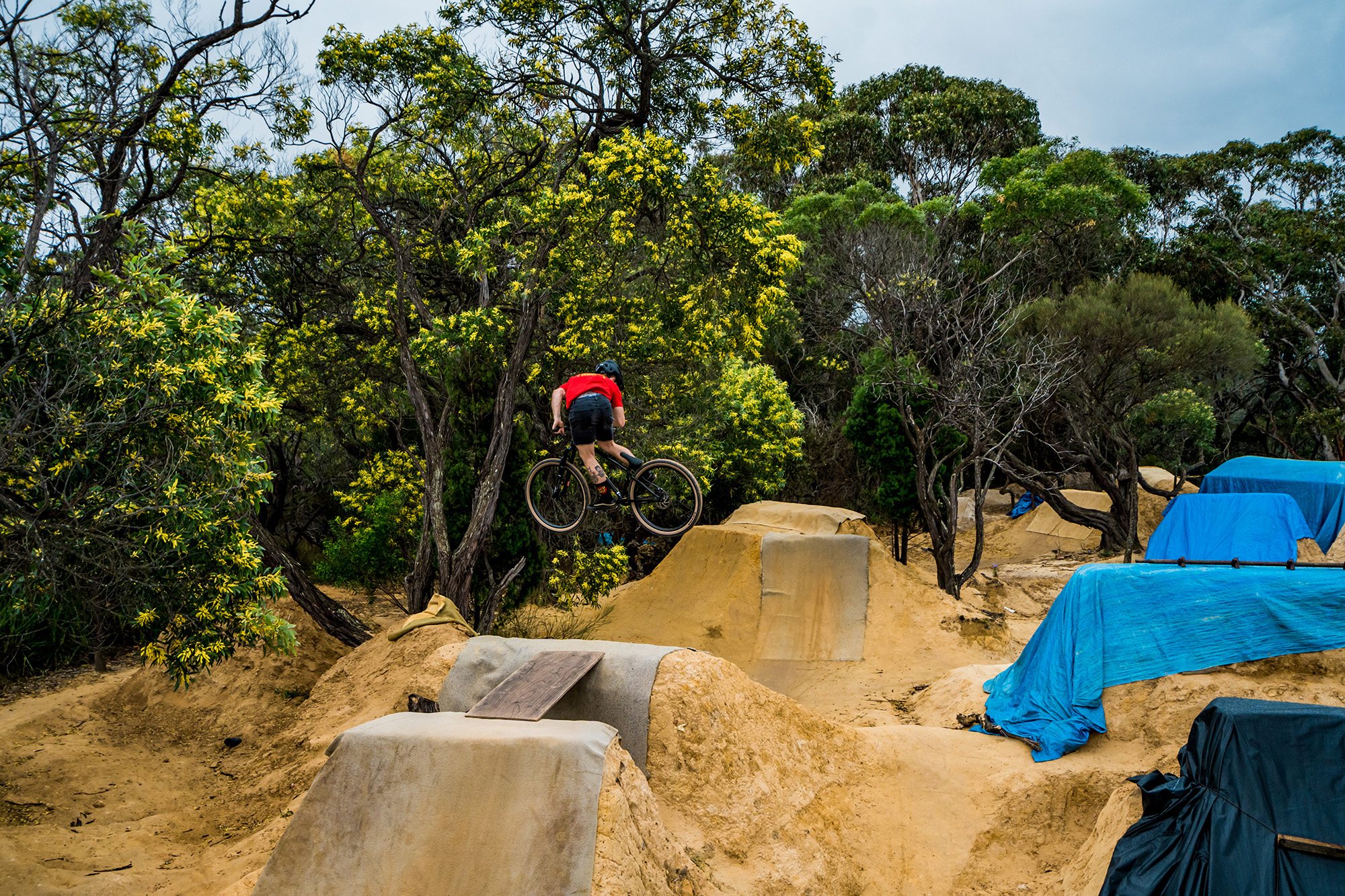 It's probably pretty obvious for most but just in case can you start by giving us a run-down of what style of riding this awesome little hardtail has been built for? The Sect is a through and through dirt jump, pump track and skatepark weapon. Small wheels, minimal fork travel along with a small frame to keep the manoeuvrability high. The rawest form of riding and the best way to build bike handling skills. Pure mountain biking fun!
DMR's roots in the dirt jump/skate park scene goes way, way back. Tell us a bit about DMR's history in MTB? The DMR story started back in 1995 in England, if you were into bikes back then you'd know the legendary V8 & V12 pedals that really made a name for the brand. Since then they have been one of the best names in the hard tail scene, making amazing frames and components. Fast forward to recent years and they also produce dual suspension frames that compliment their hard tail weapons, along with an awesome catalogue of parts for any mountain bike.
Frame wise what are we talking here with the Sect Pro model? The Sect frame is a 4130 chromoly masterpiece. Generally speaking, DJ frames are quite basic. DMR have designed this frame with inter-grated headset cups and seat clamp, threaded BB for ease of service and beautiful clean lines. One thing I loved about this frame as soon as it came out of the box was the shape of the chain stays, they are beautifully hydro formed with an inter-grated yoke where they meet the BB shell. These are details you don't see on many, if any chromo frames.
And of course the elephant in the room (all bit it a small elephant) would have to be the wheel size that this bike rolls on. 26" ain't dead right!? "Vive la 26!" Now redundant to majority of the industry, 26inch wheels will always be the choice for these types of bikes. The ease of manoeuvring, added strength and clearance of your bum when getting into weird and wild shapes means that it's the obvious choice. I'll always be two six at heart.
We don't see a lot of bike's pass through [R]evo fitted with X-Fusion forks. How do they feel? DJ and pump track bikes have quite a stiff suspension setup as it is, so we can't attest to the performance of the dampening too much on these bad boys, but the chassis felt fantastic and on par to anything else I've ridden on a hard tail MTB. They have a very nice quick release style 15mm through axle as well as a ramped compression adjustment which functions very well. I'd be pretty curious to see how their longer travel forks stack up against the big few.
Give us a quick run through of the rest of the parts spec? The spec on this model is quite basic, that's why they offer it at a crazy low price for such an awesome frame. The dimensions on the parts are what you want though. Nice 2" rise, 740mm wide handlebars paired with a 40mm stem. Strong 24mm axle cranks with a small ratio single speed gear setup for plenty of clearance and no worries of mechanicals. Alex double wall rims and a basic Tektro hydraulic brake. Finished off with some sweet DMR Sect grips and V6 nylon pedals!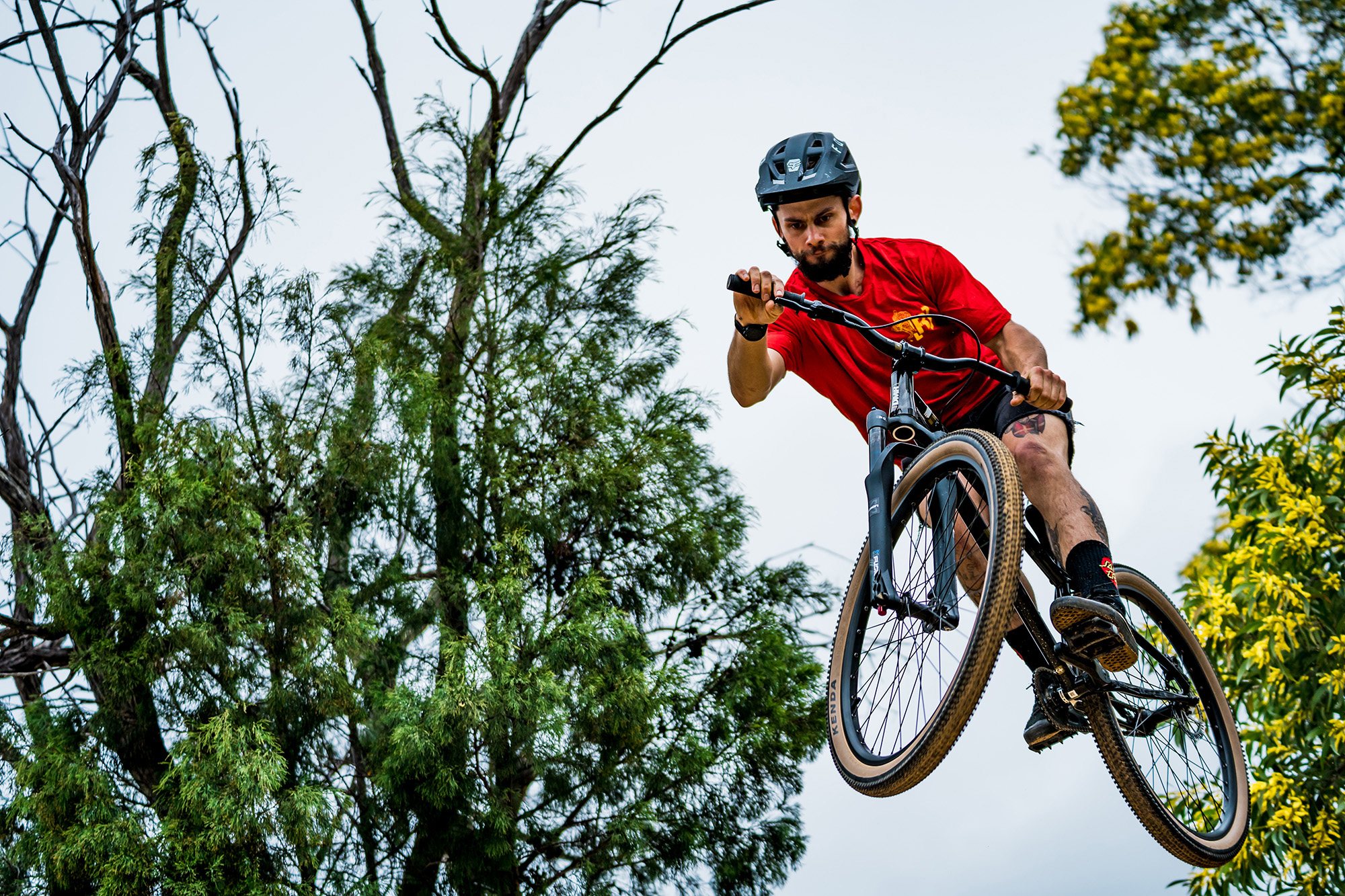 Which brings us to the meat and veg part of the review – how does the Sect Pro ride? Exactly how a DJ bike should, the Sect is nice and stiff in the front end, every bit of effort put into pumping the bike in and out of transitions of rewarded with the speed on the other side. A nice short 390mm chain stay rips through tight corners and the thing just manuals for days. The weight is very balanced front to back on the bike so it's incredibly stable through the air. By using chromoly as their material of choice for frame construction, there is a bit of added compliance to the harsher landings compared to an aluminium frame, this is much appreciated when things don't quite go to plan.
Final thoughts? Whether you currently do, used to or never have owned a DJ hard tail before the Sect will slot into your collection nicely. At this price point you would be losing money not buying one! A lot of people I speak to when I try and convince them to get a hard tail say they would never ride it, but the finer skills you learn and the bang for buck fun you have on these bikes is beyond what you imagine. Still to this day I have never thrown a leg over my own jump bike or someone else's, either at jump, skate park or just in a driveway and not had a smile stepping back off the bike. Get back to basics and have a laugh!
Specifications
Frame // 4130 chromoly throughout
Wheel size // 26" (featured back in the mag, yes!)
Travel // 100mm
Spec // X-Fusion Slant RC fork, Tektro M275 hydraulic brakes (comes stock out of the box with a front and rear – we just removed the front for the test period), DMR bars – stem – seat – pedals, 26" Double Wall rims on KT DJ hubs with 5 pawl 13t Driver and Kenda small block tyres.
Price // $1699
Browse // www.pushys.com.au