It has to be said that this is one of the most eye catching GT's we have seen in a very long time. The 2022 Force Carbon features an entirely new frame and cosmetically it's a stunner for sure.
Words // Blake Nielsen  Photos // Matt Staggs
What are the frame details like up close when you explore it in the flesh?
GT have long been innovators with their frame and suspension designs, the new Force carbon is no exception. Straight away we notice that they have adopted the popular mid-high pivot and idler as part of the current LTS suspension design. This worked into a stiff and light carbon front triangle and a robust aluminium rear end makes for a super solid platform for the long travel enduro machine!
We mentioned that GT have created an entirely new frame for the Force this season and whilst it boasts a ton of differences from its predecessor perhaps the biggest addition is the high-pivot and idler pulley package. Can you tell us a little about the theory behind that design and how you found it to translate to performance in real life out on the trial?
The idea behind the idler and high pivot system is to isolate the suspension action from the restriction of the drivetrain. Naturally the super high tension of modern derailleurs is amazing for keeping our chain on and bike quieter overall, but that force opposes the suspension and fights your rear shock while it is compressing. This creates a much more supple feel to the start of your shocks stroke, as well as not having any chain growth through the compression of the bike, pushing your pedals backwards. It also allows GT to incorporate a rearward axle path, which means that on impacts, the rear wheel is moving backwards, as well as upward, making for an even smoother feel down the choppy trail.
Give us a run through of the key geometry numbers that GT have gone for with this bike and also what difference the 'flip chip' makes when you switch it between settings?
You could say that GT have played it safe in regards to the main numbers, on my medium test bike I had a reach of 455mm, head angle of 63.5 degrees and a seat tube angle of 78 degrees, these are coupled however with a fantastic adjustable dropout. This allows a huge 10mm difference, between 435 and 445mm, this was awesome to experience compared to some other minute adjustments from other brands. The whole attitude changes, short setting is for all out fun and playing around, but that long setting just wants to haul at top speed everywhere.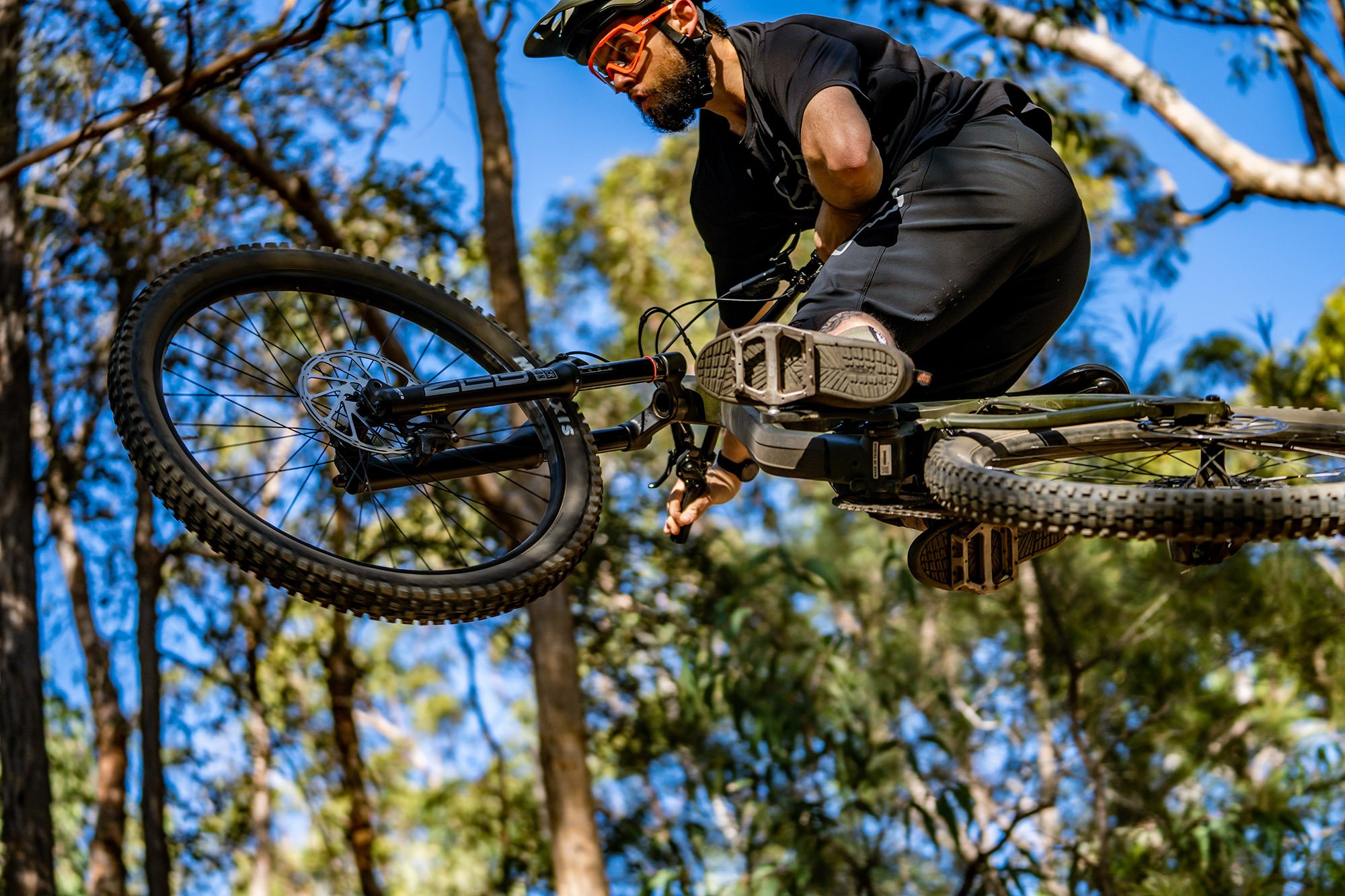 We know you're a fan of converting your personal bikes into a 'mullet' wheel combo, that said the GT comes stock with 29" hoops at both ends, during all of your saddle time abord this bike did you find yourself wishing it had a 27.5" rear wheel or does the 29" pairing deliver in spades as is?
GT have done a very good job, once again touching on their flip chip chain stay adjustment, in giving the Force 2 quite different "moods" you could say. Although still not quite as playful as a mullet setup, in the 435mm setting it did make the bike feel much more nimble and a lot faster to react than many of its competitors. I'm a short guy, with a short inner seam so there were a few times while getting over the back of the bike I'd strike the top of the tyre with my own rear end, this was the only thing leaving me wanting a smaller rear wheel, not necessarily the ride attitude of the bike.
Travel wise the Force comes to the party with 170mm up front and 160mm in the rear which is delivered via a 4-bar LTS linkage design. What is the 'ride character' of that matching once you're at speed heading down a rough as guts trail?
GT has done an amazing job in refining the suspension kinematics of this bike. There are few companies with more pedigree than GT and they haven't been afraid to try bold things, like the I-drive systems that they were so ahead of the times for. These traits, combined with the rearward axle path and the modern suspensions best friend, the high pivot idler makes the Rock Shox suspension feel like you're on clouds, but also generates so much speed down the hill. On my first outing on the Force on my local trails, it was immediately apparent that the Force does an incredible job of making the small trail chatter seem like it's not even there. This combined with incredible support the whole way through the stroke gives great confidence on the bigger hits or that feeling when your line isn't quite right. Once again, a lot of the characteristics about the new Force are all out speed!
When GT first launched the new Force they claimed it was designed as a purebred race bike to tackle the toughest enduro's and come out on top. Having spent a bunch of time in the saddle on this bike do you think GT's claim is right on the money or perhaps a little ambitious?
I really do think that GT's claims are right on the money! Naturally there is a lot of race heritage behind the brand and from a team perspective, they are certainly one of the bigger presences in the pits at EWS races. This bike bleeds speed, not only relevant between the tape under a stop watch though, also very handy if you're keen to blow your mates doors off on the local Strava segments!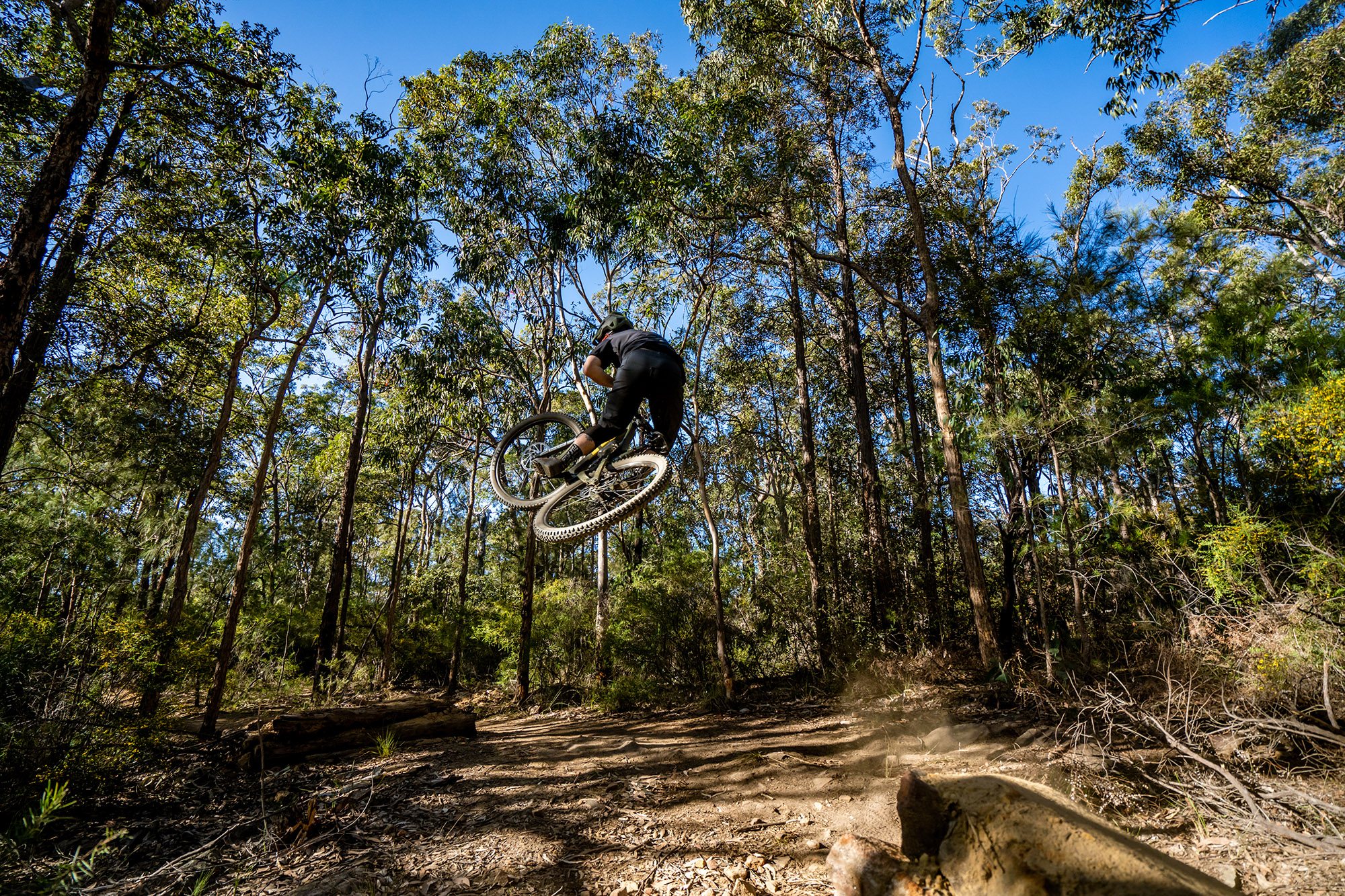 Speaking of 'on the money' let's talk about pricing. Our test bike is the mid spec 'Pro' model within the Force range and it retails for $6799. Considering the frame quality and the build spec of this thing, surely we're talking about a pretty exceptional bike in terms of value coupled with performance, would you agree?
The entire range of 2022 Force carbon's are a true contender for some of the best value bikes right now I think, not only when comparing parts and overall frame features, but the performance and refinement of the way the bike actually rides is incredible. I think that GT get overlooked too often when being a viable option for some reasons, but with this new offering I don't think that this will be the case. [R]
Specifications
Frame // Carbon front triangle, alloy rear. High Pivot LTS Suspension.
Travel // 170mm front, 160mm rear.
Wheel size // 29" exclusive
Spec // RockShox Zeb Select+ fork, RockShox Super Deluxe Select+ shock, SRAM GX Eagle drivetrain, SRAM Code R brakes, Maxxis Assegai / Maxxis Minion DHR II tyres.
Price // $6799
Browse // www.gtbicycles.com