Intense's Carbine has a relatively short lineage, albeit one that has been part of Intense's move from a race only frame builder to complete bike company pushing out some of the industries most revered carbon frames.
Back in 2011, it was a little 26-inch shod, 140mm to 152mm travel all-mountain frame that brought with it a whole new level of stiffness and durability to the Intense line-up. It was also their first step away from aluminium, bar a very short lived road frame. Fast forward to 2018 and the new Carbine is a direct descendant of what was one of their most versatile bikes thanks to forward thinking (replaceable drop-outs to allow for the move from 26 to the emerging 27.5 wheels), though come 2018 comes rolling on big 29'er hoops and in complete form. 
We got our hands on the Expert build that lies above the entry level Foundation build. Both the Expert and Foundation builds use the 'standard' NM carbon layup for the frame, which ain't nothing to be scoffed at. I mean, it's a damn well designed and good looking carbon MTB frame! In comparison to the top end models, it is a lil' heavier, but durability ain't going to be an issue. More on that later. Cable rattle has become a thing of the past (in terms of carbon Intense frames) by simple internal sleeves, but it's the linkages that make the bike so much different to earlier models. Sharing the same JS-tuned Enduro suspension elements as the new Tracer, that being longer rocker arms which allow for a more progressive leverage curve and as a result, the Carbine is a pure-bred 1x-specific 29'er Enduro bike. Aggressive, long and slack with a tight rear end, it's geo numbers pay homage to Intense's downhill heritage and are the supermodel stats of our generation.
Suspension consists of RockShox offerings front and rear. Intense is very specific that suspension is an aftermarket upgrade so this was a big focus when putting together the entry level models, our test Expert build set up with a RockShox Deluxe RT3 (metric) air shock and a Yari RC 29, Solo Air, Boost fork spruiking 160mm of travel. Braking and drivetrain are a well thought out mix of Shimano and SRAM, namely XT braking and GX/XO1 Eagle shifting, while Fox's Transfer dropper runs 150mm of travel.
The hoops are very sorted DT Swiss M1900 numbers with gold Renthal bars finishing off the build alongside a bunch of Intense branded elements keeping that custom build feel even at the lower end of the build range. Being that Intense are going rider direct, their bikes come complete with a very dialled toolkit that includes precision keys, a torque wrench for all of you that think that tightening-till-break is the go, plus a shock pump to keep your ride sorted. Rad!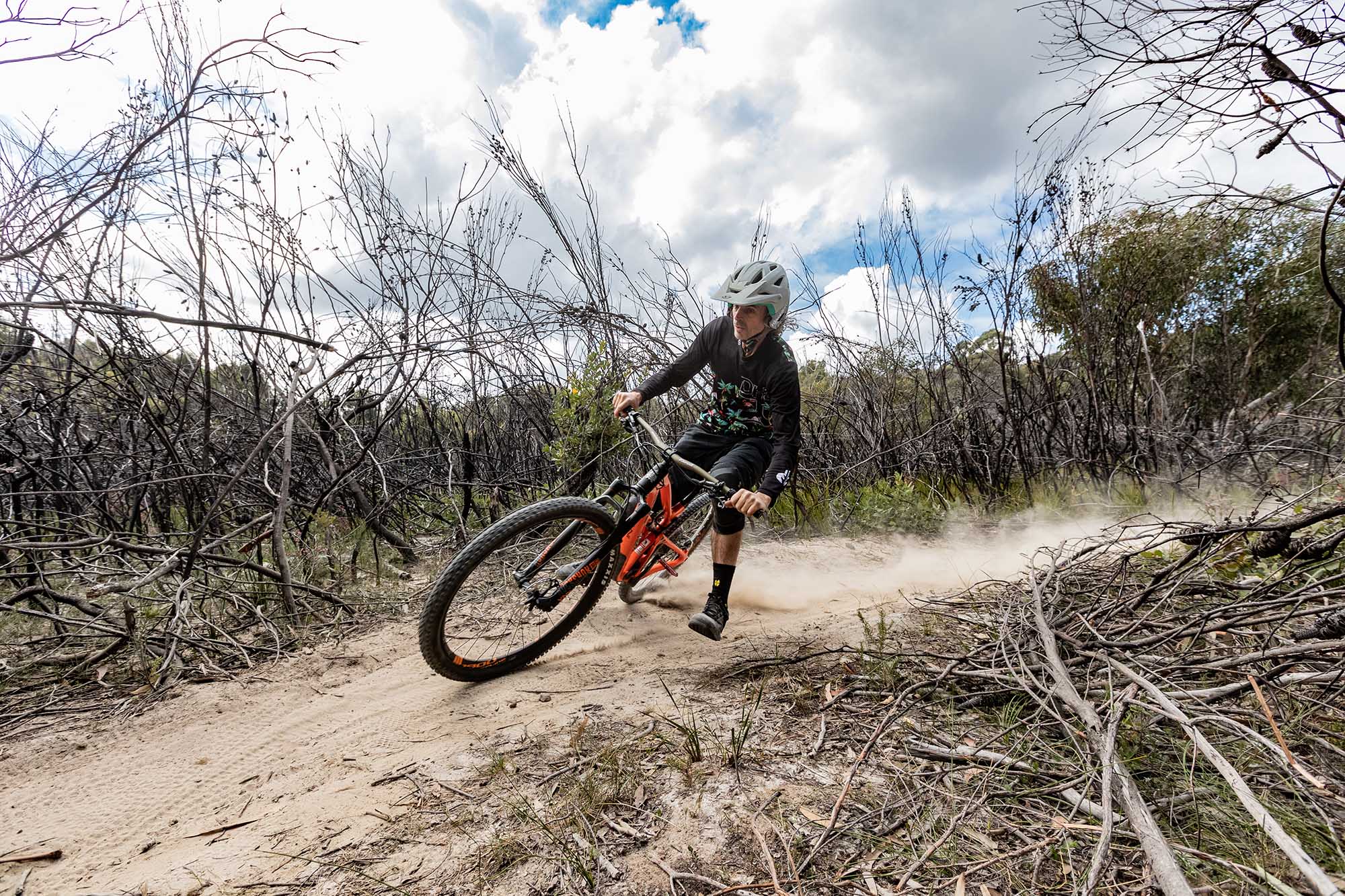 The ride…
I ran a medium for the test, something I've been told for years to get over and go to a large on Intense frames. However, the 2018 frame runs a nice and long 431mm reach, plus the big wheels aren't going to make anything feel smaller. Super happy with that choice as the medium Carbine is a big bike even for my 184cm, a fact I found out early once out on the trails. That sculpted front triangle is very solid and straight away felt like it had pin-point accuracy, yet not too stiff to be hunting for traction in the turns. Like all VPP's before the JS Tuned evolution of the linkage, under pedalling, cornering or braking, it forces the rubber into the dirt and maintains traction in all sorts of situations that we MTB'ers find ourselves in. 
"That unfazable feel and endless rear end travel had me wondering if any of the Intense Team had run a triple clamp fork on the Carbine as a lightweight race weapon? Beast mode bike indeed…"
Looking at the numbers, on paper they're all on point for a do-it-all shredder with DH chops. On the trail it's quickly apparent Intense have got it so right. The 65.5-degree head angle isn't overly slack but is on point for descending confidence while still being able to feel quite nimble once not going warp speed, and the 74-degree seat angle is spot on for a long day in the saddle were you gotta get up to get down the good stuff. James Brown would be proud! The bottom bracket height of 348mm isn't too low either, which for my usual haunts is a blessing as ain't nothing worse than leaving your marks on rocks thanks to pedal hits, or worse OTB thanks to 'em touching down too early.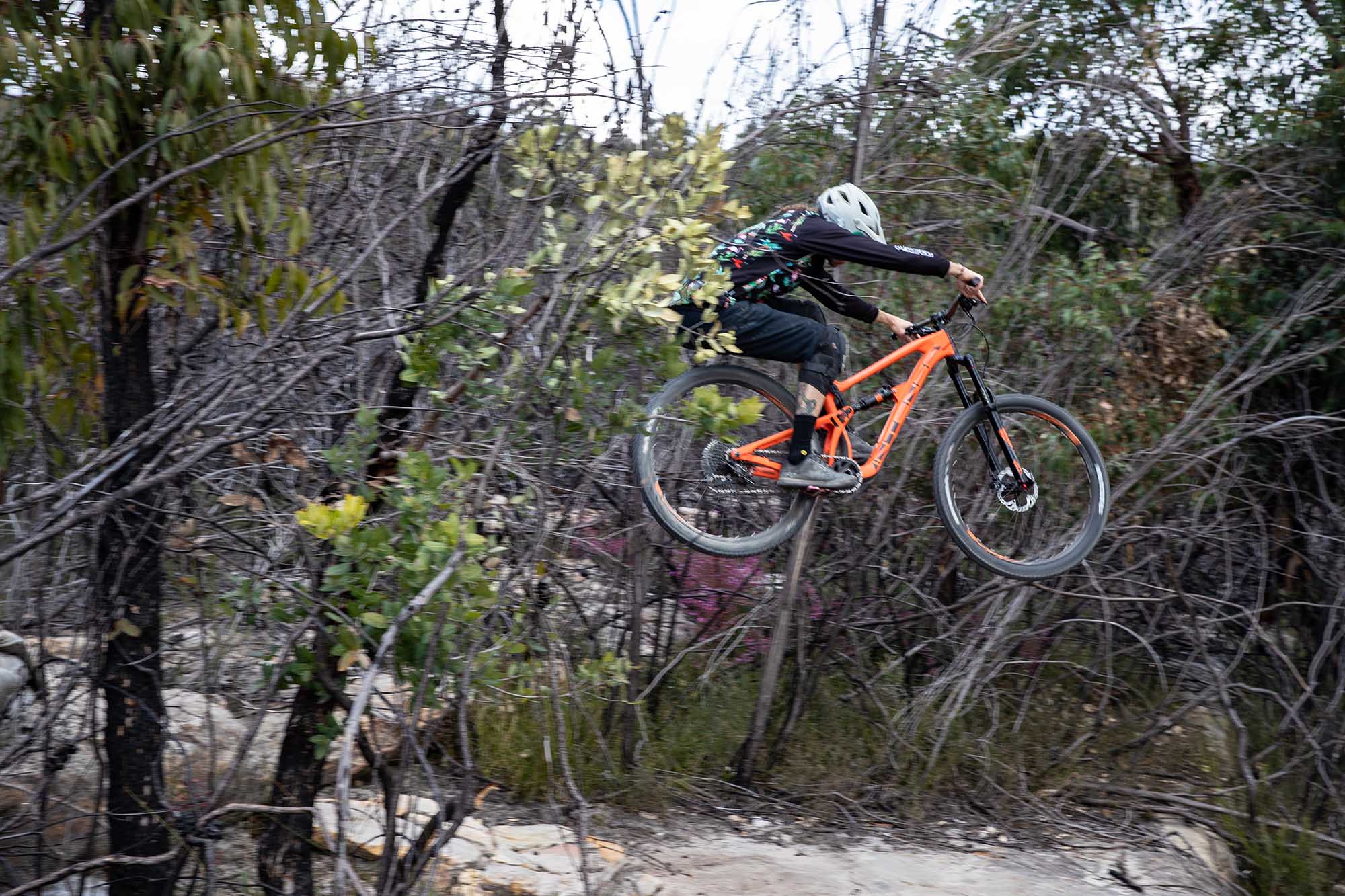 You gotta get up to get down
On the ups, it's gotta be said, it climbs so damn well for such a long legged bike! While more than a few crew I ran into over the test period asked if it was too much bike for most riders and trails, my answer was always on the next climb. Be it messy, rock strewn tech climbs or longer drawn out ascents, I was clearing it all, seemingly easier than on my own ride. Crunching up those climbs, GX Eagle is superb. Crisp shifting under load that is so close to its more expensive XX Eagle brethren, what else needs to be said? Of course, it ain't all sunshine and unicorns, a day out on tech ascents does have you noticing the weight of the package, though I kept telling myself that I'd be up top again soon. 
And this is where the real good times onboard the Carbine begin. Straight up, it's descending manners are on par with a DH rig. Solid through anything I could aim it at. That unfazable feel and endless rear end travel had me wondering if any of the Intense Team had run a triple clamp fork on the Carbine as a lightweight race weapon? Beast mode bike indeed….  That aforementioned weight brings with it a solid feeling once it's used in anger, ploughing through ruts and rocks like a monster truck. Cornering is amazing, it just doesn't want to lose grip. Although this took some getting used to. Once you get your head around really laying it over into a turn and staying off the brakes, it just keeps on turning and seemed to carry more speed through and out of the corner, plus anything that followed. A far cry from foot out flat out, I found I was foot up almost all of the time, breaking traction with the rear was noticeably slower and just felt awkward.
Talking of going fast, when push comes to shove, while the Yari's super stiff chassis is so damn capable, they feel under gunned when really stepping up on the hits. I found myself blowing through the travel to a solid and jarring 'thunk' when landing hard all too often. Aside from running them way above the pressure I felt most at home on, the addition of a MRP volume adjuster or even better, upgrading to the Charger 2 damper, which can both be dropped in the Yari very easily is a definite future upgrade. We hear you can upgrade to the DebonAir cartridge too, making your Yari's a Lyrik's for not too much more coin. Shimano's incredibly powerful XT's and their precise on-off feel aren't for everyone, but you can't fault them for their ability to pull up a big bike like this in an instant! So much confidence from them.
I've had my gripes with big rims, too often very flexy under both climbing and downhill pressures plus my doubts they'll hold up to day to day abuse have been a big turn off. I've also had my share of taco'd hoops with destroyed (see crushed/folded) sidewalls that haven't made my acceptance of 29er sizing too quick either. Luckily, DT Swiss and their straight pull hubs laced to M1900 rims are a solid wheel set that showed no signs of any problems or even dings 3 months in. For me that's a record… Rubber wise, the High Roller II found on the Expert build is a solid tyre for most occasions. Heavy? Yep. Bombproof? Hell yes. No flats, again, no dinged rims and endless grip on the Northern Beaches rock and sand, those big Maxxis knobs really making me understand the idea behind 29inch wheels finally.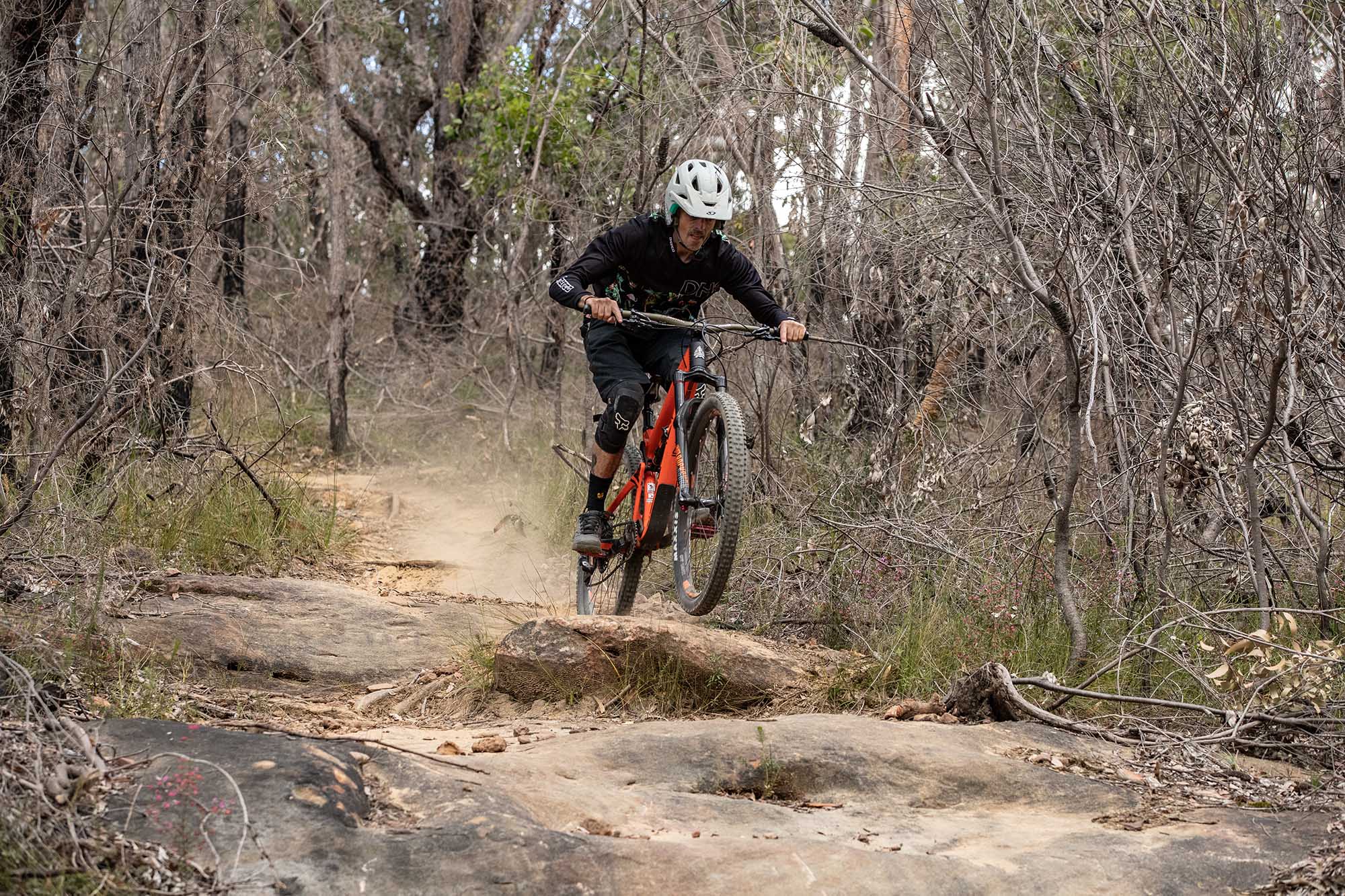 The final word
I'll hand it to Intense for enlightening me. I think I finally saw the real benefits, or maybe just the real quantifiable differences between 27.5 and 29. If I was a racer, A Carbine 29er would be my first choice, it's faster on laps of my favourite loops than my own similar 27.5 ride. Noticeably so. That said, it lacked some of the playfulness of a 27.5'er, and I found myself falling off the big wheels in awkward slow speed situations more than I had in my life. It's definitely outright speed over style on the big wheels. Gripes? There were very few… Creaks from the headset and top pivot/linkage pretty much from the get go. But pull it apart and apply sufficient amounts of grease, re-insert and ride creak free! It's a big bike, with some weight, but very manageable and one that laps up whatever you can point it at. It'll make you work with smaller travel bikes on the flats and ups, but can hang if you can. And those of you who aim it down, you'll be laughing at just how much it'll take. And that's where I'm thinking most of you who'd be looking at the Carbine would be looking to play on it. I'm just shattered I didn't take it to Maydena, it will eat up a bike park!
Reviewer // Matt Holmes   Photos // Tony Nolan
Intense Carbine Expert
Frame // Monocoque Carbon Frame, alloy top link, 155mm travel.
Spec // RockShox Yari fork 160mm, RockShox Deluxe RT3 rear shock, Shimano XT brakes, SRAM X01 Eagle rear mech, TruVativ Descendant cranks, DT Swiss M1900 wheelset, Maxxis Highroller II tyres, Renthal Fatbars, WTB Silverado Race saddle, Cane Creek 40 Series headset.
Weight // 14.56kgs
Price // $6899
Browse // www.intensecycles.com.au