Is the 140mm travel MTB the defining bike of our generation? Pure, do anything machines they say? Intense would like us to think so with the release of their latest trail weapon; the Recluse. With two of their premier and much accoladed rides, the Spider and Tracer sitting on each side of this new frame design, where does this non-adjustable travel bike sit within the range? In a nutshell, it's a longer, more raked out Spyder with a touch slacker head angle, shorter stays and less travel than a Tracer. That said, we're talking mm's and half degrees, although those tiny increments are massive when out on the trail…
'Is there an alloy version' was one of my first questions. To which the reply was a flat 'No'. In recent times, the iconic Californian bike company has shifted its focus away from handcrafted US aluminium frames to the wonder material we know as carbon. Parting ways with much of the Temecula production line machinery in favour of prototyping CNC machines and smaller welding rigs in house, Jeff Steber still pulls new ideas together in the dark of night, and is said to be found shredding the surrounding valleys by day on new frame ideas. Testing and reworking until a new frame is ready to take to their engineering partner SEED in Germany to work on layout and tooling for a new carbon frame. Before it's off to Taiwan to be laid up. While this has in some ways moved away from that Intense heritage we know and love, it's certainly building stronger, lighter and straighter frames with QC second to none.
Their latest offering sees two carbon specs from the Recluse mould, 'normal' and 'SL'. Which we translate to sweet carbon and super light, more expensive, high modulus carbon (~200grams lighter to be exact). This is hand formed into very clean lines from the solid heat tube through to the BB area and svelte swing arm, with some throwbacks to older model Intense's dominating the frame. ISCG05 tabs surround the bottom bracket and internal routing for brake, derailleur and dropper cables dot the frame in the right places. In this day and age of straight colour ways with water transfer clip art coated in layers of clear gloss, the Recluse is a welcome relief. Hand laid up paint and detailing. Layers of it. And you might have noticed how epically bright it is, harking back to the F1 Renault inspired M9 paint jobs a few years back.
Having owned more than a few Intense's over the years, I've been hanging to pedal the latest changes to the now out-of-patent VPP system. Jeff Steber working his own magic to the linkage after years of playing ball with the VPP system, which first debuted in the mid 90's under the Outland brand. The JS linkage is still a twin-link design, with the main 'i-Box' link now sitting super neatly within in a box section in the lower seat tube, just above the BB. The main benefits of this configuration, other than the suspension curve characteristics, is that it helps keep the back end real tight – on the Recluse, it's only 419mm. The new placement also alleviates the common gripe of earlier, low slung bottom VPP links that were prone to rock strikes and damage. Now the magic of VPP-come-JS tuned suspension only happens when paired with the right shock. In this case the new Fox Float X2 which offers a whole new level of performance to the 140mm travel bike category. Running on a longer stroke (200x57mm), it feels like a shock on a bigger travel bike. And unlike some bigger travel bikes we've ridden with the Float X2 shock, the back end on the Intense didn't feel sluggish whatsoever once pressure/settings were set correctly. Upfront, the FOX Performance Float 36 has been dropped down to 150mm travel, and new wider Boost spaced 15mm axle makes for a solid front end. We would have dug a bigger travel 36 with 20mm thru axle and Kashima coating, but there's always the Factory build if your wallet is bottomless…
Aside from the Fox suspension the Elite build doesn't cut any corners, featuring SRAM Guide RS brakes, a RockShox Reverb post with a 150-millimeter drop, SRAM X1/X01 drivetrain with very tasty Race Face Next cranks, Renthal FatBar bars with a Thomson Elite stem and Intense's quietly released new carbon rims (mated to DT Swiss hubs), which have a 30-millimeter internal rim width to give the Maxis High Roller II 3C's some big volume to work with. Serious spec in any ones language. And for the quoted $11,499, you'd want it to be. Pull this parts list together via your local store on a SL Recluse frame ($4950 with Fox Factory Float X2 Kashima) and I have no idea how much this rig would be worth.
Geometry wise, it's on the money with today's crop of all-mountain shredders with a touch of DH burliness thrown in for good measure. On the large-size frame we're riding, you get a 1,196mm wheelbase, 66 degree head angle, 75 degree seat tube and 460mm reach. Nothing over the top, just straight up numbers that are proven to be the business for both up and down these days. After years of riding medium sized Intense's, I finally bit the bullet and ran a large for this test. Possibly the best thing I've ever done, at 186cm, it felt comfy from the get go. 80-85 psi in the forks and 170 psi in the shock (for my 66kg bulk) had around 30% sag and all was feeling good.
As with most of my rides, it's all uphill at the start. Luckily, the Recluse climbs like a rocket, with the front end feeling planted on everything bar the steepest tech/pinch climbs and was incredibly manoeuvrable on tight up-hill switchbacks. Those short chain stays allowing me to float the front wheel in the air around the corners with less upper body effort than I'm used to in an almost unicycle like feeling. Weighing in at 13.3 kg with flat pedals fitted wasn't hurting that lightweight feeling either. While the Float X2 has a climb switch, I swear it's only been switched on for road commutes to the trail head, the JS linkage so good at isolating pedal feedback as is. The traction available when left wide open, far out-weighs the up and down motion some might call power sapping. I say just learn to pedal with suspension. Top tube length and reach plus the dialled seat post angle had me in a real good position for climbing, sliding around on the sadly, not super comfy Fabric saddle really allowed control over front and rear wheels when needed.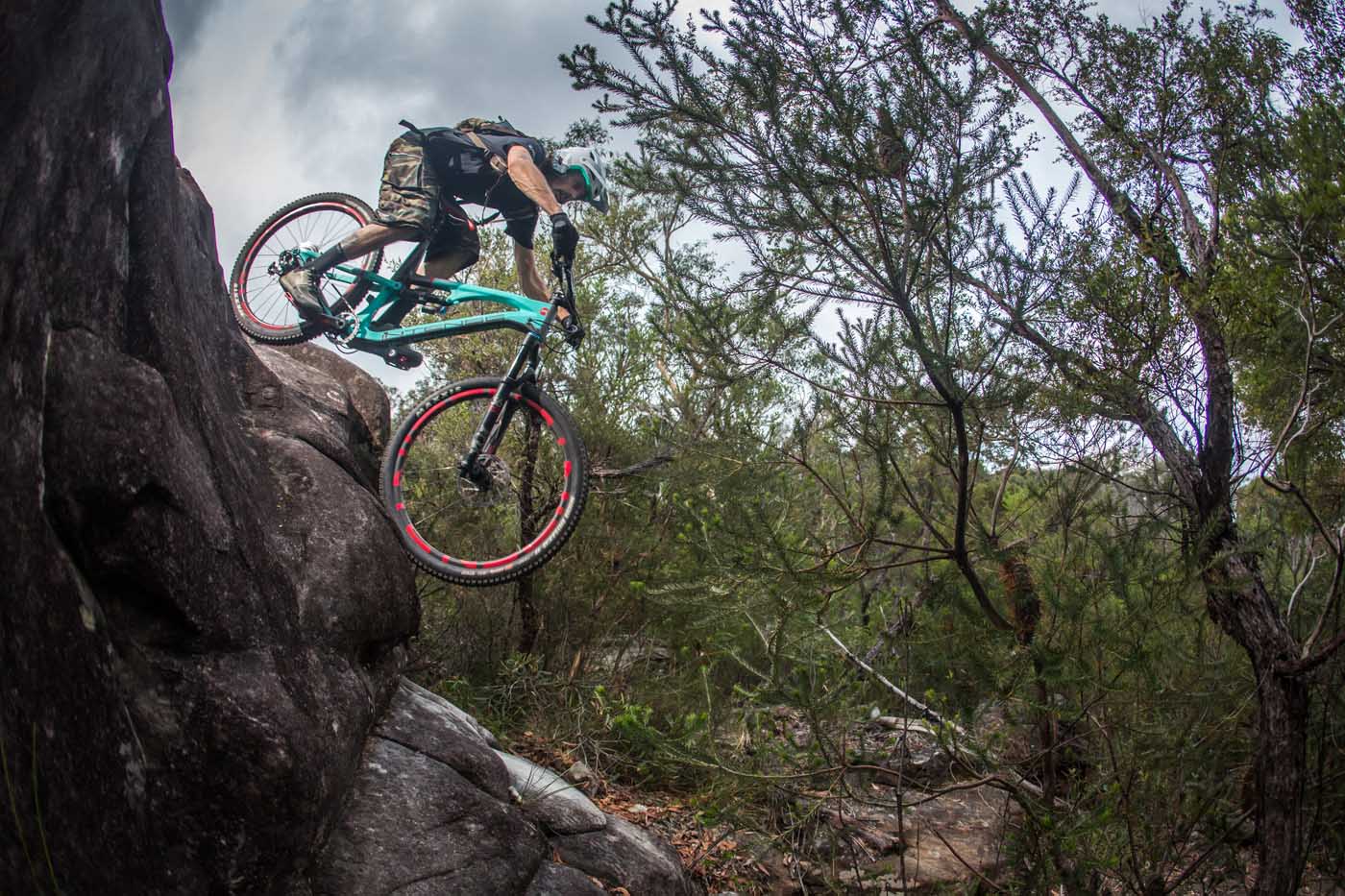 "The Recluse is an easy go-to-bike for all day fun, slogging up hills and getting loose on the way down." 
Of course, I'd only punish myself up hills to get to the good stuff. Be it flowy single track, tech strewn trails or descents. Three places where the Recluse really begins to shine. Get the Recluse up to speed and it almost becomes a new bike. Not that it wallows by any means at low speed, but that bigger stroke rear shock and JS linkage do their best work when you really get motoring. The suppleness of the rear shock mixed with those short but sweet chainstays makes for a super responsive ride itching to hit corners and jumps harder and faster. Add into the mix the incredible stiffness these new Intense carbon rims give you, and you have a solid ride that goes exactly where you point it. Before I go any further, I've got to make mention of the rear end stiffness. Compared to older VPP Intense's, the new linkage location has added so much side to side stiffness in that area, the resulting ride being much more precise and begs pushing harder through corners. Its ability to ride front wheel high through rough sections with the rear just absorbing so much more than 140mm it's meant to be able to take, was almost enlightening. Less is more indeed.
Parts wise, SRAM's ultra-crisp shifting never misses a beat and we were pretty stoked on 760mm width bars, especially on the Northern Beaches. Not too wide, not too narrow, just right. Big bars are alright if you've got wide open trails, or a 450 4-stroke. The long (150mm) drop on the Reverb was spot on, allowing for perfect leg extension for the grinds, but right out of the way when things got fun. I'm a big fan of the ability to tune the seat height endlessly through tech terrain, not being locked into 3 positions is a good thing. Guide's RS brakes are some of the best feeling stoppers out there, and there's not really much to fault with them, pull brake, slow down. Sorted.
The frame is compact, efficient and pretty light, with nicely rounded shapes where it matters, making body strikes when shredding a touch softer. I was clipping my heel a touch on the rear stays, which I have to attribute to Boost spacing. But I'm sure I can adjust my feet position to account for that over time though. Wider platform pedals anyone? A super good standover even on the large frame adds to the confidence inspiring nature of the ride characteristics.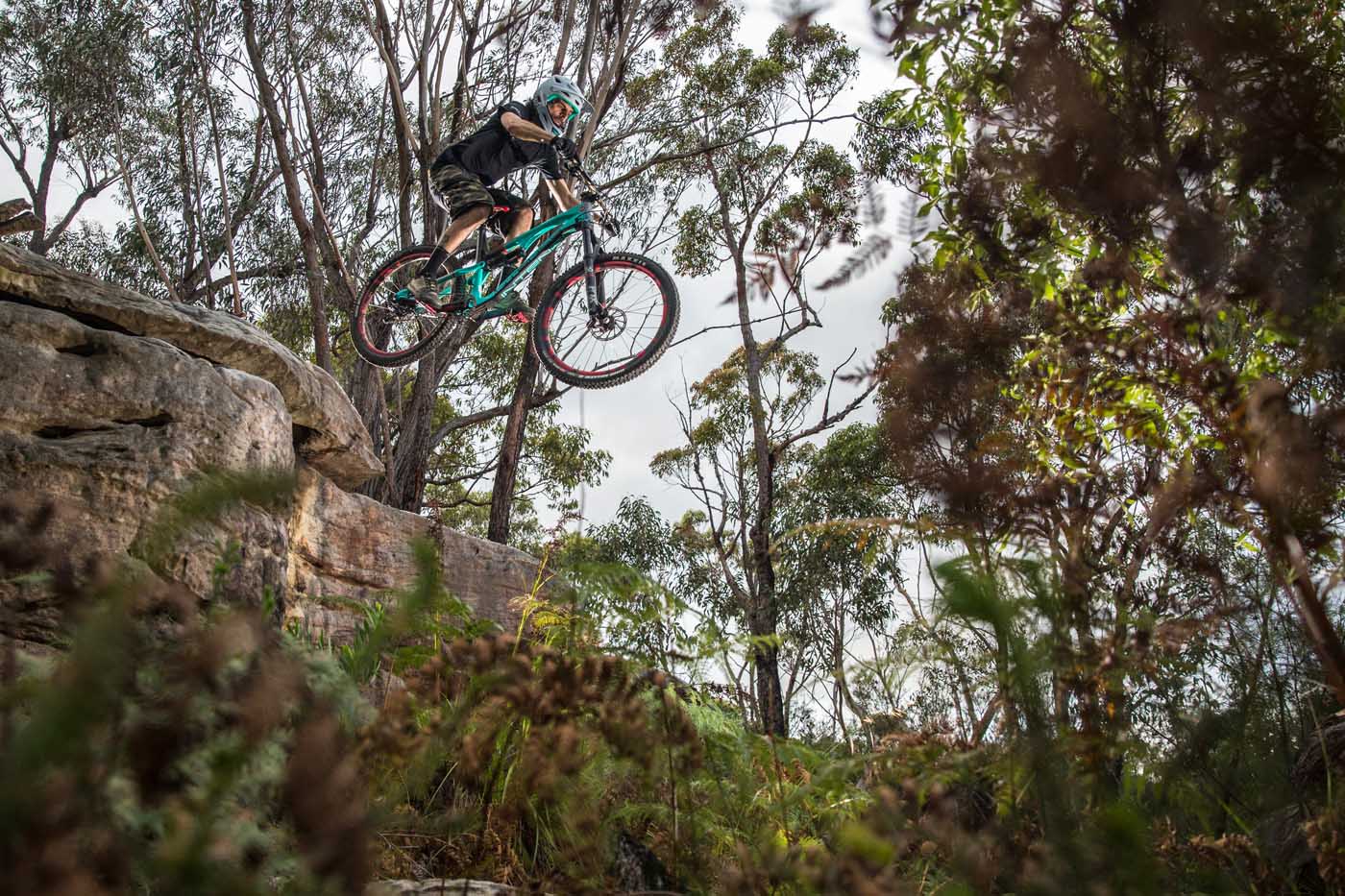 It's no secret many WC level DH racers day to day rides are slap bang in the 140mm range, the performance they pump out with this modern day geo and new suspension tech really makes these bikes punch so far above their weight when the trails get tough. Intense's Recluse is all over this and isn't shy of getting places where you can get your DH on, and even get you home without a vehicle. Upgrading parts shouldn't really factor on this bike until at least a year of shredding is done, it's a very well sorted ride. So, Intense figures that 140mm is the on money and we agree, I've got to add that I've spent more time on this test bike than any I've ridden before, testament to its goodness. The Recluse is an easy go-to-bike for all day fun, slogging up hills and getting loose on the way down. Quite capable on bigger terrain as it would be in Enduro or light DH race duties. With a bigger fork, or spacing the 36's out to full travel, this thing would haul arse on any local downhill track and get you back up top to do it again. With a new distribution model in Australia direct to shops from Intense, and a new dealer network growing by the day, you shouldn't have any dramas getting your hands on a demo model. Problems is, if you ride one of these for an hour, you may be hooked.
Specifications // Elite build
Frame:
Recluse 275 SL Carbon Front and Rear Triangle, i-BOX Pivot System, Downtube Flak Guard Armor, Internal Derailleur, Brake & Dropper Post Routing, ISCG05 Mount, Ti Hardware
Rear Travel: 140mm
Fork: 150mm travel FOX Performance Float 36, 27.5, 3-position GRIP, Matte Black, 15QRx110 Boost
Rear Shock: FOX Performance FLOAT X2, 2-position Lever with Open Mode Adjust, 200x57mm
Hubs: 28 Hole DT Swiss 350, 15 x 110mm Front Hub; 148x12mm Rear Hub, XD Driver, 6-Bolt
Rims: Intense Carbon 30mm
Tires: Maxxis High Roller II 27.5×2.3 3C EXO TR
Shifter: SRAM X1, 11-speed
Rear Derailleur: SRAM X01, 11-speed
Cranks: Race Face NEXT, DM32T, 175mm, 11-speed
Cassette: e*thirteen 9-44 tooth, 11-speed
Saddle: Fabric Scoop Radius Elite
Seatpost: RockShox Reverb Stealth, 31.6mm x 420 mm, zero offset, 150mm of travel
Handlebar: Renthal Fatbar 20mm rise x 760mm width
Stem: Thomson X4 50mm
Brakes: SRAM GUIDE RS with 180mm front, 160mm rear rotor
PRICE // $11,499
Browse // www.intensecycles.com
Words // Matt Holmes
Photos // Richard McGibbon