History has shown that Shimano are in no rush to compete with other companies who churn out new products like MTB is going out of fashion. Instead, they do their own thing in their own time which is maybe why it was close to three years between the moment SRAM released a 12 speed drivechain until Shimano brought out their own 12 speed set-up.
Words // Scott Prendergast Photos // Matt Staggs
Clearly Shimano weren't interested in just trying to copy their American rivals. The design approach Shimano's mega-range 12 speed groupset is unlike anything that has come before. We've had the complete XTR M9100 groupset fitted to a [R]evolution test rig for several months and we've been giving it absolute hell in an attempt to find its limits. Let's take a look at how it has fared…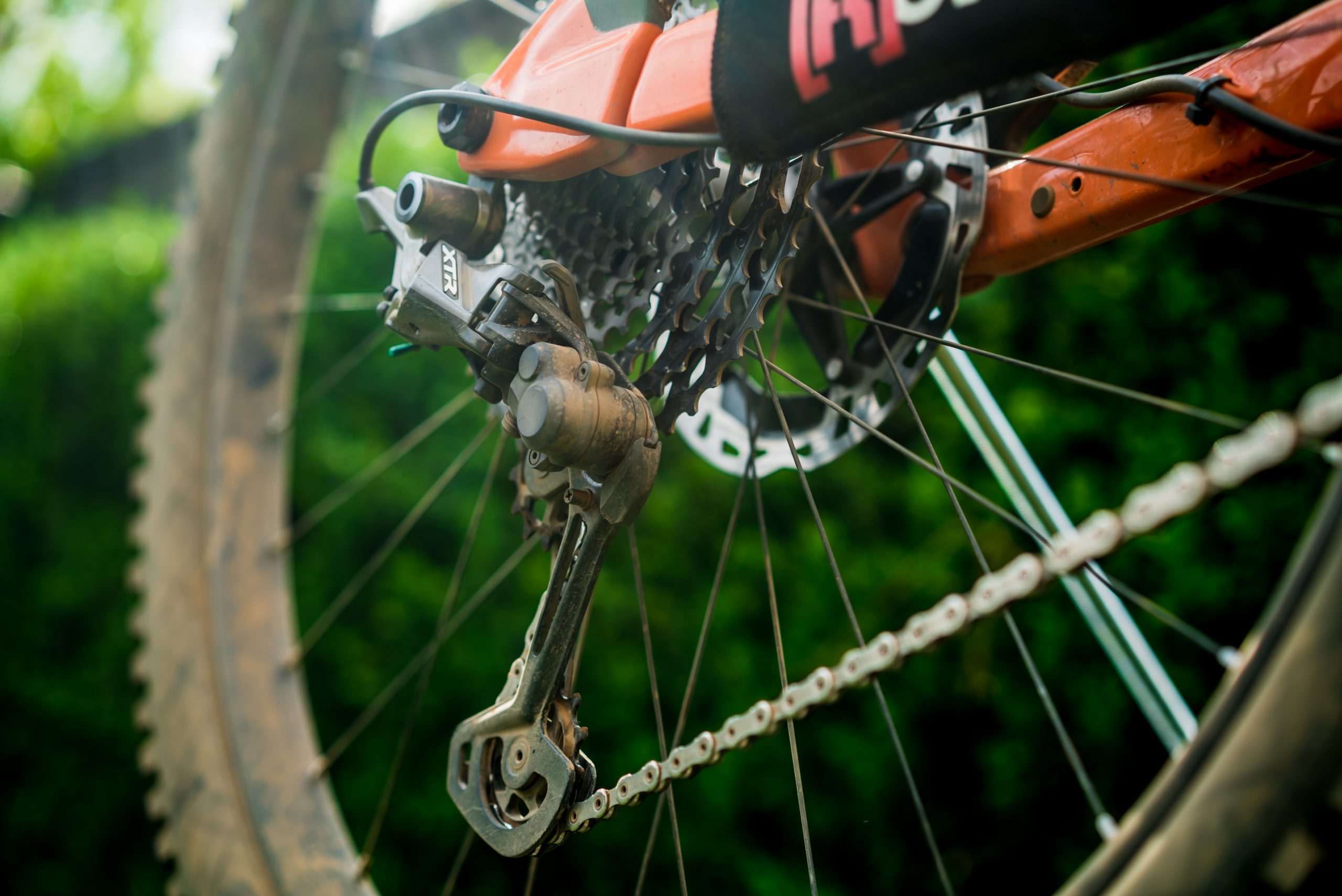 So, what's so new with the XTR M9100 group set?
Well, a lot!  To be honest, Shimano's 'numero uno' off road drive chain boasts; a 12-speed, 10-45 or 10-51 tooth cassette (tested), new super powerful 4 piston brakes which feature a really innovative lever design, as well as a multi-release shifter, a new direct mount chainring, HYPERGLIDE chain technology along with their completely new 'Micro-spline' freehub body interface with the cassette which allows for the tiny 10 tooth ring and prevents the cassette from digging into the freehub body over time.   
Alright that sounds cool but can you spell it out in simple terms?
Ok, we'll try to make it simple, it's a bit of a hard ask considering Shimano are renowned for being the perfectionists of tech talk. So, let's break it down into simple terms, pub lingo shall we?! It's fair to say that from time to time we look at bikes and components and think to ourselves 'WOW!' Look how far we've come with the quality, strength, performance and style of modern MTB equipment. It was no different when we first cast an eye over the XTR M9100 groupset, it just looks so freaking cool; along with that the installation and adjustment of the components was an absolute breeze.
Tell us a bit about the new XTR 4 piston brakes?
They're bloody powerful! As you'd expect from XTR these brakes are lighter than the rest of Shimano's line-up and they still run the same internal pistons, however, the XTR brake pads are made specifically for the XTR calliper and won't fit any other callipers. XTR runs a specific left hand and right hand brake lever and you'll notice a small extender from the brake body that sits flush with your bars to prevent flex under heavy braking. Also, depending on how you run your brakes you may have to swap the brake lines due to them being specific levers. 
"In basic terms these brakes are marketed as Shimano's flagship 'Enduro' brake set, not as heavy duty as the Saint brake however more powerful and durable than the XT."
So, what about the drive chain give, give us the nitty gritty on how each piece of the puzzle performs?!
The shifter: The M9100 shifter weighs in at 127 grams and according to Shimano the leverage activation is about 35 % percent lighter than the previous model. Both the up and down shift have textured grips and the down shift lever also has a 2 x multiple shifting mechanism which can be activated either way; with your index finger or with your thumb similar to a SRAM shifter. 
Derailleur: The common theme with the group is a dark charcoal color commonly attributed to XTR and the rear mech looks super cool with this finish. The weight is about 242 grams, it uses 13 tooth jockey wheels and has an adjustable clutch mechanism which has been a cool feature from previous year models, along with your standard high/low extremity adjustment and B-tension adjustment. Cassette & Chain: We have been running the 10 to 51 tooth cassette which boasts three aluminum cogs, five titanium cogs, and then four steel cogs.  The chain has a hollow pin design and is shaped to mesh perfectly with the cassette which is designed to make shifting effortless under load.  Shimano also offer this cassette in a 10 to 45 tooth spacing, this cassette also runs Shimano's new Micro Spline driver free hub body and the cassette itself comes in at about 376 grams.Cranks & Chainring: The XTR M9100 cranks are still aluminum, the fact is alloy cranks produced by Shimano are lighter, stiffer and stronger than most carbon cranks on the market and are also less susceptible to pedal strikes as hard impacts will have less wear and tear with alloy cranks rather than a carbon crank. Shimano also still run their super cool direct mount chainring which is designed to mesh well with the chain, making the entire drive chain super smooth and quiet. 
"Shimano doesn't rush these things, they beat to the sound of their own drum and here's why. 'Perfection' people! This group set was super nice to fit to the bike, super easy to adjust and looks so damn cool."
We have been lucky enough at the mag to have this groupset fitted to the custom-built Rocky Mountain Instinct BC for some time now. When we first had a good look at this groupset we had a little smirk on our face because we knew it was worth the wait.
Yeah okay, but how did it actually ride?
In short it rode as good as it looks, the brakes were super easy to adjust, and they had Shimano's trademark 'light to the touch' feel, yet when you were heavy under braking load they had power for days, more akin to the feel of a Saint brake. The shifting was super light and positive and remained uncompromised over a variety of trail and weather conditions, even under load, as Shimano have indicated, the new XTR shifter was extremely smooth, we couldn't disagree, even when gritty the drivechain remained smooth and quiet.
"All in all, the brakes, hubs and drive chain all complement each other really well. Shimano have stayed true to their roots and delivered a 12-speed groupset with their own style and payed close attention to detail."
What's super exiting is that the XTR technology has now filtered down to their XT and SLX groupsets, which will be super positive for those riders who want a quality product with more of a budget in mind. If you demand performance, quality and style Shimano may be the gear to compliment your new weapon of choice.