Feast your eyes on Yakima's latest rack which also happens to be the brand's first e-Bike specific bike carrier.
What does e-Bike specific mean? It means the rack has been designed to carry a lot of weight, up to 60 kilos in fact! (That said, Yakima does point out that the 60kg load rating is only for sealed road driving, whereby if you're planning to smash up and down off road 4WD tracks with your bikes on the back then the load rating drops to 34kgs. Also keep in mind that it's super rare that a bike rack is even rated for 4WD use and covered under warranty so it's really another solid testament to Yakima's commitment to this section of the market).
The OnRamp carries 2 bikes and it is of course 'hitch mounted' which basically means the rack is mounted to the vehicle using the same slot that your towball would otherwise use. As you'd expect from Yakima if you're familiar with the brand, the OnRamp's design includes tons of high-end features and the rack has been beautifully engineered.
Yakima isn't regarded as an industry leading rack manufacturer for no reason, the company knows full well that MTB's come in all shapes and sizes which is why they've designed the OnRamp to boast masses of spacing adjustment so that practically any and all MTB's can be fitted easily and securely to this rack. This is taken care of in a number of areas; firstly there's the tilting centre 'mast' which sits between the 2 bikes and sliding up and down on this is a pair of adjustable rubber ratchet strap cradles which clasp each bike securely and without risk of damage. Then, holding each wheel in place are adjustable tyre trays which can be slid/spaced at any point along the bottom rails of the rack to perfectly accommodate the wheelbase of each bike.
Ever since the OnRamp arrived at our office for review back towards the beginning of spring it literally hasn't left the back of my 4×4. Every single time I head to the trails this is the rack that carries my little babies.  That being the case, I must have easily racked up hundreds of km's by now putting the rack through its paces and it's never skipped a beat. Whenever I glance in the rear view mirror as I'm driving my bike/bikes are never bouncing around. I've found that even when I am shuttling up bumping fire roads the bike's just sit neatly and behave themselves when using the OnRamp.
The rack itself tips the scales at spot on 20kg – not so heavy that it's a struggle to install on and off of your vehicle, but it does have a nice 'heavy duty' kind of quality feel to the rack when you pick it up.
Something rather cool that comes in the box when you buy this rack is 'loading ramp' which clips onto either end of the rack and allows you to roll each bike up or off the rack without having to physically 'lift' the bike. Now, given that your typical e-Bike weighs mid-twenty kilos the loading ramp is a bloody nice feature to have. And when you consider that most e-Bikes feature a 'walk 'mode' you can literally just stand there and watch your bike ride itself up onto the rack. When not in use the ramp simply unclips and gets stowed inside the vehicle.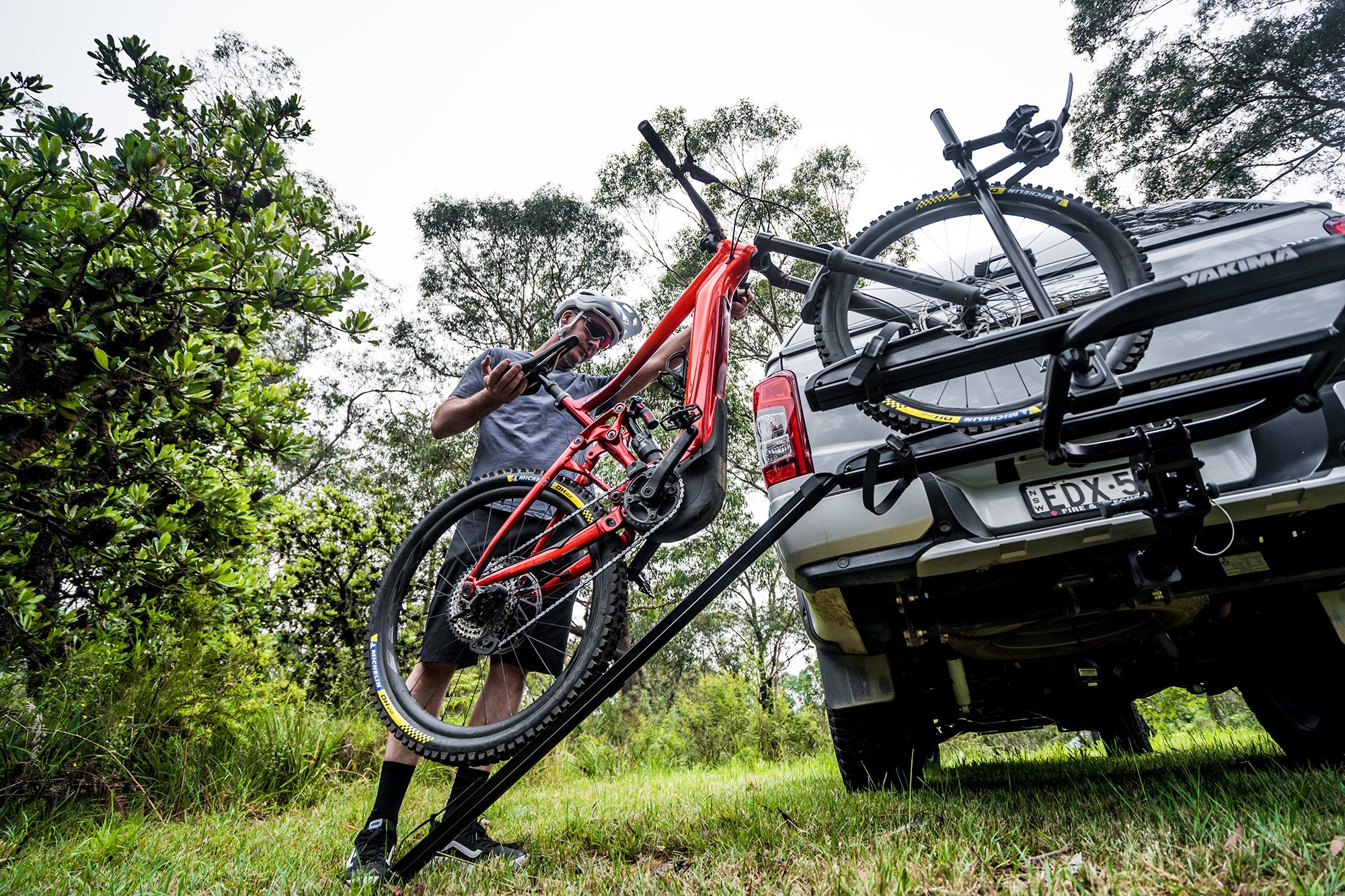 As we all know mountain bikes aren't cheap and e-Bikes damn sure aren't cheap, so you'll probably be pleased to hear that the OnRamp comes stock with a nice thick metal cable lock. It locks via a key (you get a pair of them in the box with the rack) and can either be fixed to the rack itself, or you can use it purely to lock the bikes to each other. Either way, it's a nice built in bit of kit to prevent some scum bag from helping themselves to your goods.
When you're not carrying bikes the rack folds up in a vertical fashion, stowing neatly parallel to your vehicles tailgate. My only gripe about the OnRamp is that is doesn't have a dedicated auxiliary number plate mounting point… On the flip side I guess Yakima do actually make a really cool auxiliary plate holder called 'Plate Mate' which can we strapped to any bike or bike rack and it costs less than thirty bucks.
On the athletics front in keeping with the brands current lean towards slicker appearances of their products (apparently designed to appeal more to the European markets) the rack features a completely stealth black styling throughout and interestingly you'll notice that the 'Yakima' logo is silver rather than red. I don't think anyone is buying a rack purely because they look cool, however it's fair to say that the OnRamp is particularly easy on the eyes and that's before you go and load a pair of sexy modern e-Bikes onto it. [R]
Price // $799
Browse // www.yakima.com.au