And now the one you've all been waiting to hear about, the much hyped Yeti SB150… Thank you, the End! That pretty much sums up all you need to know. This bike is actually every bit as good as Yeti promised and every bit as fantastic as everyone that has been lucky enough to test ride one so far has been saying.
If it wasn't enough evidence that Richie Rude came out swinging on the new SB150 and dominated the EWS on his first few races aboard Yeti's new flag ship 29'r enduro beast, then why would the team at Revolution Mag really need to say much more? What we will say is that we're pretty damn stoked to get our hands on one of the first SB150's to hit Aussie shores for a review. So, I guess for the sake of it why not have a chin wag about what we think about Yeti's new SB150 race weapon!
Words // Scott Prendergast  Photos // Matt Staggs
It's fair to say that when we first cast an eye over this bike our jaws opened a little wider and there was a long silent stare at this bike. It was hard to deny the attention to detail the crew at Yeti have paid to crafting this machine. The Colorado based bike builders have delivered a bike that has no compromise when it comes to meticulous frame design not to mention this sucker comes with all the adequate mod cons that any current MTB shredder desires. With its much talked about 'Switch Infinity' suspension design this bike has been basically designed to pedal with ease whilst absorbing all the rough stuff and yes, the new SB150 has plenty of room for your water bottle.
We got our hands on a size large SB150 for review and some of the key features this SB150 came spec'd with include;  a Fox Float X2 shock (150mm travel) Fox Factory 36 fork (170mm travel), SRAM Code RSC brakes, Maxxis Aggressor 2.3 (rear) and Minion DHF 2.5 (front) tyres, Yeti-branded carbon bars (800mm wide), Race Face Affect stem (40mm), Fox Transfer dropper post (Internal 150mm of drop), Race Face ARL30 – 29inch hoops, DT 350 Hubs, Race Face grips and a SRAM XO Eagle 12 speed drive chain. We got this SB150 in orange however it will also be available in two colours being the orange or the turquoise. There will also be two options with the frame being the C Series and the more expensive version which depending on frame size will save up between 200 to 300 grams in weight.
Ok, so a cool feature is obviously Yeti's Anti Squat Switch Infinity suspension design which has a reputation for being great at isolating pedaling load from suspension lag. Sure, you will never eliminate all that lag however there is nothing wrong with aiming to improve pedaling performance without comprising suspension efficacy which is exactly what Yeti has done. Yeti have configured the anti-squat with the suspension dropping off later in the stroke so that whilst the drive chain is under load, that force will not impact on the suspension ability to absorb large and subtle impacts.
The SB150 has adjusted the leverage curve of the suspension design to suit the bike's travel whilst supporting the suspension throughout the entire stroke of the shock, not just to provide resistant to the shock when it bottoms out or gets to the end of the stroke.  Think of the suspension being designed so the rear end feels more comparable to a coil shock or an air shock that has a larger volume of air like the Float X2 or a RockShox super deluxe. With that feature Yeti have indicated you can run your shock completely open which is exactly what we did however suspension setup is obviously a personal thing.
The unique rear shock mount is Yeti's way to control the position of the shock and the shape of the frame. The 'extenders' subject the shock to more lateral load during compression because they decrease the shock's bushing overlap, the extender itself is made up of two pieces with each half hinge off either side of a pivot on the swing link. This design makes the shock easier to install or remove and the configuration of this design means the width and the shock eyelet do not need to match up identically. 
The extender replaces one of the eyelet bushings with a bearing creating a progressive, smoother and more reliable suspension action. This design also allows for positioning the shock to sit forward in the frame providing a lower stand over possible height, creating more room for a larger shock or a coil and of course leaving more room for the bottle and cage which was an issue with previous models. The SB150 (large tested) also boasts some aggressive angles which include; 480.2mm reach, 625.6mm top tube, 64.5-degree head angle, 76.9 degree seat tube angle, 1248mm wheel base, 70.8 stand over height, 44mm fork offset and a 347.9mm bottom bracket height.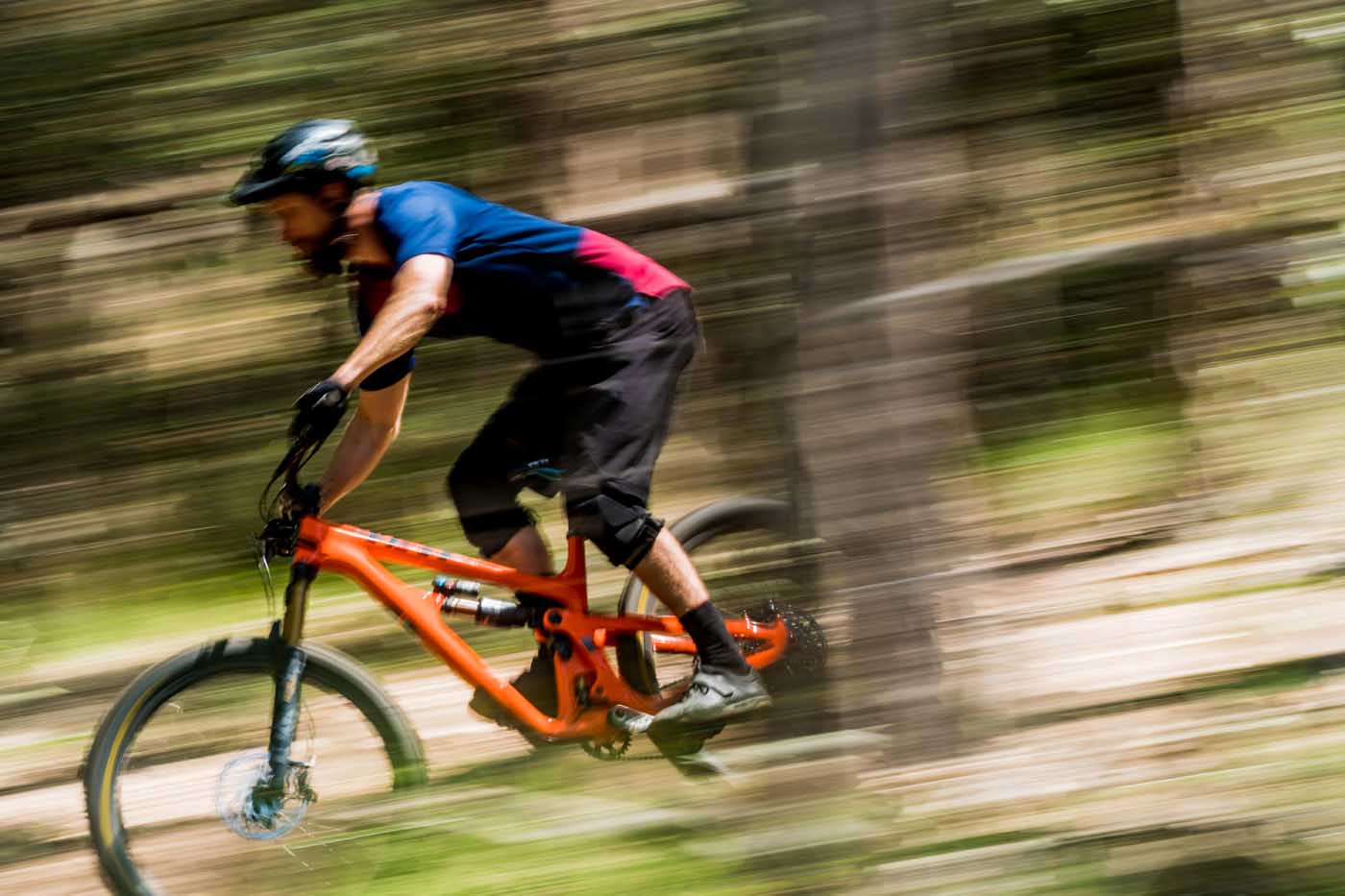 "Yeti have delivered a package which not only looks the goods but works damn well, this bad boy is built for speed with aggressive riding in mind."
We have spent a couple of months putting this sucker through its paces and it's safe to say that we want one. Honestly from time to time you get a bike you don't want to give back and this is one of them.  From the moment we threw a leg over this weapon the concept that 29'r with 150mm rear wheel travel and 170mm of front end travel and a 64.5-degree head angle would be able to pedal so well let alone climb seemed a stretch. But before we knew it we were eating humble pie because the SB150's stable pedalling platform really did deliver.
Once we had navigated some climbs we were able to send some serious trail with super tricky and rough sections with relative ease. Sections of trail which traditionally halted forward momentum weren't a match for the SB150 in fact it just kept churning forward through the trail. As a matter of fact, there were times we would blow through corners as we weren't used to hitting familiar trail sections with so much momentum, which was scary at times.
All in all, Yeti have produced a superb 29'r enduro race weapon that eats trails for breakfast, it handles amazing and pedals ridiculously well for a big wheel enduro bike. The rough stuff was fun but where we noticed this sucker come into its own was the fast-open corners at Thredbo, at times it was like 'WOW' we are really moving! This bikes ability to hold momentum through the rough stuff and corners without breaking traction was nothing short of mind blowing. At times when you really expected to break traction this bike just hugged the ground and spat you out of corners effortlessly.
"The SB150 inspired all around super confident riding and control but most importantly it was so much fun to ride."
So what features did we really like about this bike? Well it's ability and stability at high speed was second to none, its ability to climb and pedal was unreal, and it was super nimble and easy to turn for a large long travel 29'r. There was plenty of room for a bottle cage which was an improvement from previous models, the steep seat tube angle made climbing efficacy easier especially on the technical climbs. The SB150 has a nice open cockpit area, a nice low, long slack design with a low standover height making descending bloody awesome. It has all internal cable routing making the bike look neat, tidy and makes this rig super quiet to ride eliminating all cable rattle.
There is also plenty of fork and shock adjustability with rebound, comprehension along with high and low speed compression adjustment making it a breeze to adjust without having to worry about volume spacers.
Sure, this bike isn't cheap, however, this is light years away from just your regular 'nice bike'. Make no mistake, this bike is a dream machine. It's a bike worth saving for. A bike that will actually hold its value. Think of it as an investment! There's no denying the SB150 looks sensational. And its pure performance characteristics are right up there with the nicest rigs money can buy in 2019. If you want a bike that will shred on any race day and turn some heads at any Sunday arvo session, then do yourself a massive favour and go get yourself a brand spanking new Yeti SB150. Remember kids, you only live once.
YETI SB150 XO1 BUILD SPECIFICATIONS
Frame //
 Full carbon fibre.
Wheel size // 29″
Travel // 170mm front, 150mm rear
Suspension design // Switch Infinity
Sizes // S, M, L, XL
Colour options // Turquoise / Orange
T
est Build //
(X01 Eagle Build Kit) Fox 36 Factory Grip2 fork, Fox Factory Float X2 rear shock, Cane Creek 40 headset, SRAM XO1 Eagle drivetrain including carbon X01 DUB cranks, SRAM Code RSC brakes, DT 350 W / Race Face ARC 30mm wheels, WTB custom saddle, Race Face Next R Carbon bars (800mm), Race Face Turbine R Stem (40mm) Fox Transfer Factory dropper post, Maxxis rubber.
Price // Complete Bikes starting at $7,890
Browse // www.rowneysports.com