Lyrik Ultimate RC2 Fork

 

x

 

Super Deluxe Coil RCT go to Whistler…
With a 10 day trip of a lifetime to the Mecca of MTB (Whistler) rapidly approaching, one of our tech editors 'Missionary Man' decided it could be the perfect opportunity to make some component modifications in the search for potentially unlocking even more performance from one of his favourite test bikes to date.
Words // Scott PrendergastPhotos // Mark Mackay
Elsewhere on this site you'll see that we've reviewed the Focus Sam (carbon) and whilst the Missionary Man found himself totally won over by the bike's handling in its 'stock' spec, he couldn't help but get the feeling that the Sam's impressive frame design left it sitting with a few tricks still hidden tricks up its sleeve. And so with the mega mountain trails of British Columbia calling his name, Missionary decided to give the bike an extra 10mm of travel up front to 180mm via a set of Rockshox's brand new top of the line Lyrik 'Ultimate' RC2 forks. And then to throw even more petrol onto the fire he went ahead and swapped the bike's stock air shock for a coil sprung RockShox Super Deluxe Ultimate shock (again, the brand new just recently released top of the line joby from RockShox). So, with an increase in travel up front and slightly more relaxed geo as a result, plus a more supple rear end thanks to the coil, in theory his Focus Sam had the potential to handle like a mini DH bike. The only question then was, well how did it bloody ride!? 
Lyrik 'Ultimate' that's a bold claim, what makes it special?
Sure, the new Lyrik Ultimate looks pretty much the same as the regular Lyrik fork but don't be fooled as those clever folk over at RockShox HQ spared no expense on 'supping up' their top of the range enduro offering. It could be best described as a fork that provides noticeably more mid travel support along with being a smoother more progressive fork. This is no doubt partly attributed to the improved lighter high-speed compression tunability of the fork along with some changes to the forks internals which have been refined to provide a stiffer fork with reduced friction even under side impacts.
What is referred to as the 'Charger 2.1' cartridge has a redesigned the seal head on the damper shaft, which Rockshox claim is more fluid and heat resistant. The rebound design has also been refined which Rockshox have indicated is similar to the piston head used in their rear suspension setup.
It creates a fork with better tunability and better rebound reaction on the trail.
The Rockshox crew have even developed brand new wiper seals which provide a smoother subtle fork and a reduction of up to 30% in the 'Slip/Stick' friction. The damper cartridge has replaced the previous split glide-ring with a piston band which has been sized to suit the damper tube. This stops oil bypassing the damping unit on rebound. Again this is a similar system RockShox have been using in their rear shocks, all in all they have created a fork with more digressive rebound turnability, a fork which is more reliable, better lubricated, stiffer, stronger, and as a result these changes have resulted in better performance over a variety of trail conditions. This fork is also available in red or black but hey as you all know, red goes faster!
Yeah, yeah, yeah, blah, blah, blah, but how did it ride?
Okay, okay enough of the tech talk, it's fair to say this fork was nothing short of outstanding. Due to the mid travel support and lack of friction these things were buttery smooth over the loose trail chatter yet provided maximum impact support for the bigger hits. We found this performance really transferred into better riding, the fork created really confident tracking to the front wheel, and we were noticeably less fatigued in the arms on those longer runs due to the subtle nature of this fork.
There are not massive changes between this fork and the fork of yesteryear however those small changes have created a fork which is super balanced and provides sensitivity throughout the entire range of the forks travel, the best thing we found is this fork was really easy to setup and tune then is was a case of set and forget. It's fair to say we really loved riding this product.
Are you going to spend the whole article focusing on the forks or can we get into the rear shock now?
There is always a bit of debate about the difference in performance characteristics between an air shock and a coil. Let us be clear there is absolutely nothing wrong with an air shock they work amazing, the main reason we decided to bolt a coil shock to the Sam for this trip was just due to the length of the runs in Whistler and the heat generated as a result of huge runs.
If you've ever considered a coil shock, let me say the Super Delux Coil RCT is something you should consider. This shocks ability to tune your rebound and compression settings are second to none, for any rider who wants a shock that is easy to install, setup and tune then look no further. We initially installed 500lb spring (90kg rider) however we found this was a little stiff and we went to a 450lb spring which was perfect.  A bit of adjustment with the rebound and low-speed compression adjustment and again it was a case of set and forget.
If you are a no nonsense style of rider, you demand performance and reliability, then that is exactly what the Super Deluxe Coil Ultimate was designed for, it is the type of product that was designed to meet  the demands of any hard hitting enduro rider, downhiller, free rider, not to mention the trail gurus. This shock features what's referred to as 'Maxima Plush fluid, solid threshold adjustment' which is designed to improve pedalling performance, traction to the rear wheel and ride quality.
The new Maxima Plush damping fluid reduces friction along with producing a super quiet rear end, there was no mistake that we ran the BoXXer red signature coil spring which we think looked pretty damn cool with the red fork however there is also other coil colour options for the spring.
What Rockshox have done with this shock is separate the threshold pistons independently making the tunability of the shock outstanding so you can run your setup exactly how you want depending on what, where and how you like to ride.  The shock also comes with low speed compression adjustment allowing for fine tuning of compression needs from the base tune. One other cool feature was the lockout switch which is a huge bonus for a coil shock and for those riders who still like to climb with a coil.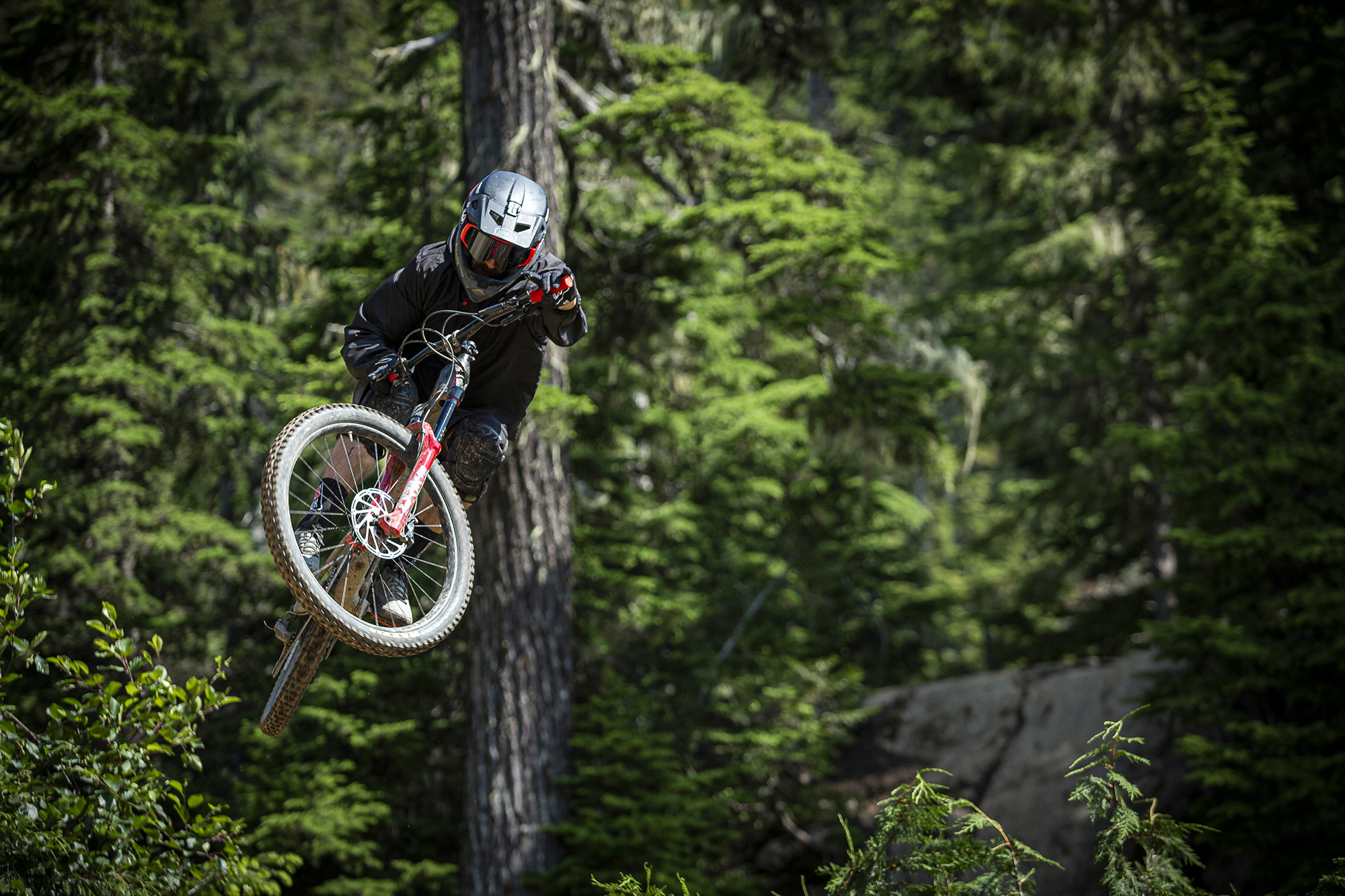 Get to the juicy part, go on, tell us how it actually rides!?
Well it's no surprise the shock was outstanding. The rear end on this bike was super subtle and smooth, once the shock was setup it never really changed in feel at all, even over those longer runs, we rode this shock in tech trail, fast open corners, berms and jumps. What we liked the most is the rear shock really complimented the fork well, the whole suspension platform was super subtle yet progressive over the hard hits. This shock created a really direct predictable feel, heaps of traction to the rear wheel over a variety of terrain, even during super-fast 2-wheel drifts the suspension platform transferred a really confident predictable feel to the rider which was nothing short of awesome. Not to mention the fact that this shock was super reliable, I mean just imagine what we put this sucker through during back to back to back days of riding in Whistler and the shock performed effortlessly, in fact it never missed a beat. It was super quiet, felt amazing and removed any doubt that this was the perfect product for the trip of a lifetime. 
Parting words…
Overall, we were damn stoked we took the time to setup the Sam with the beefier, latest generation suspension products from Rockshox. It really did unlock a ton of potential in the bike and with the bike handling even better it made the riding over there even more enjoyable. It's a pretty simple formula; a few little upgrades can often unlock a heap of hidden potential and when your bike rides better, hey, it's more fun to ride! Give it a go for yourself.