Last week [R]evolution flew to Madeira, the tiny Portuguese Island in the middle of the Atlantic Ocean, for an exclusive first hand look at two promising new bike models from Canyon. First cab off the rank from Canyon for 2018 is the completely re-designed Spectral trail bike. The second bike that we got to play with is currently still under embargo for a few more days so we'll have to wait until later to tell you more about it…

  
Trust us, there is a lot to be excited about with the new Spectral. The existing model was one of Canyon's most popular bikes and so when the time came to raise the bar and supersede it with the next generation, the German brand did not hesitate to pull out all the stops. Their team of designers and engineers pulled out a blank piece of paper and begun brainstorming ideas and concepts. Then during the process of bringing those ideas to life Canyon' team of factory riders, including Joe Barns and Fabien Barel, began testing prototypes.
They searched to find the right mixture of traction, control, handling and, above all, playfulness. To create a bike with bucket loads of all-round performance, that begs to be thrown through corners and fly down trails. Another important factor of the design was that the bike needed to be easy to service, so that the rider could essentially just 'set and forget' their settings and then just focus on riding.
Click here to listen to Fabien Barel discuss the design principles of the new Spectral and discover some of the unique technologies that Canyon have showcased within the frame's construction.
Spectral Highlights
> 27.5" wheel exclusive
> 140mm travel rear, 150mm travel front
> 3 frame material options: full carbon, carbon front alloy rear, full alloy.
> Frame sizing S-XL in carbon, XS is also offered for alloy models
> 66° headtube, 74.5° seat tube, 460mm reach (size L) 430mm chainstays,
> Optimized for 2.6" tyres
> Integrated cable channel along bottom of downtube (very rad!)
> Toptube integrated (IPU) Impact Protection Unit
> Integrated seatpost clamp
> Complete bike weight starting at 12.4kg
To view full spec and pricing options head to: www.canyon.com/en-au
The new Spectral will be offered in a choice of 3 frame material configuration levels; 'CF SLX' which boasts a full carbon front and rear triangle, 'CF' which features a carbon front triangle coupled with an alloy rear end, and rounding out the range is the wallet friendly 'AL' version which see's an alloy front triangle matched with an alloy rear end. 
Regardless of the frame level you choose all new Spectral models boast the same long list of innovative features which includes possibly the best cable management / frame protection system in all of mountain biking! But more on that later.
Suspension concept
Canyon set out to make huge strides forward when developing the suspension concept for their downhill rig, the Sender, and that technology has made its way (filtered down) into the new Spectral. The bike's linkage design completely readjusts the placement of the pivot points and sets the shock in a horizontal position. The result is a suspension setup with improved traction, sensitivity, anti-squat and anti-rise that will have you ready to bomb down any trail, but still get you to the top with ease. Canyon have dubbed this 'Triple Phase Suspension' and it works like this:
Phase 1 // Response: The linkage transmits high power at the start of the stroke to effectively engage the air shock upon first contact with the trail. The result is outstanding responsiveness, small bump sensitivity and traction around the sag point.
Phase 2 // Stability: Through the mid-stroke the suspension provides a stable platform to reduce momentum loss. This enables the rider to actively pump for more speed and make exacting line choices.
Phase 3 // Ramp: The end of the stroke ramps up progressively to avoid blowing through the travel and to give the suspension a bottomless feel. By installing volume spacers, the rider can further tune the shock's progression to their needs.
Hoops and rubber
With so many wheel and tyre sizes seemingly all 'in fashion' at the same time these days, Canyon opted for 27.5" hoops with wide rims and big rubber. The 27.5" platform provides solid speed and stability, while also remaining easy to handle down tight, technical trails. With modern 30 mm rims acting as a stable platform for a greater variety of tyres than ever before. By opting for 2.6" tyres as stock on the Spectral, Canyon have achieved the best balance of traction, weight and precision. Wider rubber offers more grip and traction through a larger contact patch on the trail for improved control. The new 2.6" tyres also provide more durable sidewall casings that are less susceptible to flexing without adding too much extra weight.
Geometry concept
Of course, the performance of any modern day trail bike is a direct result of the bike's frame geometry. The new Spectral combines a long front center with a shorter rear end to maintain a long wheelbase that is secure at speed, but also easy to navigate through tight singletrack. You'll find that it is shorter than that of a race bike, but still long enough to provide the right amount of stability, when deciding on the length of the front center Canyon aimed for a feeling of overall balance. Low standover and bottom bracket heights improve maneuverability and drop the rider's center of gravity, while wide 760 mm handlebars pair with a short stem for optimal control to round out a complete package aimed at improving balance and handling without sacrificing playfulness.
The best cable routing concept EVER!
Routing cables internally keeps them protected from the elements and provides a clean look, but makes maintenance more difficult and can cause cable rattle. To solve this, all carbon and alloy models of the Spectral come with a newly developed cable channel. The durable plastic attachment provides clear and secure channels for all of your cables and can easily be removed for servicing. Seamlessly integrating into the frame, it also serves as a bash guard to protect your bike from big hits and is simple and affordable to replace if required.
Integrated seat clamp
To further improve the visual 'clean' look of the new bike even further the new Spectral features a super sweet integrated seatpost clamp design.
Moving the clamp to a spot inside the front of the seat tube creates a seamless aesthetic between the dropper post and the frame and contributes
to the complete design of the bike.
IPU
The Impact Protection Unit (IPU), developed and patented by Canyon, protects the top tube from being damaged by the handlebar thanks to an integrated limit stop. If the handlebars hit the IPU with enough force, hollow screws are designed to break and absorb the impact, leaving the top tube unharmed.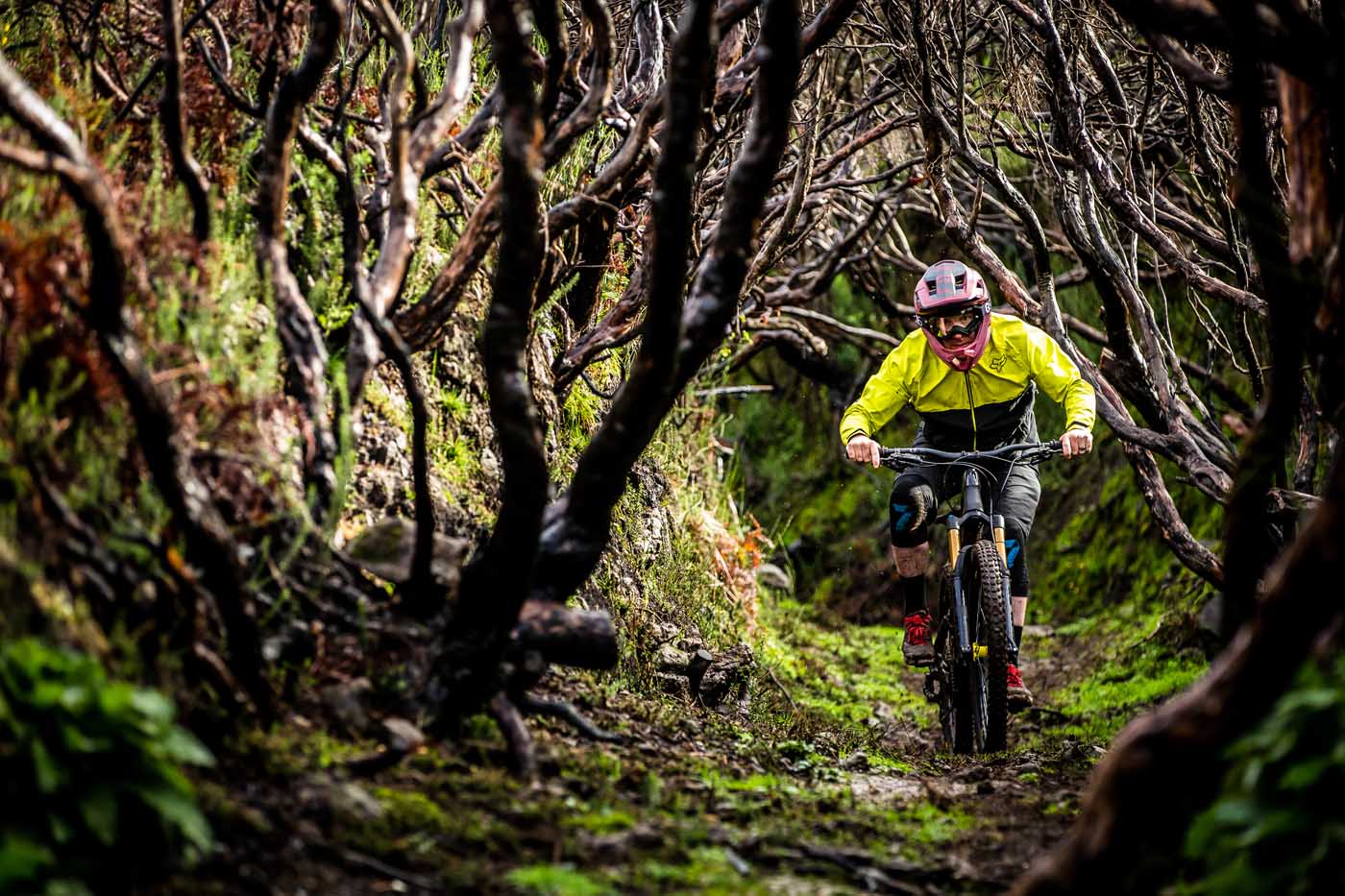 Stay tuned…
To read our full trail notes about how this lively little firecracker performed out in the wilderness during our time that we rode it over in Madeira be sure to grab yourself a copy of our Summer mag edition which will be hitting the stands later this month.