If you seem to recall the reborn Slayer wasn't reborn all that long ago, you'd be right. In fact, the Slayer was re-introduced during Crankworx 2016 as an MY2017 bike, completely overhauled to satisfy the needs of aggressive All-Mountain riding and Enduro racing, right through to Bike Park laps. 
Words and photos // Andrew 'Howie' Howieson
That reiteration divided crowds, the majority falling in love with its responsive power under the pedals which was almost uncanny for a bike that packed 165mm travel out back and a head angle that could be tilted south of 65 degrees. Some however found that the high level of anti-squat packed into the leverage resulted in a touch of harshness through the initial stroke – I guess there is always a compromise when it comes to creating a bike for the masses in this day and age where bikes are now expected to scale up steeps and lay waste to the trail back down.
Before I proceed, however, full disclosure, I am a current Rocky Mountain owner and a very satisfied one at that. I've had the pleasure of riding the Altitude, Slayer (2019) and my current ride is an Instinct BC. This does however give me a great perspective into who the new Slayer is for, what type of rider should consider it for their next bike and who should look elsewhere.
The old Slayer was a real weapon – I never experienced the harshness others complained about, however it certainly pedalled like it had a hidden motor in the BB. I was curious to see how RM could improve on an already fantastic bike – by far one of my favourite bikes I've ever owned. I'll admit I was sceptical they could improve any further and was concerned when I saw they had actually reduced the anti-squat numbers. The old Slayer had anti-squat values as high as 125% at sag, whereas the redesigned 2020 has dropped down to figures around the 85%-90% at sag. Now, I'm not an engineer and I won't try to pretend that I know a heap about suspension rates, anti-squat, bake rise etc. If you're in the same boat as me (ie; know enough, but not everything) you may have followed the same thought process that the more anti squat the better (with respect to pedalling manners) – the new Slayer completely debunked that.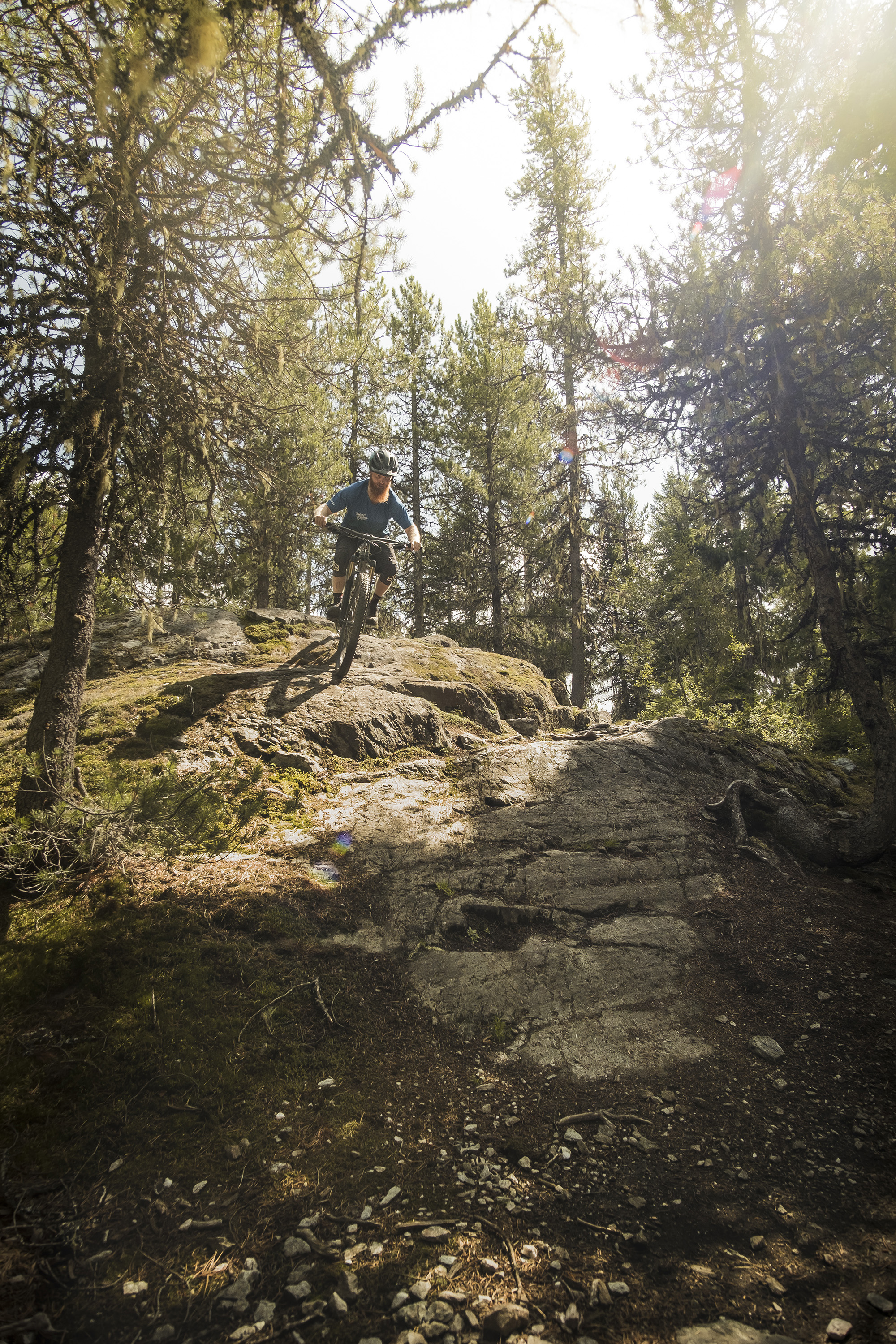 "Where it's changed now is that the anti-squat follows a more linear path throughout its travel, providing a much more consistent feel under power regardless of where in the shock stroke you are."
I noticed this in particular in spots where you needed to put a quick power stroke when the bike may already be under load, IE, exiting a well made berm or having to squeeze in a crank or two up a technical climb. Long story short, there is less change in AS throughout the bikes travel, whereas the older model had a crazy high amount off the top but fell away quickly as it progressed through the stroke. This gives you a nice, consistent pedal feel all the way through the bikes travel, with no strange hang ups or pedal kick back etc. neat, huh! On top of that, the seat tube angle can be adjusted between 75.8 degrees (slack) and 76.8 on the 29" that I rode. Coupling the predictable AS number and traction of the coil shock (all models are specked with coils out of the box, but are great with air too) with the steep tube angle helped the big 29" beast winch its way up technical sections and motor along single track far better than a 170mm 29" bike should. I rode the bike in its second slackest position and was impressed with the way it climbed, and not just for a long travel bike. It climbs well, period. 
However, the real test here isn't in how the bike park devouring, chunk munching traction monster climbs. No-one will buy this bike for its climbing abilities (they're surprisingly an asset none the less). The rider who will best suit the 2020 Slayer are those who seek out high speeds and big lines. I don't think you necessarily need British Columbian steeps to make the most of the bike. I had it moving pretty rapidly along some rough, yet fairly mellow gradient single track and it felt great, considerably smoother than my Instinct, which I suspect had a lot to do with the extra 40mm in the wheelbase and the coil. Given the bikes angles and length I was somewhat concerned about how nicely it'd oblige to tight twisty turns, which brought another surprise: the bike loves them. I had no issues pushing my feet and loading the bike into flat, loose, tight single track turns and popping it out the other side with seemingly more speed than I entered with. I would go as far to say that it was almost as playful as the Instinct or Altitude, and just as playful as the old Slayer, but with a definite increase in capability.
The million dollar question here, and commonly asked trailside around Australia, "Is this too much bike for Australia?" Honestly, I don't think so.
However, it all depends on the way you want to experience the trails. I certainly won't be moving on my instinct anytime soon, the bike is just so good at going up, across, around and down. There isn't really anything It doesn't enjoy doing. However, the new 29" Slayer wants you to do bad things. It has no problems going up, especially on fire road climbs, and it will, as much I don't want to repeat myself or sound cliché, lay waste to the descents. What it won't particularly enjoy is meandering, undulating, up and down trail centre type riding. A good example, if you've ridden in Victoria before, would be Falls Creek vs Bright Mystic MTB park.
The terrain at Falls is fantastic, and best suited to a bike with more mid travel range. The downs aren't rough or fast enough to need 160mm plus, and there are plenty of awesome trails that go across the hill, and sometimes up. A good all-round trail bike will perform best there and keep you smiling all day. In saying that, the sections that turn south will suit the Slayer really well. As I mentioned earlier, you don't need overly steep trails to enjoy it, it's a hoot anywhere as long as you're riding it fast, which requires surprisingly little effort. On the other hand, at a venue like Bright, the Slayer would be in its absolute element. It would have no complaints for the dawn patrol climb up the road for a high speed, rock smashing run back down the hill. With more gravity focused riding popping up in Australia every day the Slayer would make a fantastic one bike quiver. Local trails during the week, race a DH race on the weekend, enter some Enduro races, then take it down to Maydena over the summer for a gravity fest holiday. I reckon the new Slayer is far more versatile than its numbers would suggest.
Key Feature & Numbers
29" or 27.5" (27.5" version geo differs slightly)

Alloy and Carbon models

75.8-76.8 Seat angle

63.8-64.8 Head angle

1215 – 1220mm wheelbase (medium)

453-462mm reach (medium)

Coil shocks across the entire range

2.6" tyre clearance

Water bottle holder

Shuttle guard and chain stay silencer

Sleeved head tube and bridged frame for extra stiffness

Dual bearings at lower blind pivot