If you've been following the mag over the years you'll know that Rocky Mountain's are a definite favourite amongst our staff here at [R]evo. The reason that we've been such big fans of the brand for such a long time comes down to a simple fact; they're bikes kick arse!
Trail performance, speed, technology, reliability and frame aesthetics – Rocky always manage to tick every box and each year their 'new' bikes come out with a few little unique details that we've never seen before which keep them one step ahead in our books… And so today we'd like to introduce you to the all-new, latest generation Rocky Mountain Instinct.  Now, go grab yourselves a cold brew, sit back, relax and we'll give you all the low down on Rocky's latest trail weapon!
Bike Photos // Matt Staggs  Reviewer // Scotty Prendergast 
Instinct by name, Instinct by nature, what type of rider is Rocky's latest machine aimed at?
Rocky's current line-up boasts a deep range of models and you'll find plenty of 'overlap' in terms of the versatility of each model. The Instinct falls into their trail bike category, with that said we would describe this whip as more an aggressive style trail bike, with 140mm of rear wheel travel, 150mm of front wheel travel, 27.5 or 29 inch wheels depending on your height and the size of bike you ride along with adjustable geometry and chain stay lengths. What you basically get is a super adjustable trail bike you can really tweak to suit your own style of riding. In short, this bike is more about your pedal missions, yet is super capable for your hard chargers on those steep gnarly descents. The bike we tested is the full carbon version and it is available in a number of build options, they also offer this bike in an alloy version, again with a number of build options depending on what you like and how much cash you want to spend.
You mentioned both 27.5" and 29'er wheels, can you give a bit of run down that and some technical specifications?
Righto! To give you a little more insight into the background of this new whip. What Rocky Mountain bikes have done is effectively refine their line-up of trail bikes. In 2020 they offered the Thunderbolt and Instinct models as separate bikes, both bikes ran 140mm of rear wheel travel, yet the Thunderbolt ran 27.5 inch wheels and the Instinct was a standalone 29'er. What Rocky Mountain Bikes have done is create the all new Instinct and amalgamated these 2 platforms with an Extra Small Instinct offered with 27.5 wheels only to suit shorter riders, Small with the option of 27.5 or 29 inch wheels and the Medium, Large and Extra Large frames built with 29 inch wheels only.
The bike we tested was a size large, which has an adjustable head from 65.1 to 66.2 degrees, 437mm or 448mm chain stay lengths, a carbon frame and the bike comes in overall at about 13.4 kg. Some other cool specifications that you'll notice are a Fox Suspension platform, Fox 36 fork, DPX 2 shock, Shimano XT 4 piston brakes, XT drive chain, Race Face Bars and Stem, Maxxis Minion Tyres, Race Face Hoops, DT 370 hubs, WTB saddle and a Race Face Turbine dropper post.  Overall, the build on our test bike is a really solid package yet as already mentioned Rocky Mountain offer this bike in a number of build option depending on your budget.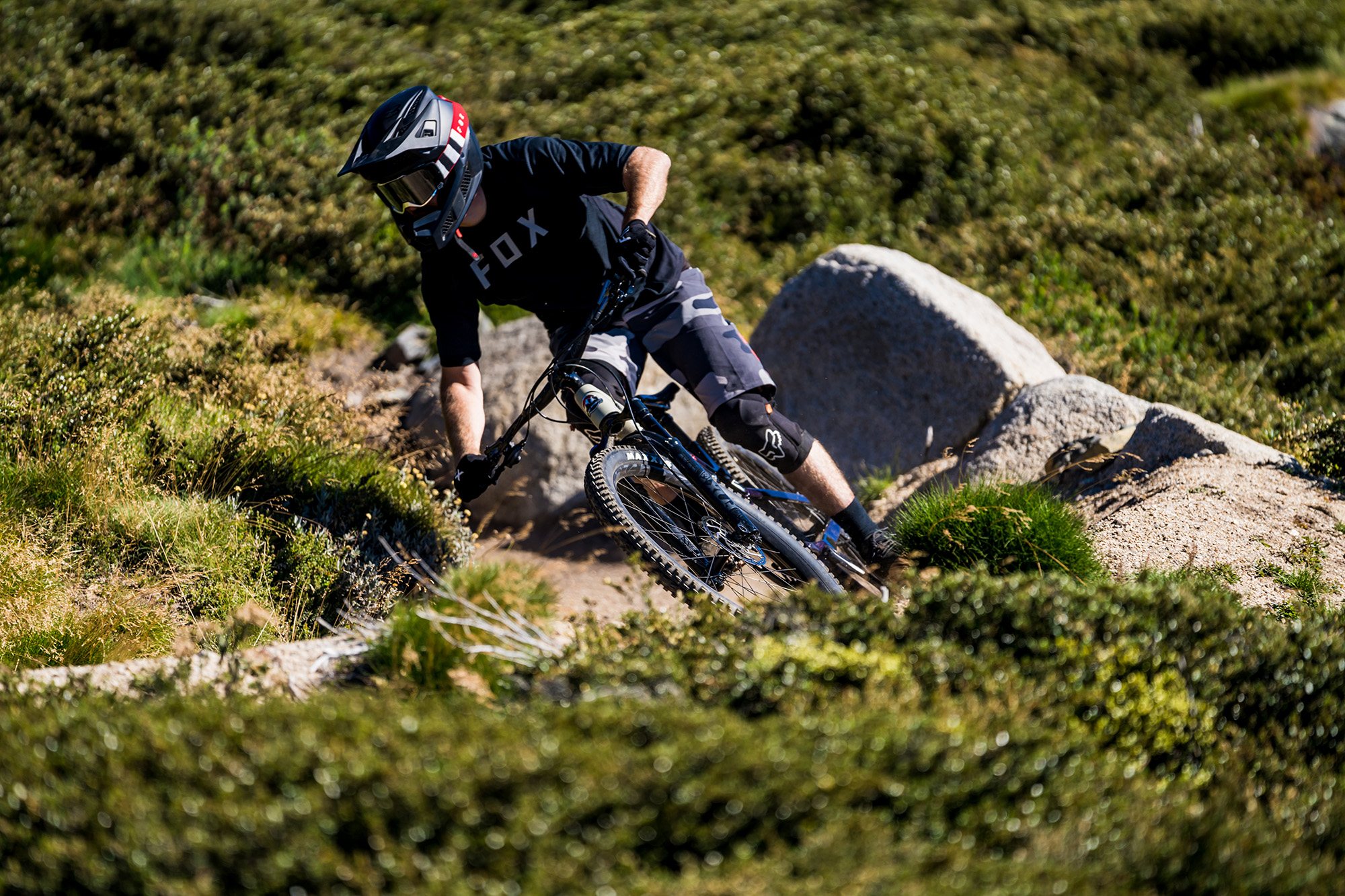 Tell us about the bike's adjustable geometry package?
Rocky have always led the pack with their adjustable frame geo and the Instinct is no different. A couple of super cool features with this bike are the 10mm chain stay adjustment which provides more high-speed stability in the longer setting or a more playful feel in the shorter setting. This bike also runs Rocky Mountains 'RIDE-9' geometry adjustment system which as stated by Rocky Mountain "allows riders to quickly fine-tune their geometry and suspension with a pair of Allen keys. Nine configurations are possible thanks to two interlocking chips." This feature allows riders to really customise the feel of their whip. A couple of other elements Rocky Mountain have fine-tuned is the bikes frame which is more durable, it has better external protection, a little cover for the bottom pivot to keep the mud and junk out, fully internal cable routing which is all designed to create and super quiet, neat and reliable trail weapon. One thing you've got to admit, this bikes cool sleek lines make it look soooo bloody cool!
What else you got? Give a us a little low down on bike and suspension setup?
Well as you may have guessed by now this bike is super adjustable, we ran this rig in the slackest settings, with a 65.1-degree head angle and a 76.7-degree seat angle and we rode this in a large frame which is around a 481mm reach. By using the adjustable flip chips in the shock mounts rocker link, you can steepen the seat tube angle, lengthen the reach slightly and steep the head angle. One little thing we would have like to see Rocky Mountain bikes do is give a little more range with the adjustment, as a matter of fact we would have liked the ability to rake this bike out a little more but that's just us and bike set up really is a personal thing.
Rocky Mountain bikes use what is referred to as a 'Smoothlink' suspension design. This provides a very progressive leverage curve ratio and is suitable for air or coil shock setups,  that along with the 'RIDE-9' adjustments can slightly alter the suspension setup, so in other words it will change the how progressive that leverage curve is depending on what angles you prefer to run. As a result, it's really important to play around a little with your suspension settings and shock pressures to find the setup you like after you've got your angles sorted as this will impact on how you like your bikes to feel and respond to trail features. But in comparison to the previous Instinct or Thunderbolt for that matter the new models anti-squat properties have increased a little more, providing better mid stroke support which was a little bit of an issue with their previous models.
What did you guys think of the bike when you first got it?
Well as indicated in our initial thoughts, when we first dragged this bike out of the box and got it together we were pretty impressed, it looks really cool, it is spec'd really well and we can see Rocky Mountain have tweaked a few areas improving on already proven platform. In fact, it really does highlight the fact the crew at Rocky Mountain Bikes listen to what the riders want and then deliver with the goods.
Initial bike setup was really a piece of cake, a few rides in we played a little with the suspension settings, we ran the bike fully slack and with the chain stays at full length, we found a little extra leverage at the rear end not only made the bike more stable at speed, it gave the bike better small bump sensitivity over all the light trail chatter. Overall setup really is a personal thing, where you ride, how you ride and really how you like your bike to feel.
As mentioned, we ran this bike as slack and stretched as we could with around 25% of rear suspension sag, 26 PSI in the front tyre and around 28 PSI in the rear.  The ability to really adjust this bike and get it just how you want it with minimal effort was awesome and then it is a just a case of set and forget.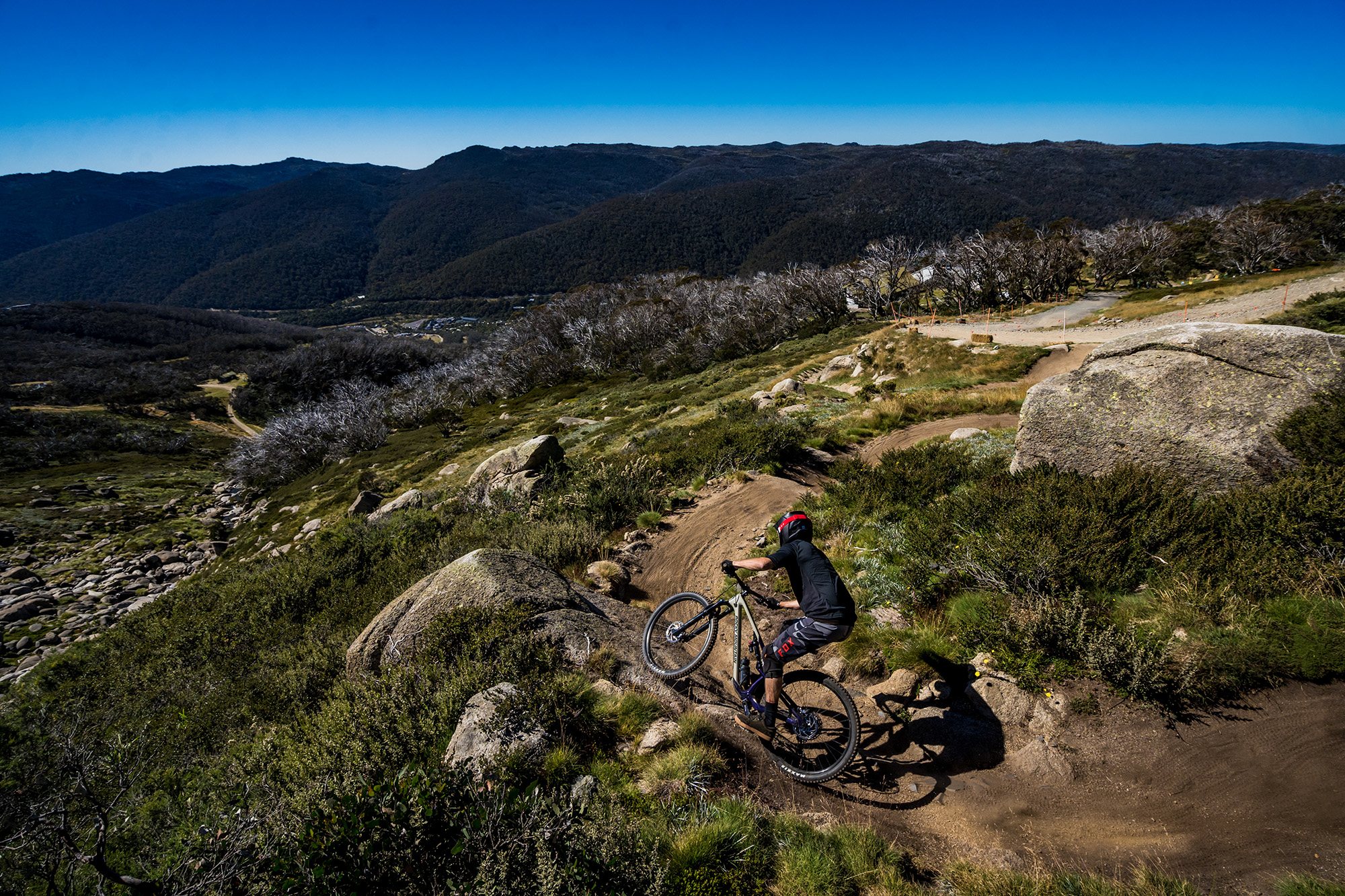 Sounds like a real jack of all trades style of bike, the big question is how did it ride?
100% Correct! The Instinct really is your do it all trail shredder! How does it ride?! Well let's get into the good stuff hey the nitty gritty?! One thing you'll notice is this bike pedals amazing and it felt good from the onset, it didn't really feel like a lightweight trail bike nor did it feel like a heavier enduro style weapon it was bang on in the middle. We did some solid climbing on the bike, some big all-day missions, punched DH runs in a variety of locations, in the Blue Mountains, Central Coast and Thredbo and to make it all really simple the bike handles exactly as you would think.
This bike climbed really well, it was easy to shift your weight around and the pedalling position felt super comfortable, the front end didn't wander, the bike remained composed, calm and subtle on a variety of terrain when going up and/or over undulating terrain. When we turned and pointed this thing down the hill it definitely put a smile on our dial. A couple of little things we noticed with this bike was we still ran a little more pressure in the rear shock to provide more mid stroke support, yet it didn't blow through the travel like previous models which was really impressive.  This bike is super nimble, it corners really well and maintains momentum really well, one thing we did notice was that this bike felt a little more subtle over the little trail chatter, which provided really good traction to the rubber below. When we got to the fast-heavy lines though we found we could stretch this bike to its maximum and at times we worked a little harder to keep this bike online and keep the rear end planted. Again, we would have liked to have tried this bike with a bigger shock or even a coil.
With that said we are probably being a bit pedantic because most of our test riding was done on super heavy fast trails and in fact this bike with 150mm of travel up front and 140mm out back was super capable in all of these conditions, which got us thinking. This characteristic really isn't a blight on this bike it just highlights its versatility. If you're all about enduro racing and dabble in some freeride you may lean towards the Altitude and your pure gravity junkies, you may consider riding the Slayer. But if you were to own and maintain one bike then the Instinct is for you. Leave it stock and use as your all-day everyday trail weapon, no worries! Or bang some light XC tyres on and go do an XC race or marathon race, no worries! Or buy a coil shock and maybe pump the fork out to 160mm with some heavier tyres and you've got a bike you can go slay Thredbo, Derby or Maydena on, no worries!
If you think about the Instinct that way, you can literally buy one bike, invest in a couple of extra parts you can swap in and out from time to time depending on where you're riding and you've got a new whip that can pretty much do it all. So, punks, what are you waiting for? We had an absolute blast riding the new Instinct. If you are looking for a bike that is built well, looks amazing, rides super well in a variety of terrain, is a little different to the mainstream and will be sure to turn some heads at your local MTB haunts, go get yourself a brand spanking new Rocky Mountain Instinct.  Trust us when we tell you, you will not be disappointed.
SPECIFICATIONS
Frame // Full carbon everything, Ride-9 adjustable frame geometry, adjustable wheelbase/chainstays, modular shock mount.
Travel // Front 150mm, 140mm rear.
Wheel size // 29" for M-XL frames, 27.5" for size S
Component spec // Fox 36 Float EVOL FIT4 Performance Elite Series fork, Fox Float DPX2 Performance Elite shock, Shimano XT full groupset including drivetrain and 4 piston trail brakes. Race Face AR 30 laced to DH Swiss hubs, Maxxis Minion tyres, Race Face Turbine R (by Fox) Dropper post.
Weight // 13.8kg
Price //
Browse // www.bikes.com