YT's Izzo might just be a bike that defies it's XC/Trail roots. It's time under our test crew had it pushed well beyond it's intended capabilities with barely a complaint. Here's our take on YT's little trail bike that could…
Reviewer // Blake Nielsen  Photos // Matt Staggs
When you purchase a YT here in Australia via Pushys online the bike arrives in a box on your doorstep, and it comes with some pretty cool bonus items in the box. Give us a run through of what you get and what it takes to get the bike built?
Inclusive with the purchase of your bike is a nifty and well thought out goody box, inside you'll find the standard tubeless valves, sweet reflectors and a bell like normal, but you also get a nice bit driver torque wrench and all the necessary hex and torx bits needed to keep everything on your new high end bike safely secured. A shock pump to find the sweet spot for suspension setup and an oversized 8mm hex key commonly used to lighten or loosen pedals. The build quality on the bike from the factory was as good as we have seen from any brand supplying straight to consumer, which is confidence inspiring. Drop the front wheel in the forks, mount up the handlebars, set the seat height, play the tubeless game and you're pretty much on the trails quicker than Sam Hill in Schladming.
The Izzo's name is derived from a Samurai sword, 'fast, agile, sharp'. Is that a pretty accurate judge of the bike's character?
If it wasn't for the fact that said sword dates back 800 or so years and the YT Izzo was only released in 2020, you could be mistaken in thinking that the name sake is actually the other way around. Fast, agile, sharp perfectly describes the bike. The beautifully formed line down the side of the top tube could even be seen as the edge of the Katana sword, without the sharp edge. I think it's pretty cool that YT have put the effort in to naming the bike this way and giving a bit more to its identity, not something we see very often in the industry.
Run us through the Izzo's key numbers in terms of its geometry package?
We have a 66 degree head tube and 77 degree seat tube angle in the slack position of adjustment (add 0.5 degree for steep position) 472mm reach in the tested, large size frame which felt very roomy with the 50mm stem on that particular size. Surprisingly short chainstays at 432mm across S, M and L sizes which was a huge influence on the bikes very playful feel. Overall the bike feels very nimble and urges you to ride aggressively.
It also features a 'flip chip' allowing you to fine tune the bike to your exact liking, eh?
That's right, by simply removing the top shock mount bolt, rotating the threaded insert sitting in the suspension rocker link 180 degrees and re-installing the shock mount bolt you get 0.5 degrees worth of head tube and seat tube adjustment as well as 5 mm rise or fall in the bottom bracket height (334mm in slack position and 339mm in steep position). It's almost the norm to have some type of similar adjustment on longer travel bikes these days but quite rare on a 130mm bike, kudos YT for giving us the option.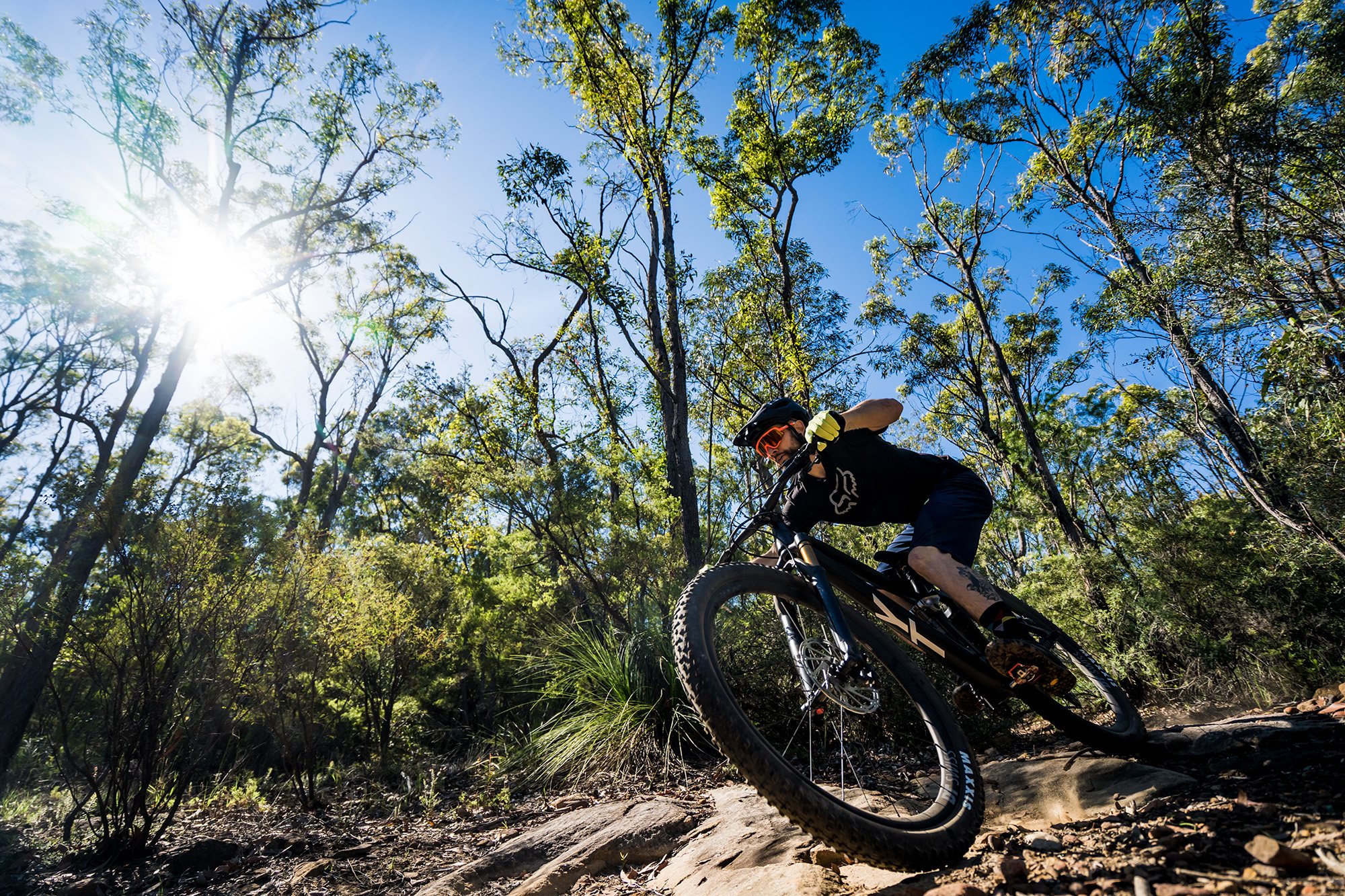 What were some of the things that stuck you about the Izzo's personality during your first few trail outings?
One of the more common nick names for this category of bike is "down-duro". I have been describing the Izzo as a 29er slalom bike that will also climb up anything. I genuinely had the biggest smile on my face during the first ride on this thing, razzing through corners, pumping speed out of the natural it made the trail feel like one long slalom track. The bike being so efficiently will accelerate out of any corner with minimal input, I had kind of forgot how efficient dual suspension bikes could be after riding bigger travel Enduro boppers for a so long. Once you wrap your head around the bikes limits you truly find out how much speed you can carry around trail that on a longer travel bike would seem slow and boring.
Given the bike packs just 130mm of travel at both ends how does its suspension 'feel' whilst your throwing it down a trail?
I spent quite a lot of time playing around with volume spacers on this bike, probably more than any test bike I've had. The invested time paid dividends, I found a setup that was still ultra-efficient under pedal and still plush enough at the top of the suspension to give me plenty of grip (Maxxis Forekaster tyres definitely lending a helping hand). Naturally you need to select the right tool for the job, you won't have the best time on this bike blasting DH runs all day long, but you will probably be pleasantly surprised by how much a 130mm travel bike can handle.
The Fox Float DPS shock comes matched with a RockShox TwistLoc Spring remote lockout, how does that pairing work?
If we didn't know better, we could have sworn that the opposing brands worked together on this. Obviously they didn't, but the combination was faultless and the TwistLoc (think a slim grip-shift) remote was unnoticeable once you got over it in your head. To be honest I didn't use it the first few rides, but once I got the hang of remembering I had it, I couldn't imagine the bike without it. Talk about energy saving!
The Izzo is 29'er exclusive, in your mind was YT on the money by sticking with the larger wheel size for this bike?
I think so, to provide this bike solely as a 29'er does make sense due to the generally more long winded nature of the riding that most people that will go for it will do. Due to the sharp geometry and stiff frame though, I was often forgetting it was a 29'er. Being a smaller guy I generally go for the mullet option over straight up big wheels, but this was one bike where I was never thinking that the big rear wheel was getting in my way.
Clearly the bike is dripping with super nice spec, what are we talking and how does it all work together?
The Fox Factory Kashima 34 fork, Float DPS shock and Transfer dropper post are the first components that grab your attention in the stealthy colour scheme on the tested Pro Race model. Paired with an SRAM X01 drive train and G2 RSC brakes, DT Swiss XMC1200 carbon wheels wrapped in sticky Maxxis Forekaster tyres keeping you glued to the ground. Rounding out the cockpit are some nice Race Face carbon Next handlebars, Turbine R stem and a special YT logo'd SDG Radar saddle.
It's an eclectic selection of parts that gel well together across the whole bike.
Interestingly YT have spec'd this little short travelled machine with big rotor, does that elude to just how fast the brand expects riders to pilot the Izzo?
It's small spec details like this that proves if a manufacturer has their finger on the pulse. For a bike that is a bit gram conscious already to have 200mm front and 180mm rear rotors out of the box shows that they truly care about the performance of the bike, not just numbers. There were many occasions where I was praising YT in the back of my head for the bigger rotors, the SRAM G2 RSC's were stopping on a dime in this configuration.
All up this is a super lightweight package. Does that allow the Izzo to excel out on the trails?
At a claimed 12kg (it actually feels lighter than that?!) the Izzo is a featherweight compared to my own bikes, every ride though it is more than happy to deal with the punishment that is put upon it. Naturally the light weight is a big reason for the bike feeling so efficient and accelerating super quick out of corners. The DT Swiss carbon wheels are the perfect option for this bike, super smooth rolling hubs and minimal rotational mass make all the difference.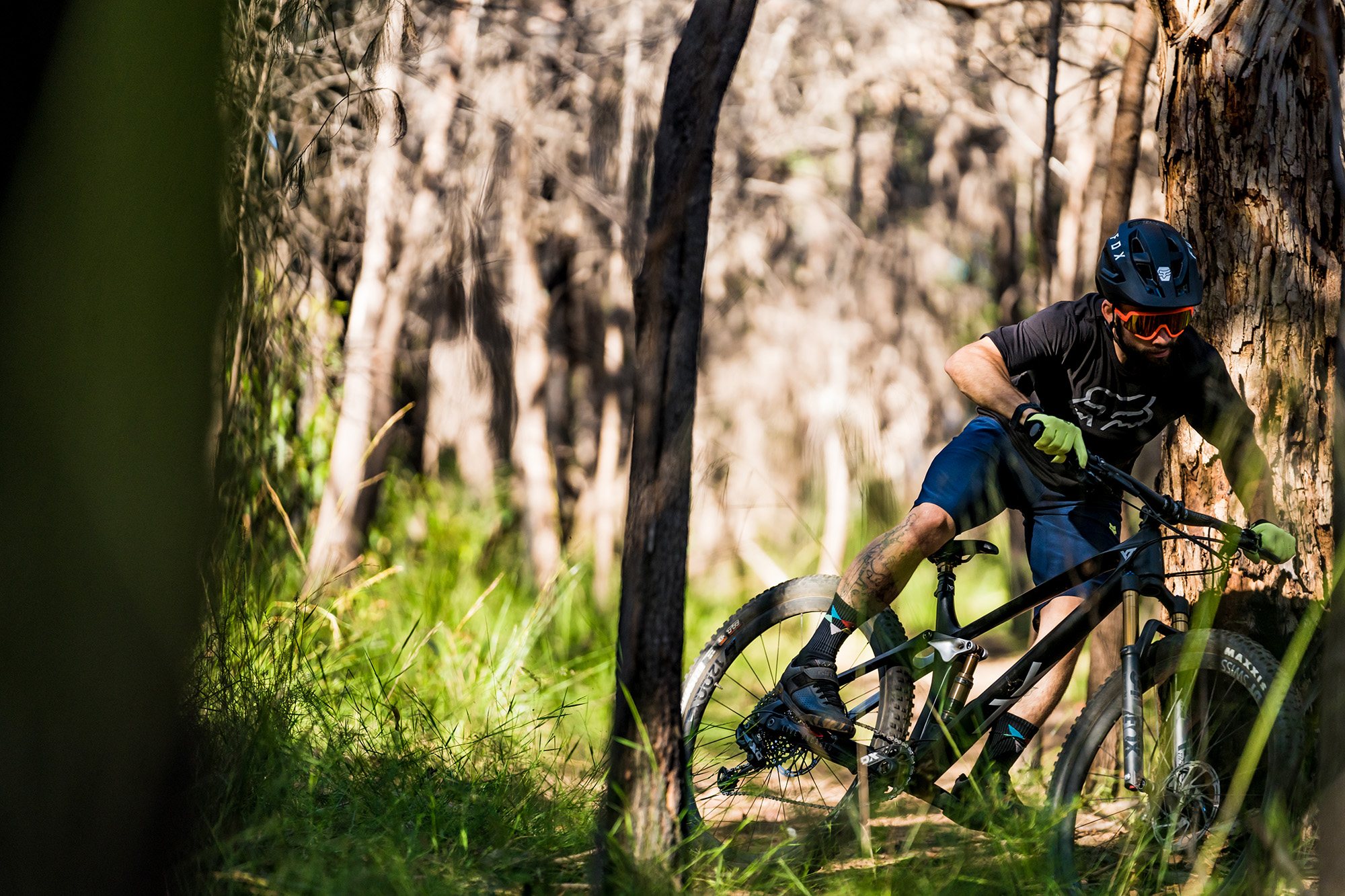 What sets the Izzo apart from other short travel trail bikes that you've ridden?
It does really want to have fun! Although it's on the shorter side of travel, its purpose isn't purely to go further or longer. It certainly is efficient enough to do that, but you get the feeling from it that YT have stayed true to their mostly freeride heritage with the design of the Izzo. Unlike some other bikes in the same category, the Izzo does feel as comfortable at a set of jumps or trying to 'scando flick through some nice corners as it does 5 hours into a huge ride. It covers all the bases and it does that very well.
And so finally, what type of rider is the Izzo carbon going to really suit?
The Izzo will suit someone who rides the appropriate trails that the bike suits, most of the time. One thing I find all too often is that people will "over bike" themselves for their local trails or trails that they ride majority of the time. Let's say a vast portion of your riding is done on undulating, tight and techy trails that are tiring. The ideal bike for that isn't going to be a 160-170mm enduro beast with a 63 degree head angle. A shorter travel, agile, lightweight and efficient bike would be the smarter choice.
Specs
Frame // Full carbon from front to rear
Size options // S, M, L, XL, XXL!
Wheel size // 29"
Travel // 130mm
Spec // Fox 34 fork, Fox Float DPS shock, SRAM X01 Eagle drivetrain w' carbon cranks, Fox Transfer dropper post, DT Swiss XMC 1200 wheels, Race Face Next bar and stem, SRAM G2 RSC brakes, Maxxis Forekaster tyres.
Price // $8399.00 (entry level 'Comp' Izzo carbon complete retails for $4799)
Browse // www.pushys.com.au