Kellys have a kick arse World Cup Race Team so it's hardly surprising that they also make a really nice downhill race bike.
The Noid features a custom alloy frame, 27.5" wheels and 205mm or rear travel. This is balanced with a set of 200mm forks. The heart and sole of any DH bike is of course it's rear suspension design. The Noid features a pretty cool looking concept which they call Think Link. It's essentially an independent linkage system which ensures no negative influence from drivetrain and brakes, no pedal kickback and constant rear triangle geometry with out chain growth at full compression.
The Noid's frame boasts a ton of geo and reach adjustments. Kellys call this their 'Vario Geometry System' which ultimately allows the fine tuning of the frame geometry to match the bike's characteristics to the riders needs. The chainstay and wheelbase length, bottom bracket height along with the head and seat tube angles can be adjusted within minutes. The Noid is offered in 2 spec levels; the top of the line model is known as the '90' and a mid level version called the '70'. Both models share the same frame. The bike is available in 2 frame sizes; medium and large.
Recently Ride Sports Australia sent us a Noid 70 for review.  We've handed the keys over to our DH test pilot, Blake, who has got the bike tuned and he's just starting to get acquainted with it out on the trails.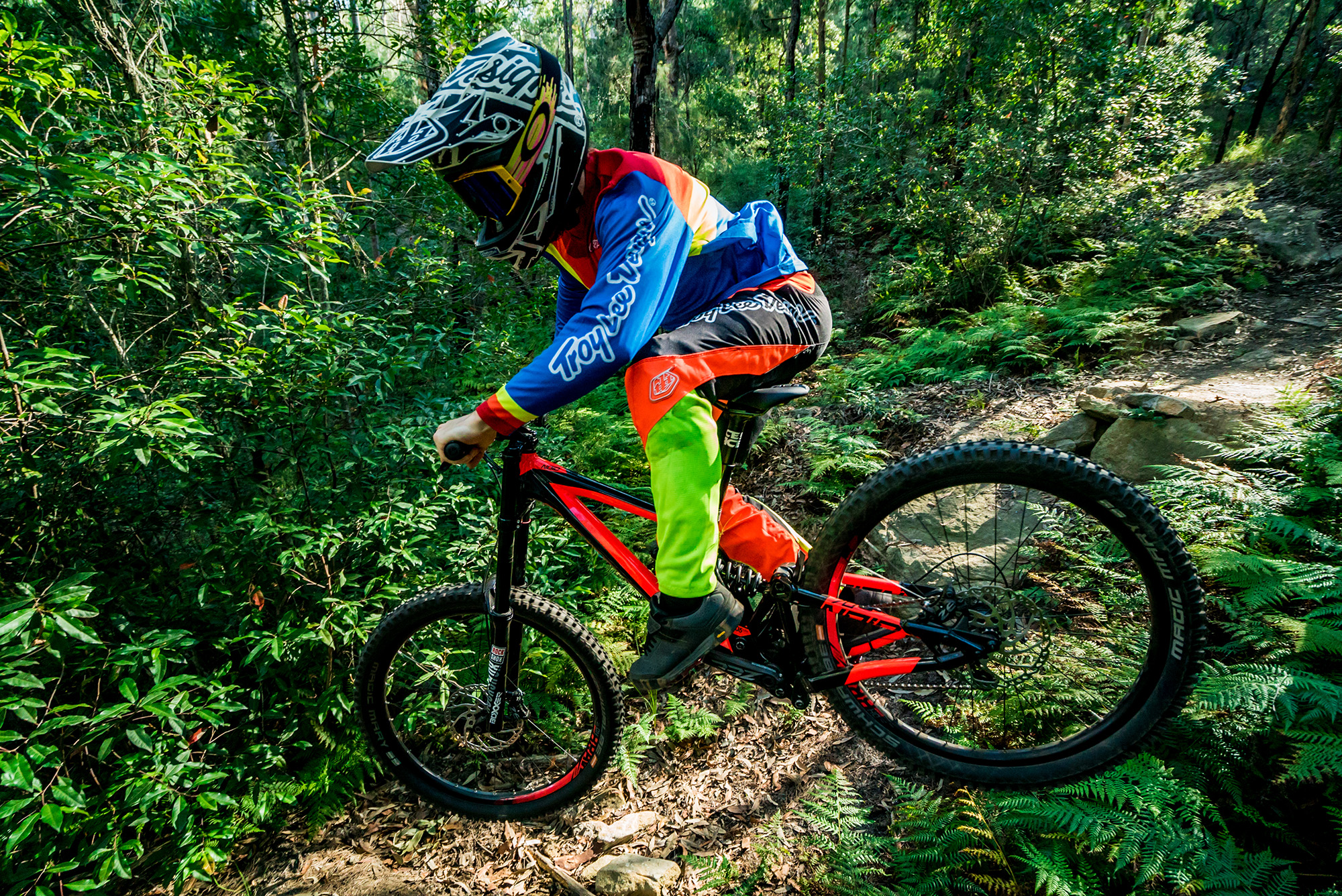 "So far I have only ridden the bike a handful of times and I haven't yet taken it to a proper steep and fast trail. I've got some big DH days planed for this bike though. Already I can tell that the Noid seems like it's going to be a real brawler. Point & go, the backend isn't the stiffest out there from a frame flex point of view, but I like that. The back of the bike tracks over the terrain instead of making you a passenger on a rock rollercoaster. I'm very excited to spend more time on this & see how it performs when the going gets gnarly."
After he's had the chance to ride it on a bunch of tracks over the the next few months we'll then be bringing you Blake's full review next issue.
In the mean time for more information about the current Kellys range check out: www.kellysbikes.com.au