The late 90's through to the early 00's was a period in downhill racing known as the 'Golden Era'.
At the time bike brands were throwing mega dollars and resources at developing race bikes and as a result the scene was graced with some of the most iconic DH bikes ever seen. They often featured outrageously bold frame designs that truly pushed the engineering envelope in their day and laid the foundations for modern bike concepts. The bikes were often one-off prototypes exclusively for the top riders of the top teams, and occasionally when those bikes eventually made it to production they were in limited numbers and incredibly rare. When you consider how rare those machines were back in the day it's easy to understand how they became instant collectors items.
Long-time friend of the magazine, Justin Sullivan, just so happens to be sitting one of the most amazing collections we've ever seen. It's comprised of more than a dozen bikes from the golden era which have been preserved in mind blowing condition and in a [R]evolution exclusive Justin has granted our camera's an exclusive look at a handful of his favourite rigs.
[R]: Where do we even begin with questions about your truly unbelievable collection… First up, tell us about how you got started with collecting? 
Justin: Ha, thank you guys. Well I grew up racing in Downhill in South African in the 90's and was lucky enough to see the sport boom through the 'Golden Era' of Downhill. Unfortunately getting hold of these bikes in South Africa was always incredibly difficult and extremely expensive. Of course that did not stop me drooling over the kit in any printed MTB literature we could get my hands on. It was this passion for the bikes and the sport that got me collecting. I guess it's that nostalgic feel those bikes give you…
Nearly all of the bike's in your collection showcase some of the more radical and experimental frame concepts the sport of mountain biking has ever seen. What is it that you love so much about the bikes from that particular period of DH? 
Well I think you summed it up pretty nicely in your question… it was the era of the coolest innovation! Riding bikes and racing in that period meant, like most I was captivated by this counterculture sport. I really liked how wild the frame and component designs got throughout those years, it seems as if every brand was trying everything and anything in the quest for performance. Some of those concepts worked, some certainly did not.
"It was really exciting to see what crazy designs the brands would bring out first race of the season. I guess you could say I really loved the evolution of the bikes most."
In terms of the bikes in your collection have you had a lot of them since back in the day when they were new, or have you been on the hunt acquiring retro bikes from that era for the past 20 years? 
So, the only one I've owned from new is my GT DHI, which was my old race bike. I still have that in storage in SA. The rest I've been hunting and searching for since 2008. It's funny because you used to be able to find parts so easily back then, but now it's extremely hard to find something for a good price and in ok condition. 
How many complete bikes make up your collection? 
13, which actually is tiny compared to some of the bigger collections I know of. There are some amazing collections out there. 
A lot of these bikes were extremely limited editions back in the day and nearly impossible to find or buy back when they were new, so how on earth have you managed to get your hands on so many insane specimens? 
To be honest, some of them luck, some of them pure hunting and determination and some were even given to me for free.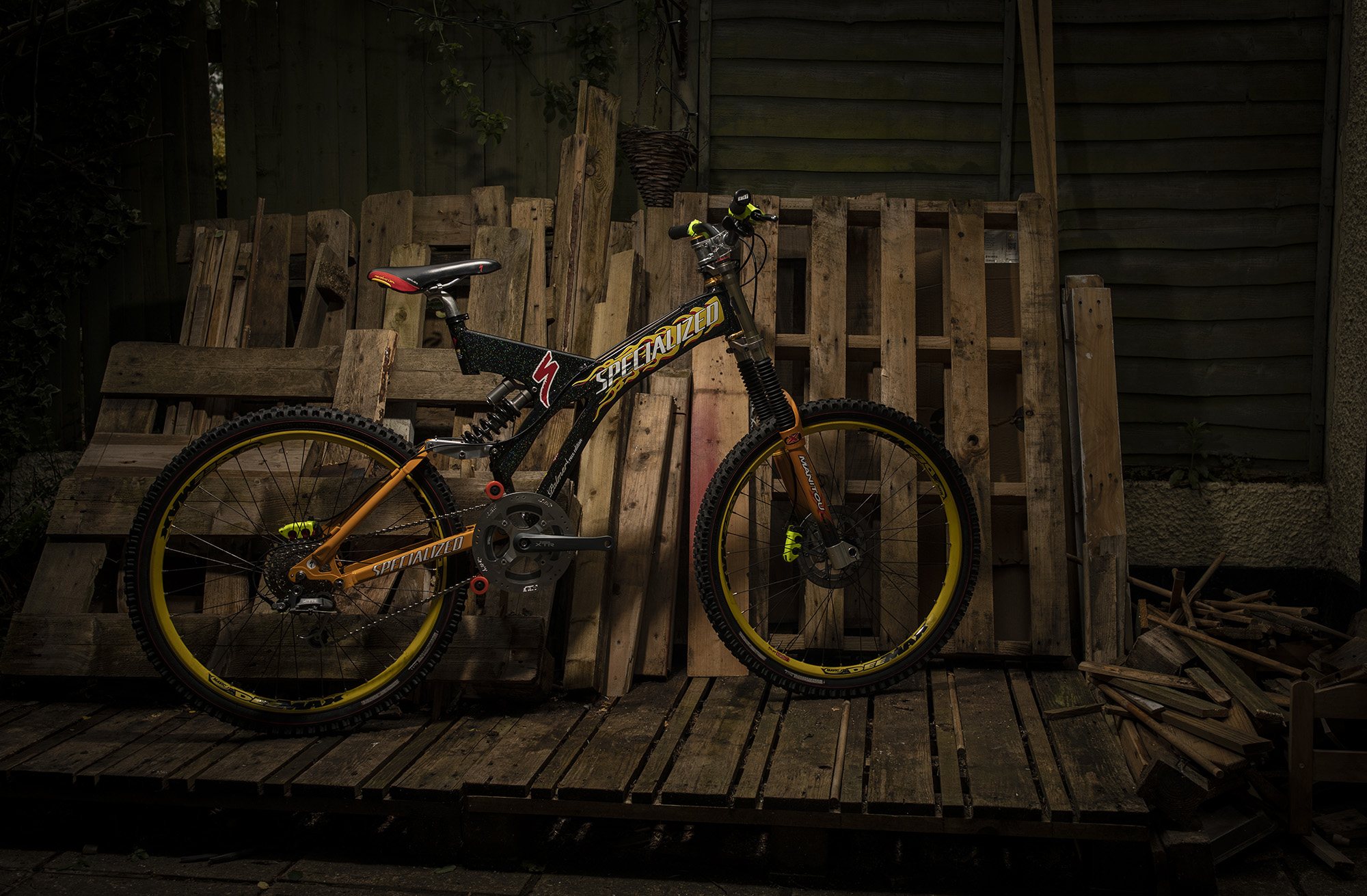 If you had to pick just 1 as your absolute favourite which bike would be it? 
Oh man, that is a tough decision. It would probably have to be my Palmer Race Edition. I stumbled upon that frame and when I got it, it had been rattle caned black about a million times and it had a dented headtube and a threaded BB. That bike had had a hard life. I later found out that originally it was in fact Will Longden's old race bike from when he raced for the Specialized MBUK team. I spent countless hours restoring that thing and now, it basically looks 'new'. Perhaps minus a few parts that could still do with being restored (if ever I finally get the time!) 
It looks as though pretty much all of their suspension and parts are original spec of the era too – surely that must have been bloody hard to track down? 
Yup, I really like to build the bikes up either catalogue spec (as they were sold new) or how the Factory race teams ran them back then. Not an easy feat to piece together I assure you!
All of the bikes appear in fantastic condition. Are any of them brand new? 
Actually none of them are brand new, as in have never been ridden, but yes they all are all in great condition. My Straight-8 for example was ridden twice, stripped and hung up on a bike shop wall for almost 20 years. Same with my Trek Pro Issue DH. I found that one over in California and the guy who owned it road it 3 times down Big Bear and hated it, then hung it up for 20 years. There is the opposite end of the spectrum too like the Palmer. Ones that were pretty beat up when I got them but over time stripped, repainted and restored them to their former glory. 
What about riding them yourself or do you just 'put them behind glass' so to speak? 
Ha, I get asked the question a lot. I don't ride them no. I don't want to ruin the tyres, haha! That said, I was a bike shop mechanic for 15 years so that side of me makes sure that if I ever did want to ride them I could. It's hard though as seals age, tyres crack so there is always work to be done on them. That's the fun part though. 
Okay so tell me about the process of selecting the bikes that you've added to the collection over the years? 
I don't have a process really. Like I mentioned, I was just a kid that grew up during those golden years so the bikes that you were naturally drawn too were the ones that your heroes raced on. I had a basic list in my head of bikes I would love to have owned and slowly started ticking the boxes on that list. Only real rule is that I don't really collect anything past 2002. 
Are there still a few unicorns out there that you're hoping to add to the collection or is it just about complete right now?
Funny, I actually had this conversation with a friend recently. I at the moment don't lust for anything, I feel as if maybe I'm done, but any real collector will tell you that those are famous last words… so who knows?!
Check out all the bikes in this collection:
Scott 'Octane DH' (the one with two shocks) 1998
Specialized 'S-Works FSR DH' 1998
Schwinn 'Straight 8' (first generation 1998/99