It's no secret that Rocky Mountain Bikes were there at the dawn of the mountain bike era and in a lot of ways they have also been at the forefront of shaping the modern crop of MTB's. So, what else would you expect from one of British Colombia's best bike builders other than pure Radness?

 
No doubt when the crew at Rocky Mountain Bikes set out to create this all mountain shredder in their line up, they considered a longer travel version to their 140mm-travel Instinct. Why you ask? Well why the f*#k not we say. When you think of a bike that is built to slay the big hills of BC then look no further.  This sucker is built to be a real all-rounder, something that climbs, descends and turns it up on any given race day.
Reviewer // Scott Prendergast   Photos // Matt Staggs
So, what did we think when we first got this sucker together? 
Well, to tell the truth, this bad boy is a little different to your stock Instinct BC. We actually swapped a lot of the factory spec and fitted a full Shimano XTR groupset (which you can read the review of elsewhere in this mag). That said, we kept plenty of the (awesome) BC spec in place which included the Renthal carbon bars, Renthal stem, Raceface dropper, Maxxis rubber, Fox Float DPX2 rear shock and Fox 36 Float EVOL FIT4 Performance Elite Fork. This trail hungry beast boasts a 155mm of rear wheel travel and 160mm of front wheel travel, Rocky Mountain have produced the longest travel 29er in their line-up. One cool little feature is the option for Rocky's direct frame mount top guide. In the end we had a platform to party and quite the classy trail shredder.
You mentioned this was a custom build, what does the production build look like?
We did do a custom build on this bad boy however the state of the art BC you buy from the box includes the same frame, fork and shock. It also includes SRAM GX Eagle with SRAM Stylo cranks (1×12), Stan's NoTubes Flow MK3 29-inch rims, DT Swiss 370 Boost hubs, Maxxis Tires, SRAM Code R, 180/160mm rotors, Race Face Turbine bar (780mm wide), Rocky Mountain 35 CNC DH 45mm stem, Fox Transfer Performance Elite dropper, and a WTB Silverado Race saddle.
How does this rig differ from previous models?
Apart from looking similar obviously they have new colour graphic, it's fair to say the Instinct along with the other models in their line up look very neat, clean and simple. Both the Instinct and the Altitude now run nothing but bearings in the swing arm which mean no more bushings, along with a revised 'Ride-9' adjustability system. The BC Edition Instinct has a new link to accompany the longer stroke shock and to accommodate the further 15mm of travel from the 140mm Instinct. With its cool lines and revised angles this new whip runs a 65.9 degree head angle which should have most trail senders drooling.
The frame comes with all internal cable routing which is also compatible with Shimano Di2 and Di2 batteries. With no brace on the rear stays you get room to run up to a 29 x 2.6 rear tire or a 27.5 x 2.8 plus wheel and tire, and the chain stays are still pretty short at 435mm. We tested this bike in an XL, Rocky Mountain Claim their new carbon fibre frame and box style tubing increases the stiffness of this rig by 50 % percent. The frame is only suitable for a single ring front chain ring and interrelated top guide mount as mentioned above, it fits a bottle cage no worries, has all sealed bearings for added durability, a metric length shock mount, a 148mm boost rear end and an integrated headset. Overall this new rig is an all-out no-nonsense, heavy hitting 29inch weapon and looks very neat and tidy.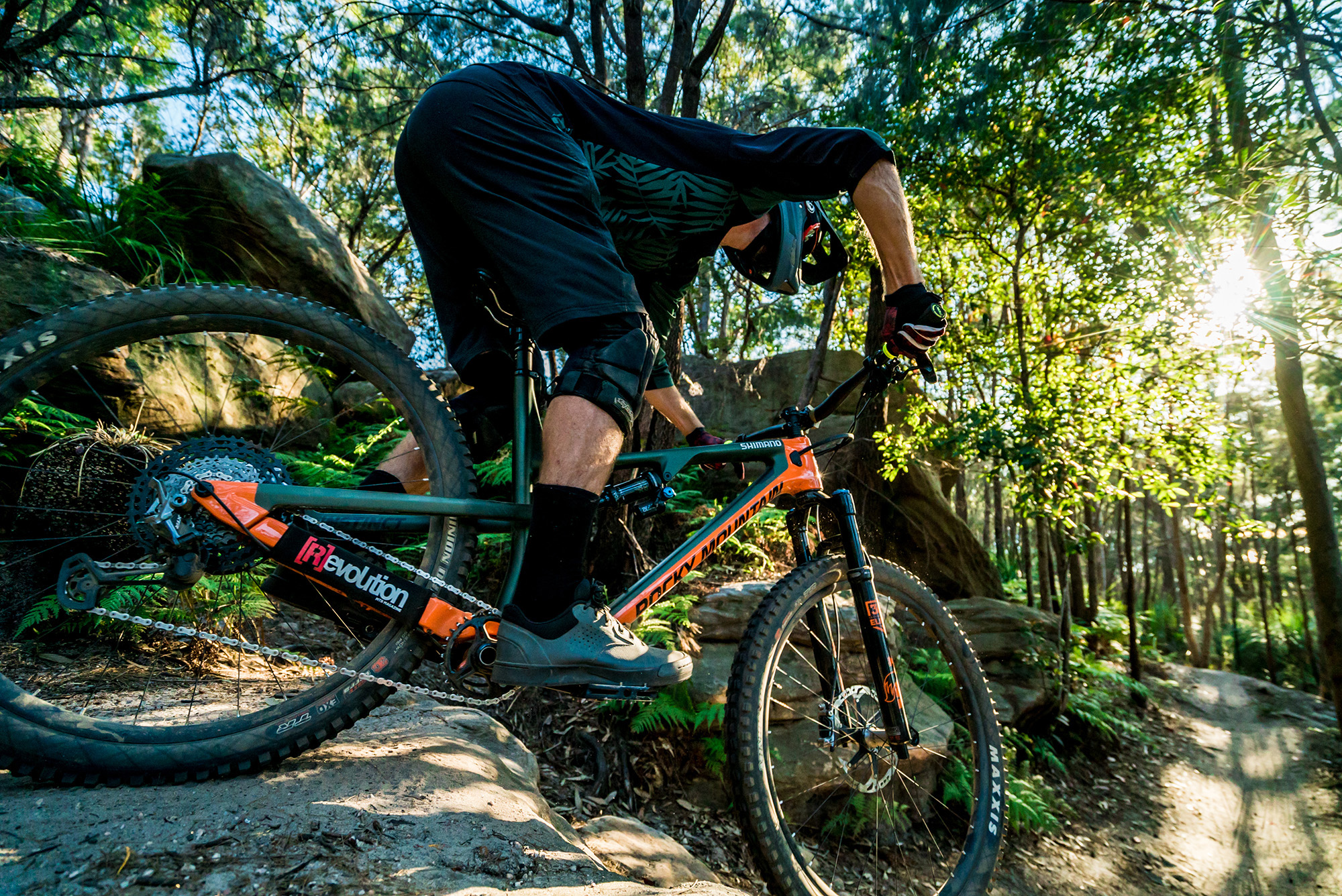 That all sounds pretty cool but what were your initial thoughts once you hit the dirt?
OK, so the first thing we noticed about this big rig was the fact that it didn't feel like a big rig. We found it was super light, super easy to pedal and climb and it had a really nimble feel. As a matter of fact, our first impression was that it felt a little more like a light trail bike rather that a long travel enduro 29'r. Obviously your cockpit and suspension setup is a personal thing depending on, how you ride, where you ride and how you like your bike to feel. We ran about 27 PSI in the rear tyre, 25 in the front, 800mm bars and about 30 percent of sag in the rear suspension for an 85kg rider, which a little firmer than some may like. However, with a little pressure we found it gave the suspension platform just a little more mid travel support. With a short and low stand over height and super roomy cockpit area we felt comfortable on the rig from the onset.
One of the main things we noticed was how Rocky Mountain have changed the suspension linkage and leverage curve slightly to increase anti-squat. This has created a more progressive feel in the rear shock, in basic terms at the beginning of the stroke the shock is supple whilst under load and it provided to have a lot more mid travel support than yesteryear. Overall, it was really mind blowing how this bike felt so light and nimble considering what a big bike it is.
Since you've had this whip for a while what's your overall take on its performance?
So, based on what we've already said it's no surprise that this bike climbed extremely well, it was really easy to shift your weight over the bike and the front wheel didn't really wander which is a common attribute of long, low slack 29 inch rigs. This is no doubt due to the steeper seat tube, low stand over height and low head tube design. The suspension platform was really supportive whilst under load and remained really subtle and active over a variety of undulating and rough terrain. We spend a lot of time on this rig in the rough natural terrain in and around the Blue Mountains, which has a reputation for being hard on equipment and a proving ground for any MTB enthusiast. We hit enduro loops, XC trails and put a heap of time in on some solid downhill runs.
"Obviously with the bigger wheels this rig maintained momentum well over the rough stuff and didn't get hung up on those square edges, it pedalled really well and as mentioned climbed amazing. It came into its own over fast loose turns; tight switch backs and loose trail chatter and was super manoeuvrable and cornered really well."
With the large hoops and excellent suspension platform this bike transferred those characteristics to the ground and we found there was a lot of traction to the rubber below. This bike was super stable on the small to medium hits and felt nice in the air which was cool considering the smaller hooped little rigs tend to jump a little nicer than some big rigs.
With that said, due to the fact this bike was so light, on your heavy hits and harsher downhills we found surprisingly that we were working a little harder than what we thought we would be. Don't get us wrong this bike was still amazing downhill and for all your local trail shredders who want a 29 inch bike that can do it all then look no further. However, if you are a hard charger, racing EWS rounds or riding some of the bigger hills of BC we would consider running a bigger shock for a little more progressive mid to end travel support. At times we found we blew through the travel a little quick which made the rear end a little too lively over the really harsh stuff. That said we are being a little nit picky because over all this beast was amazing to ride and descended extremely well compared to some other whips on the market.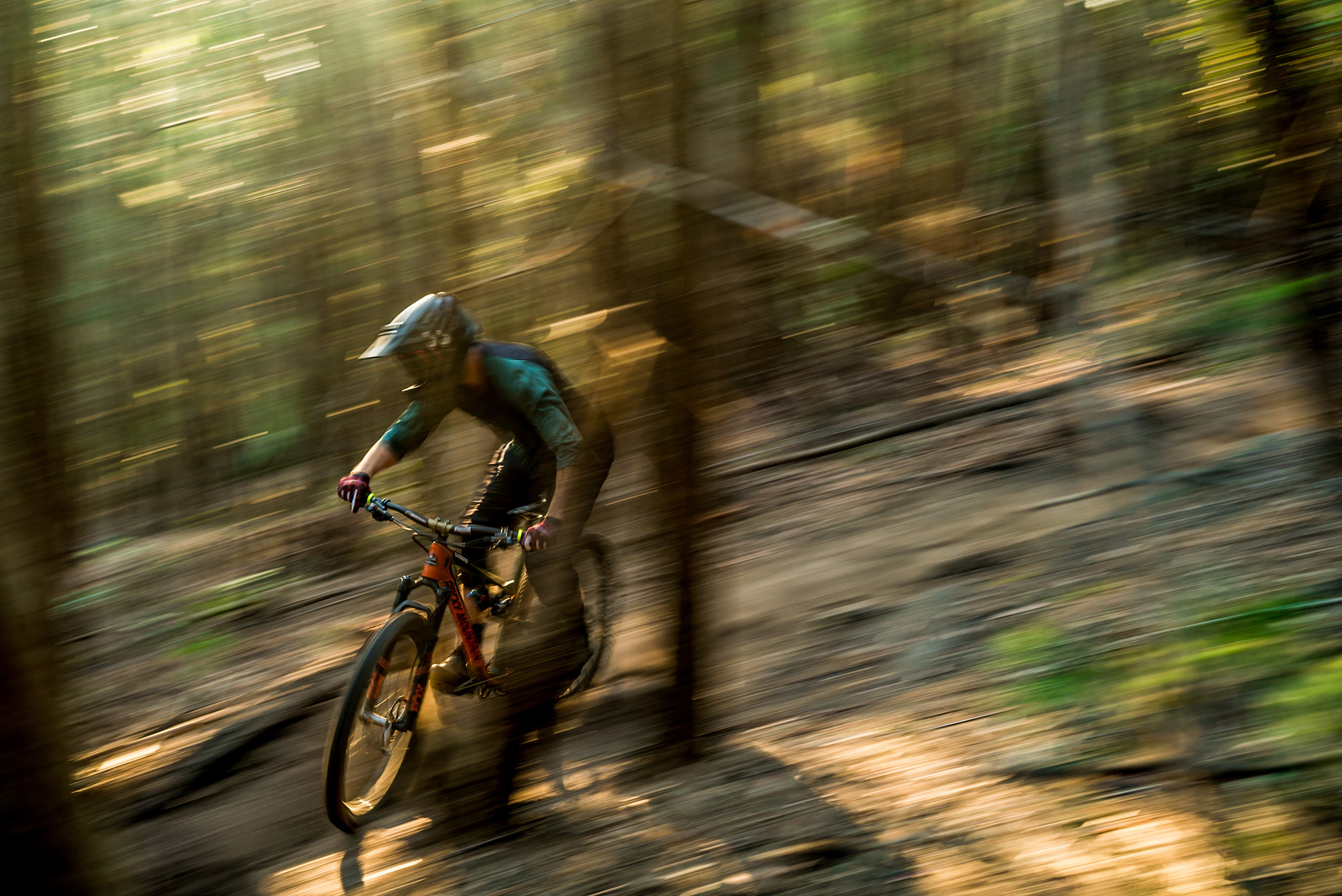 Give us the wrap up, what's your overall opinion of this big beautiful machine?
Overall, this weapon is best suited to your all-rounder, you can head out for an all day mission, bomb technical trails and descents and race it on any given Sunday. Sure, we would've have liked to try this whip with a little bigger shock but that's an easy tweak. With any bike there is always strong points and some weaknesses, or little characterises you'll adjust to suit your style. This bike was no different however we had to work really hard to find a characteristic of the Rocky Mountain Instinct BC Edition that we would like to adjust. This beast really is a jack of all trades and will go pretty much anywhere you point it. Most importantly it had us all smiling for days shredding this whip around the trails. At the mag we are lucky to get our hands on a lot of bikes but every now and again we test one we could consider to be a keeper. So, punks what are you waiting for? If you want to own one whip to do it all we suggest you get an Instinct BC.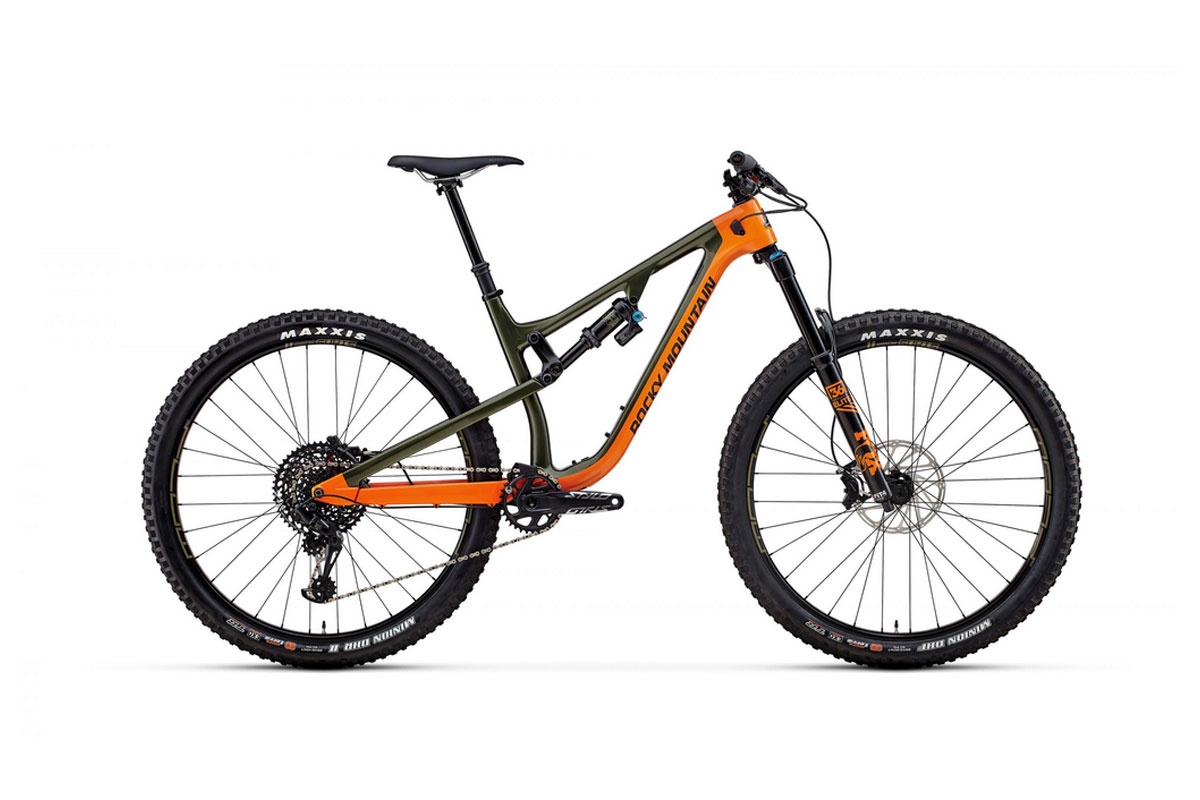 Frame // Full carbon. Sealed cartridge bearings throughout. Press Fit BB. Internal cable routing throughout.
Wheel size // 29"
Travel // 160mm front, 155mm rear.
Sizes // S – M – L – XL
Browse // www.bikes.com