In recent years, e-Mountain Bikes have been rapidly gaining interest and popularity out on the trails right across Australia. And for good reason, they're an awesome new addition to the mountain bike scene.
We decided the time had come to put our definitive guide to e-Mountain Bikes. Read on as we're about to tell you everything you need to know about these new breed of pedal assisted machines. We'll dissolve some of the more common myths surrounding them and we'll explore the riding experience that they offer and some of the technologies that you'll find featured in these bikes. We'll run you through the three big players in the electric motor game right now and finally we'll take a look at our pick of the best trail e-Mountain Bikes on the market this summer.  
If you've ridden one, or you know someone that has, chances are you will already be convinced of their many positive factors and you'll no doubt also be aware of how much bloody fun these bikes are to ride! Contrary to popular public belief when e-Mountain Bikes first arrived on the scene a few years ago, modern mountain bike (duel suspension and hardtail) e-Mountain Bikes are nothing like a bloody motorbike. They don't have a throttle, they can't throw roost or do burnouts. And e- Mountain Bike is essentially a 'normal' mountain bike but with the addition of a small contained electronic motor and a battery. The rider still has to pedal in order for the bike to go, the motor simply meets the rider's level of power output up to a certain point. Thus their name, 'pedal assist'.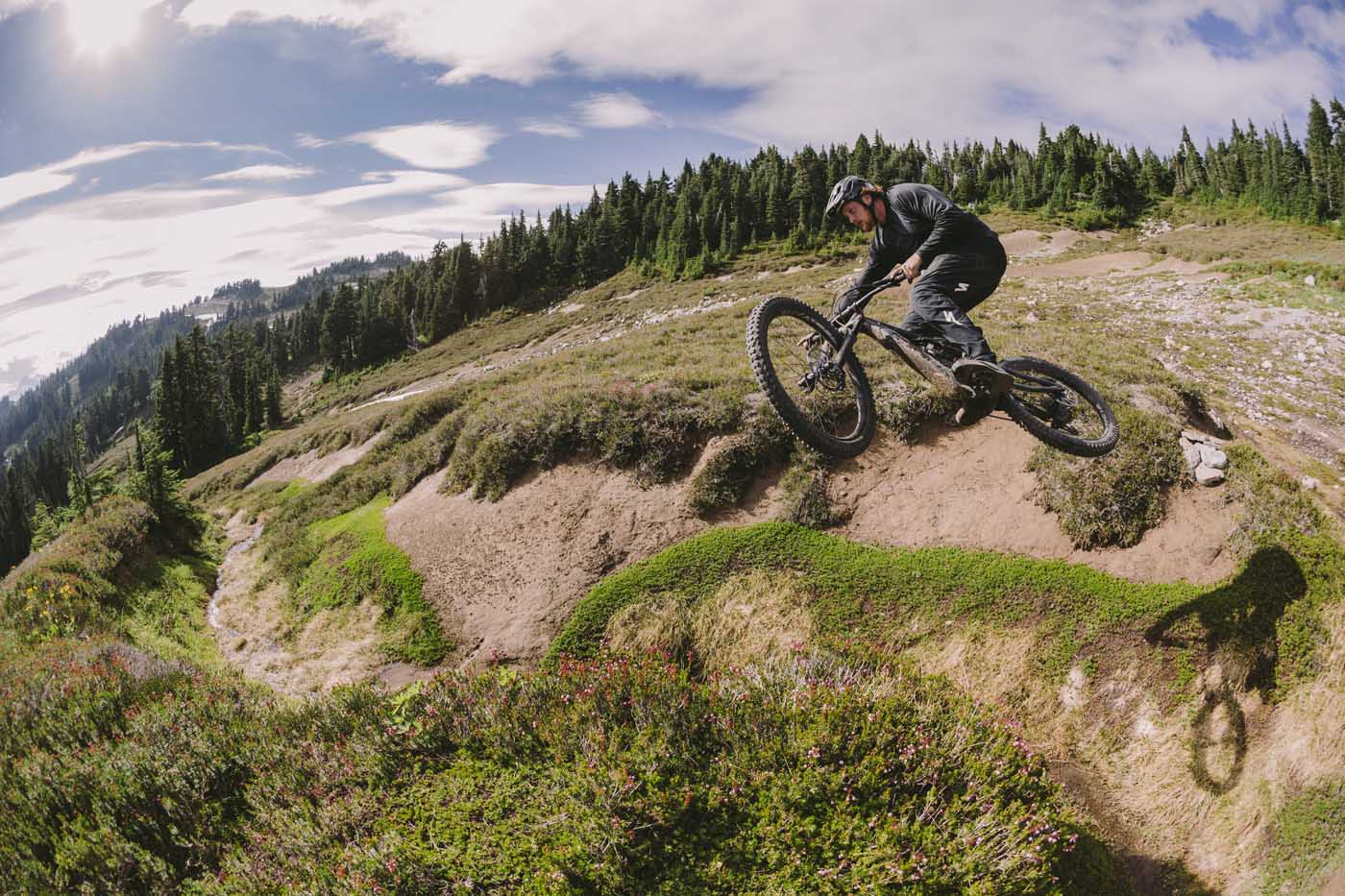 Okay so why an e-Mountain Bike? Who are they for and what difference does the pedal assist motor make? In a nutshell, the possibilities and potential of e-Mountain Bikes out on the trails is endless… Do you only have one hour to go riding and want to maximize the amount of trail you can ride? An e-Mountain Bike essentially allows you to grab twice the amount of corners, twice the amount jumps, double the amount of downhills and fun stuff, each and every time you go riding. Ever wondered what the trails are like over on the next ridge line that you've never been able to get to before? Keen to explore further and adventure more single track? Come on, you know what we're about to say, an e-Mountain Bike is going to allow you to do just that – cover more trail each ride. 
Recovering from an injury, or simply getting to that age and stage in life where your body isn't able to perform as it once did?
An e-Mountain Bike is going to give you the freedom to pedal along and up the trails without taxing your body half as much as a conventional mountain bike.  Are you a trail builder or photographer that needs to cart a lot of gear around out on the trails? An e-Mountain Bike allows you to do just that – without destroying yourself in the first 5 minutes.  Not as fit as you once were but still love getting out on the trails? An e-Mountain Bike would be brilliant for you.  Or if you don't fit into any of these categories and you're just your 'average' mountain biker, well then riding an e-Mountain Bike is going to give you a whole different feeling of fun than you've ever had out on the trails before. And the list of positives goes on and on.
The 'e' in their name obviously stands for the electronic motor that is their central feature. The motor will only provide assistance to your riding when you are pedalling. Basically, when you put force through the pedals, it will assist you. No force to the pedals, no assistance. Be assured though, riding an e-Mountain Bike does not feel like you're riding a scooter or a motorbike, it's more like your ride comes with a difficulty meter that you can control at any time. By combining the choice of different power modes with the gear range in the rear, you can choose how far, and how hard you want to ride.
The majority of e-Mountain Bikes have power modes that range from zero assistance, to 'holy crap that's fast!'
The power modes of an e-Mountain Bike's motor can be easily adjusted from zero to turbo with a shifter style switch. The great thing about this setup is that it feels very similar to a '3 by' front chainset, providing the integrated ride feel that we've come to expect from our bikes. Once you turn one of these bikes downhill they will still feel like a regular mountain bike. Even though the bikes are slightly heavier (3-5kg), the weight is low and situated around the bottom bracket, which results in awesome handling. E-Mountain bikes do lose a bit of the agility and 'pop' that some bikes have, but more than make up for it when they are ploughing up hills with ease. You'll also be surprised how much speed you're able to hold on the flat parts of a trail with the assistance of the e-Mountain Bike motor.
There are many different motors and drive options on the market today, each with varying levels of success. Currently, the two biggest players are provided by Shimano and Bosch, with brands like Specialized using parts from Brose. They all provide assistance through the cranks, and have batteries located on/in the down tube. The mid drive motors are the most common, due to the fact you won't need any specialty wheels, axles, or spokes to repair the bike, like in hub driven situations. Mid drive motors also provide that desirable low centre of gravity, with the bonus of a nice, sleek visual appeal.
Battery longevity and range is a common concern amongst riders considering an e-Mountain Bike purchase. It's actually quite a similar situation to riding a standard bike. If you were to head out on a nice, cruisey flat ride, then of course you could cover more distance than if you were tackling a technical steep climb. Just like the human body, the more work done, the shorter the range.  Most of the bikes will come with a display that provides a live range reading to indicate how long you have before the battery dies.
A standard e-Bike with a 400-500wh battery will offer 100-120 km on eco or 35-50 on turbo in the hills.
The practical application of electronic assistance in mountain biking is simple; when the hill gets steeper you bump up the assistance to make climbing more pleasurable. Whilst the leg strain is lower, the heart rate will still be high and the training benefits will remain. e-Mountain Bikes are providing a way for current riders to explore further and train smarter. The e-Mountain Bike is a great addition to the mountain biking arsenal, and there's no doubt the e-Mountain Bike market will only continue to grow. They're like any other mountain bike, only they offer the option of assistance if you need it. While some fitter and accomplished riders may not see the point, these bikes are offering many more open doors to people struggling to enjoy mountain biking. Fathers and sons, husbands and wives, fit and unfit riders can now ride together and enjoy the trails. There is no downside to this because as the sport expands so will the trails, funding and general stoke on the sport.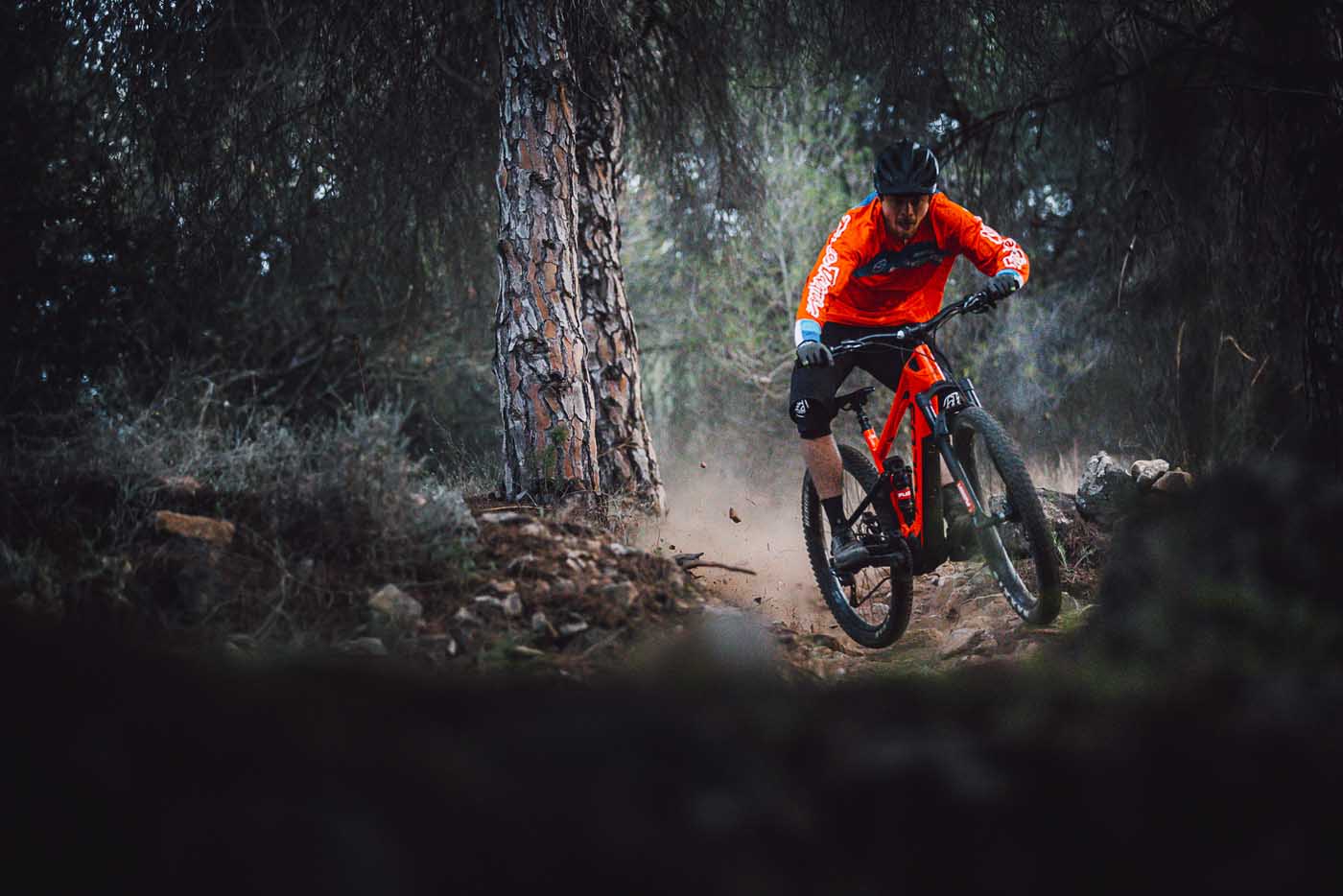 BUYERS GUIDE
When buying an e-Mountain Bike, most people just look at which make of motor it has and maybe what forks are bolted to the front end. But the reality is, there is a lot more that you need to consider when choosing which e-Bike is right for you. Frame design and geometry is absolutely fundamental and will play a much larger role in how an e-Mountain Bike bike handles and performs out on the trails, than just the motor that it's fitted with. Think of it this way, if you bolt a Ferrari engine into a Toyota Hiace it's going to drive like a nightmare, eh! The design of the bike's rear suspension is also going to be a crucial factor in how the bike handles.
The way in which that motor and battery have been incorporated into the bike's frame should also be considered. Some batteries are removable, others are built right into the bike's downtube. Neither of these battery storage solutions are better or worse than the other, if the battery is built into the frame it simply means you need to take your power source to the bike in order to recharge.
As e-Bikes continue to gain popularity, more and more component brands are starting to develop products specifically for e-Mountain Bikes. Drivetrains, suspension, seats and various other components are now being designed specifically for e-Mountain Bikes. Whilst not solely for e-Bikes, the new generation of super wide rims and tyres (not to be confused with 'fat bike' wheels, those are a totally separate and stupid kettle of fish) are being embraced by e-Mountain Bike riders. The higher overall weight of an e-Mountain Bike means that they really benefit from the increase in traction and overall better handling that wide tyres/rims deliver.
And lastly on your shopping list of things to consider, do not forget about brakes. A much heavier bike, combined with higher average speeds out on the trails means that you're going to be using and relying on your brakes a lot. A lot! You'll be wanting as much power and consistency as possible.
MOTOR TALK
Shimano STEPS E-8000
By far the most popular e-Mountain Bike motor on the market, Shimano has really set the benchmark with their Steps E-8000 motor. Shimano steps is known for its smooth and intuitive support. The system will take into account the power you are putting into the pedals and match that. With four modes ranging from off (no assistance) to high (holy smokes I am Nino), you have the freedom to adapt the bike to the ride.
One of the biggest positives of the Shimano system is the Di2 shifter as a toggle switch for the drive modes because it provides the same sensation as using an old school triple ring setup. The bikes on board display is a high definition unit that can be placed under the bar out of harm's way. If XT Di2 is your thing it can all be integrated into the same system controls.
Shimano also has an app known as E-Tube, which can be installed on any modern smart phone and will provide access to the bikes on board computer through Bluetooth connection. Any updates and customisations can be done straight from your phone. A recent update to the E-Tube app means it now includes the ability to control how strong certain modes are.
Specialized (Brose)
The Specialized 'Levo' is probably the most widely known (and much loved) e-Mountain Bike model to arrive in Australia to date. Specialized use a custom designed Brose motor and battery set-up on both of their premium duel suspension 'trail' e-Bike models; the Turbo Levo and Turbo Kenevo. These are without a doubt the cleanest looking setups on the market, they don't look too different to their non-electric Stump Jumper and Enduro counter parts. Providing the most torque out of the three motors you definitely feel the kick when you want to get going. The new 1.3 Brose motor also integrates the controls into the handle bars, bringing it right up into contention with the other two major brands.
The engine runs cooler that the previous iterations and this translates to a more efficient motor. The real technology is in the battery and the mobile app that controls the unit. The app not only provides real time data on the motor but also allows you to custom tune the power output and energy consumption.
With some of the most torque and as one of the most height tech motors, it's safe to say you will have a ball on any bike equipped with this bad boy!
Bosch Performance Line CX
The Bosch motors come with a kick comparable to an AMG Mercedes (she's quick). The Bosch motors will give you a swift kick in the rear whenever you want to go forward. This does have its downsides, with riders reporting the torque in the motor would create understeer resulting in riders over shooting corners while climbing if their body positioning wasn't spot on.
However, after an update, the Bosch motor now has an E-MTB mode that will match the torque your legs provide and rectifies this issue. This also results in less changing of drive modes as the motor will intuitively provide up to 300% drive without the touch of a button, increasing the feel of an integrated ride. The new bar mounted displays are now easier to see than previous models. Similar to Shimano Bosch, it also offers a shifter style toggle switch.
The only negative to this motor is the lack of home connectivity. There is a proprietary connection needed to be able to update and adjust the system. Although this is a minor annoyance, you can have your local bike store update the system when necessary.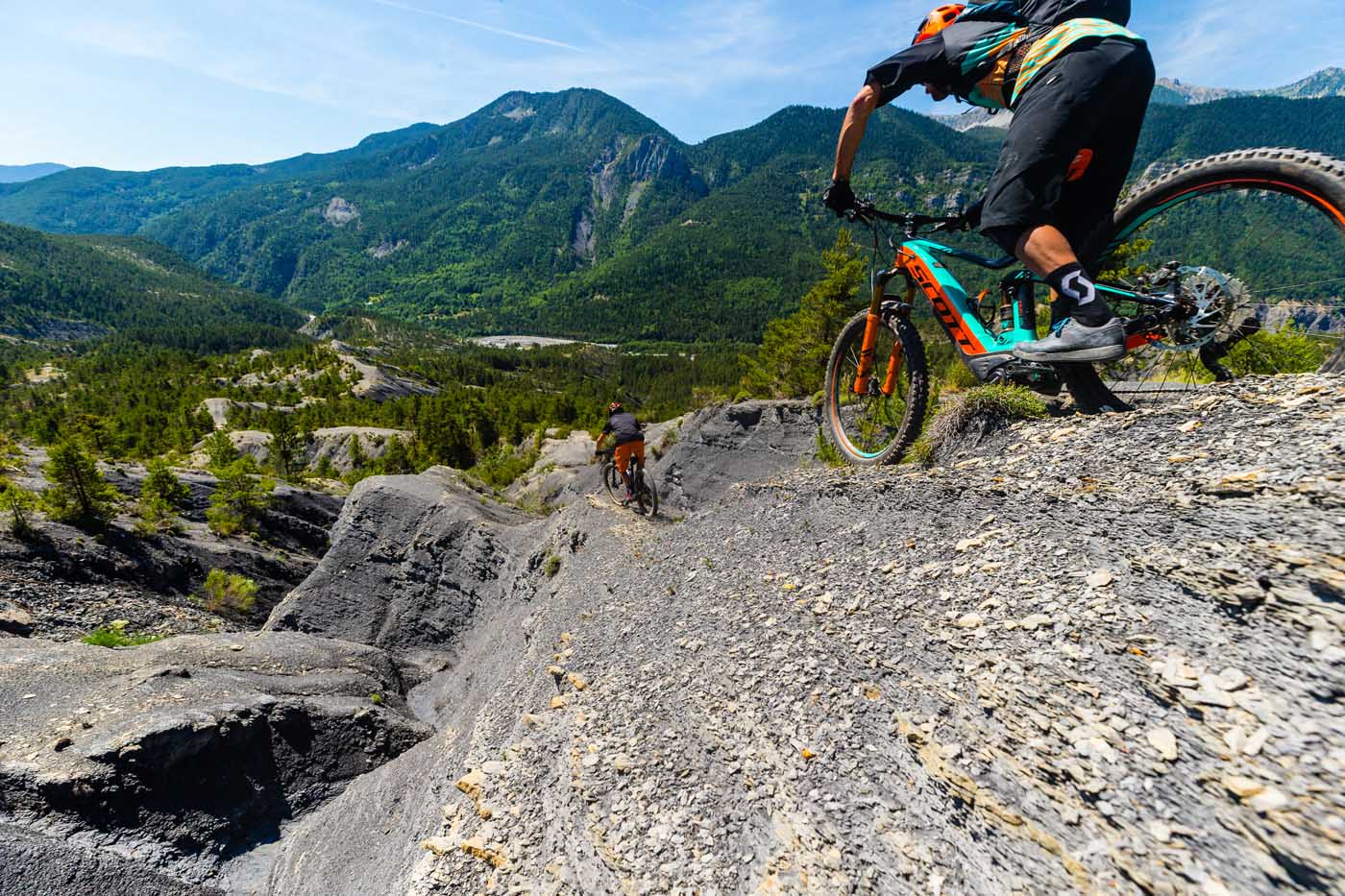 BIKES
Specialized Kenevo
Motor: Turbo 1.3Rx Trail-tuned Brose    Travel: 180mm    Wheel / tyre size: 27.5+/29
If Darth Vader were setting out to have a massive shuttle weekend on Endor, this is the bike he would chose. At first glance it looks like the brands flagship Enduro bike, the ummmm… the Enduro. The Kenevo is in fact based off the Enduro and like its skinnier less energetic sibling it lives up to the reputation. With a 65 degree head angle, Rockshox Lyrics, Ohlins Suspension, and code brakes, this bike is the optimum self-shuttling machine.
The new updated 1.3 version of the highly integrated Brose motor now has 15% more power and runs cooler than ever before (cooler engines=more power).  It has a greater integration into the alloy frame providing a sleek and normal bike look. With the speciality Mission Control app this is the most customisable bike on the market. It not only changes the amount of assistance the bike is giving you, but also the max motor current being used. What this means is that you can customise how much energy your bike is using and extend the battery life at your fingertips.
Apart from the innovative motor, the Kenevo packs a whole lot of other rad features. First up is their new Command Wu dropper post that tilts the seats nose up (14 degrees) as it goes down to give it better clearance and better DH orientation. The post has two sliding stanchions and a pivot point that allows you to get the perfect set angle when both lowered and extended. The custom tuned Ohlins rear shock provides a premium ride sensation while also dealing with the bikes extra weight. Partnered with the renowned Rockshox Lyric RCT3 180mm fork and the 2.8 inch Butcher tyres, this bike will literally ride like a cloud when pointed downhill. There is nothing that will stop this bike putting a big smile on your face and making you ask for more.
Haibike NDURO XDURO
Motor: Bosch Performance Line cx   Travel: 180mm   Wheel / tyre size: 27.5
Haibike are a little known brand here in Australia. But when it comes to E-Bikes in Europe, they are at the forefront of the market. These guys have been designing bikes in Germany since 1995 and were one of the first brands to release a hard hitting enduro E-Bike way back in 2013. Over the years, standard mountain bikes have under gone several big changes, the new Xduro is no exception, getting longer, lower and slacker. The top level 9.0 model will arrive with a Fox X2 Factory rear shock, Fox Factory 36 fork, and a full SRAM EX groupset, this bike is built to party like Hasselhoff in the 90's. It boasts 180mm travel front and rear placing it in the realm of a small downhill shredder. The next model down comes with the Fox Performance range, an NX Groupo, and a few more in-house parts to make the cost a little nicer.
This is a bike for the person who wants to go shred the DH while having a pleasant ride back up the hill. Due to the main pivot being located high above the BB and the idler wheel being placed on that pivot, the bike is able to obtain super short chainstays with little to no brake jack. The bikes are known for being lary and for not trying to hide the fact they are an E-Bike. While some brands are trying to hide the motor and battery, Haibike are trying to promote the fact it is an E-bike, and they are proud of that. All in all, a bike like this will suit anyone looking to bomb down a hill as fast as they possible can then turn back around to do it all again.
FOCUS SAM²
Motor: Shimano E-8000    Travel: 170mm   Wheel / tyre size: 27.5
The SAM is the latest bike to come out of the Focus factory with the F.O.L.D suspension design. F.O.L.D stands for Focus Optimised Linkage Design and is essentially a single pivot linkage driven design looking to optimize small bump compliance while retaining that progressive 'bottomless' feel. Due to the low positioning of the shock, linkages, and motor, this bike has a super low centre of gravity and it translates to a really stable ride. The biggest trick this pony can pull, is the expandable FOCUS T.E.C. battery. On its own, the internal battery provides 378wh of power but, when you add a second optional frame mounted battery, you will have an extra 378wh of power to play with. Like others in this list the S.A.M. offers three build kits on the same frame except instead of having three 'levels' you have one top spec and two on the same 'level' below that. The top spec build provides a Fox Kashima suspension package with Guide RSC brakes and EX1 drive train. The two models below that either have a SRAM NX drivetrain with a Fox elite platform or, a Rockshox Yari/deluxe suspension and XT Drive train option. This bike would suit anyone wanting to have a solid ride out with the lads that includes a lot of descending.
Giant Full-E+ 1 Pro
Motor: Giant Sync Drive Pro Centeral Motor   Travel: 140mm    Wheel / tyre size: 27.5
The Giant Full-E+ 1 Pro is one of the better entry level bikes for this market. Using Giants tried and true Maestro suspension design, the Full-E comes equipped with 140mm of predictable travel. While it is the most entry level spec'd bike on the market, it still provides the rider with a solid base mix of XT, SLX and Fox parts. As far as tech goes, the Yamaha motor in this bike is the real stand out. Providing a nice punch of 80nm of torque in the Pedal Plus System, you will be happy to find less reasons to pick up a bike off a shuttle rack. To reign in this monster, the bike has 'Pedal Plus' technology to provide a smooth and predictable amount of assistance. 'Pedal Plus' is a system that uses four independent sensors to measure force and cadence, then using that data to predict how much assistance is needed. While the double chain ring at the front seems like an odd choice, being able to put in an easy gear on a steep climb may lead to longer battery life as you can spend more time in ECO. It's also a nice option to have available if you do run out of battery. This bike would be a great option for those looking to get fit and an intro into the sport with the possibility to go to a non-assist bike later on.
Rocky Mountain Altitude Power Play
Motor: Power play (Proprietary to Rocky Mountain)    Travel: 150mm Rear/ 160mm Front   Wheel / tyre size: 27.5
Rocky Mountain have decided to take their own path when it comes to the Altitude. While other systems use a BB driven style motor, the Altitude has a separate pulley connected via the chain and it provides assistance through the chain line. What this allows is a standard BB and crank to be used, as the cranks attaches to the frame and not the motor. The frame is stiffer than it would be with an O.E.M. motor as the rocky mountain motor is a structural part of the frame. There are two sized batteries available, one in a 500wh and the other is a whopping 632wh. The best part of this drive system is that because all of the motor and battery are positioned in front of the BB, the pivots are identical to the standard altitude. If you were to ride the two back to back it would be near impossible to tell the difference. The models will range from base builds with a Yari fork and RS Deluxe RT shock with basic wheels, through to a top spec Fox Factory based build kit featuring Race Face NEXT cranks and a transfer dropper post. The best part? All of this offered on a full carbon frame. This bike is for those riders used to the best and those who want to be the point of difference on the trails.
Scott E-Genius 700
Motor: Shimano E-8000, 500Wh internal Battery   Travel: 150mm   Wheel / tyre size: 27+/ 29
As a genius once said, E=MTB squared, and this bike proves just that. At 150mm front and rear, it is the first of our more trail orientated bikes. Packing the smooth E-8000 motor with an almost custom build worthy spec list, this bike will turns heads as you fly up the trail. Sporting the same twin lock suspension system as on the standard genius, you are able to adjust the head angle ±5 degree and the bb ±3 mm.  Spec'd with Fox Factory 34 forks on the front, A Fox NUDE rear shock, and an XT/ZEE blend of componentry, I don't expect anything will need updating anytime soon. Personally I think this bike will be best suited to people looking for an all-day adventure with some technical descending in the mix. Set the assistance to normal (medium) on the way back up and some epic riding will be installed.
Merida eONE SIXTY 900E
Motor: Shimano Steps 8000   Travel: 160mm   Wheel / tyre size: 27+
This bike is such hot property that they are selling out before hitting the showroom floor. Like the Specialized and Haibike, this bike has been designed with a whole lot of fun in mind. The frame is reinforced in the right areas to create a stiff and nimble ride. With 2.8 Maxxis Minion DHR tyres front and rear you will really be pushing the boundaries to get this thing sliding. Because it is using the Shimano motor with the XT Di2 shifting system, there is full integration of the battery and display units. If the battery runs low it will cut out the assistance first, allowing you to change gears enough to get you back to the car or home. Anyone who has used Di2 on either road or mountain bikes will rave about the smooth shifting and the ease of use. One handy and unlikely situation with this combo is that if you snap a lever on either side of the bars you can essentially unplug the Di2 cable and run it off the other lever. Coming with the massive Shimano saint anchors this bike will pull up in no time. A mix of the Fox x2 rear shock and the Kashima coat 36, it will roll over anything placed in front of it. This bike is the pinnacle and is perfect for any serious rider looking to cover more distance or get more DH runs in the day.
Trek Powerfly FS
Motor: Bosch Performance Line cx
Travel: 130mm
Wheel / tyre size: 27.5+
The Powerfly FS is like the Giant in the way that it is a bike suited for those just looking for a taste. Spec'd with value for money parts like the RockShox Recon RL and a majority Deore/SLX build, the Powerfly is perfect for those not looking to part with a bunch of cash. The frame still uses Treks own hydro formed Alpha Aluminium with all of the most common abbreviations like ABP, EVO Link, and G2 geometry. All of the things that make Treks awesome, partnered with the great Bosche engine, this bike will be the perfect bike for someone looking to enter the sport. The only let down will be the lower grade forks for when the going gets rough.